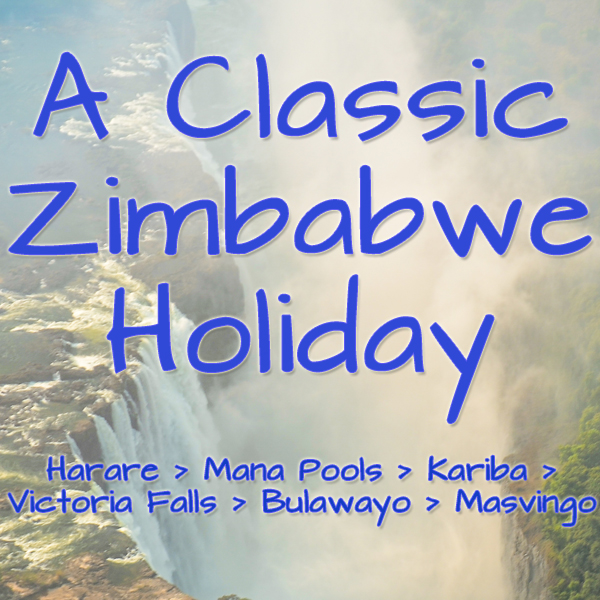 In August 2013 I went on an epic 23-day trip to Zimbabwe. My group borrowed cars and we self-drove around the country, spending time with family and friends along the way. We went to Zimbabwe with friends who live in Oxford. They hadn't been to Zimbabwe before, and we loved showing them our much-loved country.
I'm not ashamed to say that I think I created the ultimate itinerary that showcases the best of Zimbabwe in the time that we had. We visited busy cities and remote wildernesses; we saw historic sights and natural wonders – all showing a range of what Zimbabwe has on offer.
In case you missed it, here's a summary of all the posts about our trip. Grab a cup of coffee (and cake), sit back, and enjoy! Please click on the hyperlinks below to read the details of each part of our journey.
Classic Zimbabwe holiday: post roundup
Introduction
Getting into the holiday mood in the capital, Harare
Camping in the unfenced wilderness of Mana Pools National Park
Taking a ferry along the length of Lake Kariba, one of the biggest man-made lakes in the world
Getting pampered at Victoria Falls Safari Lodge
Seeing Victoria Falls, one of the seven natural wonders of the world
Watching the sunset from an elephant's back
Meeting Sylvester the Cheetah
Walking with lions as they prepare for life in the wild
Seeing the Zambezi gorge from an adrenalin-seeker's perspective
Experiencing the "Flight of Angels"
Exploring Victoria Falls town
Climbing the Matobo Hills
Walking in the footsteps of ancient civilisations at Great Zimbabwe
Flight details: We flew into and out of Harare International Airport. We flew from the UK to Zimbabwe via Johannesbury OR Tambo Airport with South African Airways.
Related information: