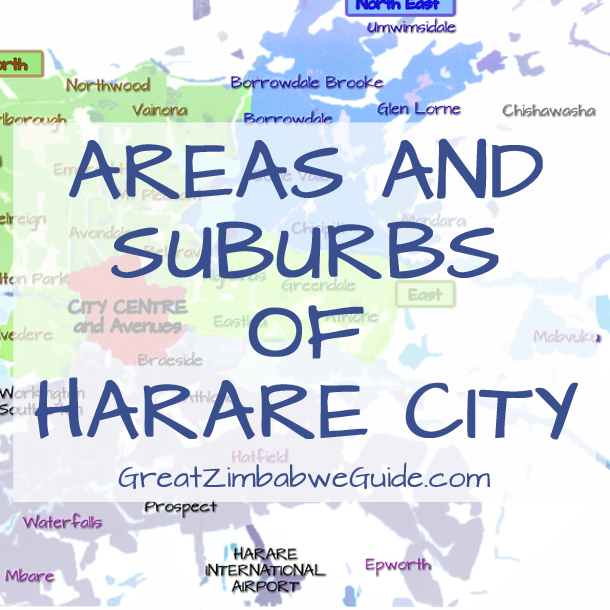 Harare is a curious place: sometimes ugly and overbearing, sometimes soft and enchanting. Although some of the city is urban and gritty, you're never too far away from trees and greenery in unexpected enclaves. Here's a rough map of the areas of Harare, and more details below.

The Busy City Centre & Avenues
This is the central business district, characterized by wide streets and a mish-mash of concrete, glass and brick buildings. Enthusiastic street vendors sell cell phone airtime, phone chargers, swimming pool toys and Zimbabwean flags at robots (traffic lights), and they can be seen either as a nuisance or a charismatic addition to the cityscape, depending on who you ask. There are some colonial-era buildings like the still-used Parliament buildings and Town House, but the rest are rather dour 80s concrete affairs. There are a number of upmarket hotels in the city centre which are relatively luxurious but not particularly good-looking. I don't think Harare's centre does justice to the rest of the city, and for this reason I wouldn't like to stay there unless it was necessary for practical reasons. I'd much prefer to stay in the suburbs, and visit the city centre during the day. Harare sights in the centre such as Unity Square, Harare Gardens, the National Gallery, the Book Cafe, National Archives and Mbare Musika are interesting and vibrant.
TIP: Don't walk around flouting your comparative wealth – ensure wallets are well out of the way of opportunistic hands. As in most cities, pickpocketing does occur here but this isn't a reason to stay away. As a teenager I spent many happy December afternoons in the city centre, exploring shops for Christmas presents for family and friends. I was always alone and never had any problems from passers-by.
The Unassuming Inner-East
Eastlea, Highlands, Greendale
These are generally well-kept compact suburbs: a sort of 'middle-zone' between affluent areas like Borrowdale and Glen Lorne, and the grittier city centre. Houses in Eastlea and Greendale are increasingly being bought for small businesses due to lack of space in the city, and as such you may visit a computer company that has a swimming pool and garden!
The Affluent North-East
Chisipite, Colne Valley, Borrowdale, Glen Lorne, the Grange, Umwimsidale
This is where the money is, especially Borrowdale and Glen Lorne. Sprawling lawns, tennis courts, and even a stable or two. It is also one of the most beautiful parts of Harare: go up a side road and you'll find yourself on top of a hill overlooking green Msasa trees and well-kept gardens. In recent years a number of building projects were started and then weren't completed due to lack of money, which has left some unsightly piles of bricks and half-finished houses. These houses are a reminder of Zimbabwe's recent economic rollercoaster, so add to the country's story in their own way. Shopping centres like Borrowdale Village are a good place to see how the more fortunate in Zimbabwe live (and to pick up a street map from Kingston's stationers). At night, it's home to various nightclubs and bars.
The Leafy North
Avondale, Strathaven, Mount Pleasant, Belgravia, Bluff Hill
Well-to-do suburbs with pretty tree-lined avenues and coffee shops tucked in gardens. These are among the more well-off areas of Harare, but not as wealthy as the North-East. Avondale Shopping Centre is a hub of activity, which makes it a little rough round the edges, but I'd recommend any visitors to go to the flea market there.
The Industrial South-Central
Workington, Southerton, Willowvale, Graniteside
These places do as their names suggest: Harare's big factories are here, producing clothing, softdrinks, bricks – you name it.
The People's South-West
Dzivarasekwa, Warren Park, Kuwadzana, Mufakose, Budiriro, Highfield, Glen View, Waterfalls
These are a mixture of medium- and high-density areas, rarely seen by tourists. Houses are generally smaller and more tightly packed together. Some of these townships were initially set up by the colonial government from the 1930s onwards. Residents are mainly working-class, although there are more affluent members who have bigger properties: the townships are varied and each have their own personality, and are home to famous musicians such as Oliver Mtukudzi and Thomas Mapfumo. They are also home to a number of small industries.
Read my Harare travel guide for more info about Harare, Zimbabwe.
Here's an interesting article about the history of some of Harare's suburbs at Newsvyb.

View Larger Map
Related articles