Last updated Nov 2016The ancient city ruins of Great Zimbabwe (Dzimba dza mabwe) are located approx. 25 km (15.5 miles) from the present-day town of Masvingo, in the south-east of Zimbabwe. By car, Great Zimbabwe is around 4 hours from Bulawayo and Harare, and around 8 hours from Victoria Falls. This means that you'll most likely need to stay overnight to allow yourself enough time to walk around the Great Zimbabwe Ruins. The list below contains some info on where to stay around Great Zimbabwe, Masvingo and Lake Mutirikwi.
Great Zimbabwe Monument Ruins and the fishing at nearby Kyle Recreational Park (which contains Lake Mutirikwi) are the two primary attractions that bring tourists to the area. See the article Great Zimbabwe Monument travel guide for general info on the ruins and monument. While you're in the Great Zimbabwe area, why not see other attractions too? You can spot rhino and other wildlife in the game park, see the dam wall, and go boating or fishing at Lake Mutirikwi in Kyle Recreational Park. Many of the accommodation companies in the list below can book tours and activities in the area for you.
Here's a map showing accommodation and sights in the Great Zimbabwe area. Great Zimbabwe is to the south of the lake. Zoom in to see it in detail.

The majority of visitors to the Masvingo area are Zimbabweans so the self-catering and self-drive accommodation has been well maintained to a certain extent. Due to low tourist numbers, the standard of accommodation in Masvingo isn't the same as other cities or tourism spots in Zimbabwe. You won't find boutique or luxury accommodation here, but there are some down-to-earth gems. In the list below, click on the links in the headings to be taken to the official websites.
Where to stay around the Great Zimbabwe area
My top picks: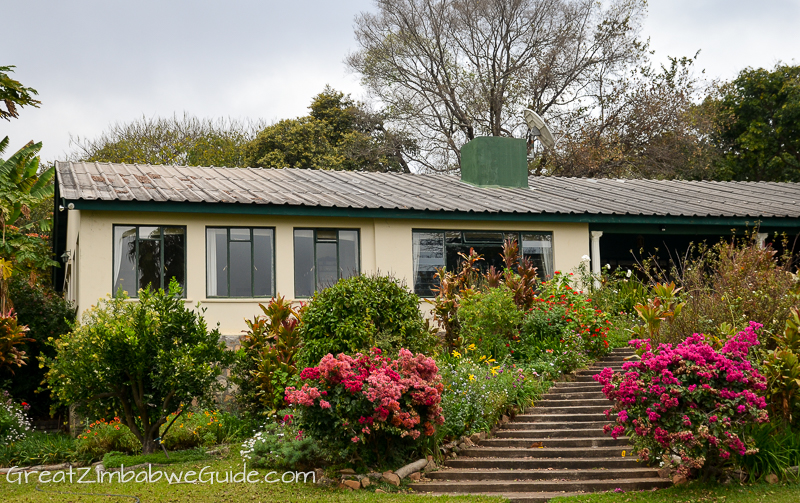 This is a country-style lodge with a scenic view of the lake, built on the homestead of the man who built the dam at Mutirikwi. Norma Jeane's Resort has accommodation options for a variety of budgets: there are 8 catered hotel rooms, 4 self-catering family lodges and 9 communal rooms with shared facilities. I have stayed in the self-catering lodges and can recommend this resort as a clean, well-presented, well-priced and friendly-staffed place to stay. In my opinion, it is the best value accommodation in the area. The gardens surrounding the lodge are lush and peaceful: a great place to unwind after a day of travelling or walking. Norma Jeane's is located on the southern shore of Lake Mutirikwi, a short 10-minute drive from Great Zimbabwe. Formerly called Inn on Great Zimbabwe.
The beautiful garden at Norma Jeane's, overlooking Lake Mutirikwi.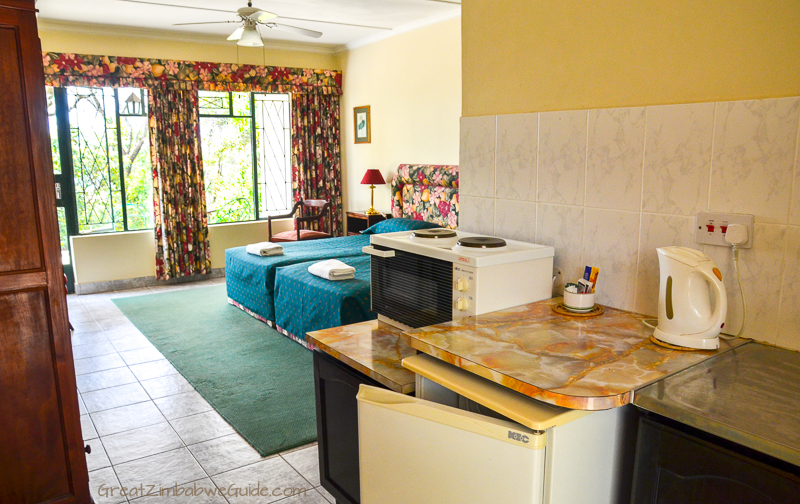 Part of a self-catering lodge at Norma Jeane's.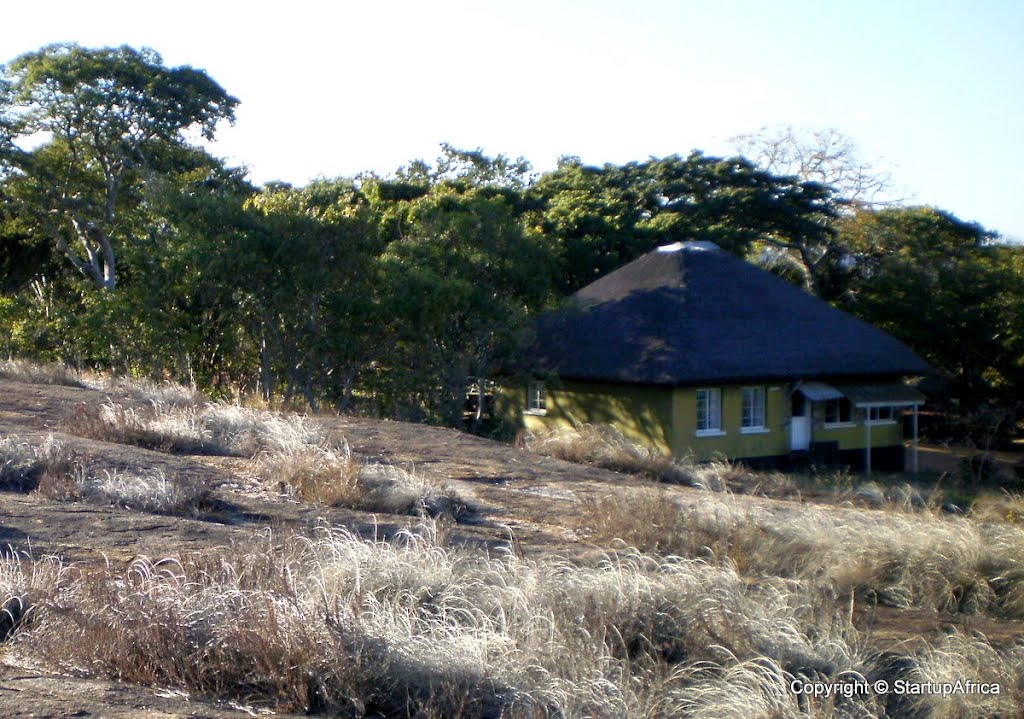 Image sourge: Panaromio. © All Rights Reserved by StartupAfrica.
Just north of Great Zimbabwe Monument lies Lake Mutirikwi, which is situated in Kyle Recreational Park. There are over 10 self-catering National Park lodges here, ranging in size from 1 to 3 bedrooms. The lodges are simple but well-kept and the kitchens are equipped with cooking utensils and clean linen. Warthogs and monkeys roam in the grounds.
A campsite and caravan park are also situated in Lake Kyle Recreational Park, which have ablution facilities with hot water and electricity for caravans.
This National Parks-run accommodation is located on the northern shores of Lake Mutirikwi. It is 32 km from Masvingo, and around 60 km or 45 minutes by car from Great Zimbabwe. See a detailed map of Lake Kyle Recreational Park here.
Image source: Lodge at the Ancient City.
Built around a granite hill, this hotel has been built in the architectural style of Great Zimbabwe, complete with chevron-patterned walls and towers. A variety of accommodation options are available in the form of ensuite rooms, lodges, camping and family rooms. Activities, transfers and tours available on request. Located close to Great Zimbabwe, about a 5-10 minute drive away. The restaurant is available for drop-in visitors too.
Image source: Great Zimbabwe Hotel.
Within walking distance to Great Zimbabwe monument, this hotel has 38 single, double, twin and family rooms. It also has a swimming pool, tennis courts and volleyball nets. This hotel has a restaurant and a bar which may be useful to those staying in self-catering accommodation nearby. Great Zimbabwe Hotel is a 5-minute drive from Great Zimbabwe.
Other places to stay around Great Zimbabwe area
Some accommodation facilities are struggling to provide high-quality service due to low tourist numbers and economic challenges in Zimbabwe, and some companies' websites have barely any information on them. I can't recommend them in the "top accommodation" list above for these reasons, but I've outlined them below for information purposes. Click on the hyperlinks for full details.
This self-catering accommodation is on the site of Great Zimbabwe itself, so it is the closest accommodation you can get to Great Zimbabwe, and it might also be the cheapest. It consists of lodges, dormitories and campsites. Unfortunately some of the buildings burnt down after a fire in 2015 and the facilities and equipment are not in a good state. If you are happy to camp here with your own equipment and if you aren't fussed about having hot water, then it is a budget-friendly option.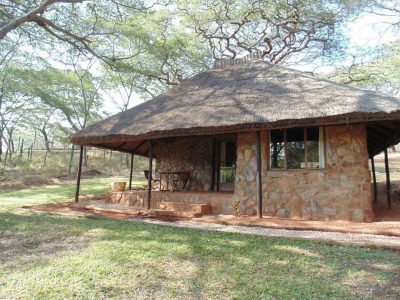 Consists of three double self-catering lodges and eight budget rooms that can accommodate a group of 40 people. Located at the base of the Glenlivet Mountains on the North-East side of Lake Mutirikwi; approx. 40 km from Masvingo and 53 km from Great Zimbabwe. Facitlities include a pool, scenic restaurant, volleyball court, obstacle course and mountain walks. Guided tours to Great Zimbabwe and other local attractions are available for a nominal fee, as are transport connections to other centres around Zimbabwe. This is a quiet lodge that is off the beaten track, suitable for nature lovers. The accommodation is very reasonably priced for budget travellers.
Image source: Mayfair Lakeside Resort.
10 double rooms and 3 family units Located 6 km from Great Zimbabwe, on the shores of Lake Mutirikwi. It also offers a shuttle service from Harare. Note that this company also has a lodge in Bindura which is 400 km away, so when communicating with the lodge, ensure that you are clear on which Mayfair you are enquiring about.
Located in the centre of Masvingo town, 25 km from Great Zimbabwe Monument and Ruins.
Cosy English-style hillside hotel. Located 29 km from Masvingo and 54 km from Great Zimbabwe.
Image source: Hippo Creek Lodge.
There are 20 detached ensuite lodges, quaintly built in the style of Great Zimbabwe's architecture. Located on the North of Lake Mutirikwi, approx. 25 km from Masvingo and 50 km from Great Zimbabwe. Camping and caravan facilities are also available. Guided tours of Great Zimbabwe, lakeside activities and transfers available upon request.
A large hotel (for the area) with 106 catered rooms and a casino on-site. Located 2km from Masvingo and 27 km from Great Zimbabwe.
53 rooms on the main road in Masvingo city centre. Located approx. 25 km from Great Zimbabwe.
Located in the centre of Masvingo town, 25 km from Great Zimbabwe.
C-Rose Lodge
Located in the centre of Masvingo town, 25 km from Great Zimbabwe. Low prices. Official website currently unavailable.
Located north of Lake Mutirikwi, about 55 km from Great Zimbabwe.
Mutirikwi Lakeshore Lodges
The pictures of this place look lovely so it's a shame that there's no official website currently available. 14 detached thatched rondavels scattered around a shaded garden. Located a 10-minute drive from Great Zimbabwe.
Here's a map showing accommodation and sights in the Great Zimbabwe area.
Here's the Great Zimbabwe accommodation map again:

I have not been sponsored to write about any of the lodges above.
Read more: