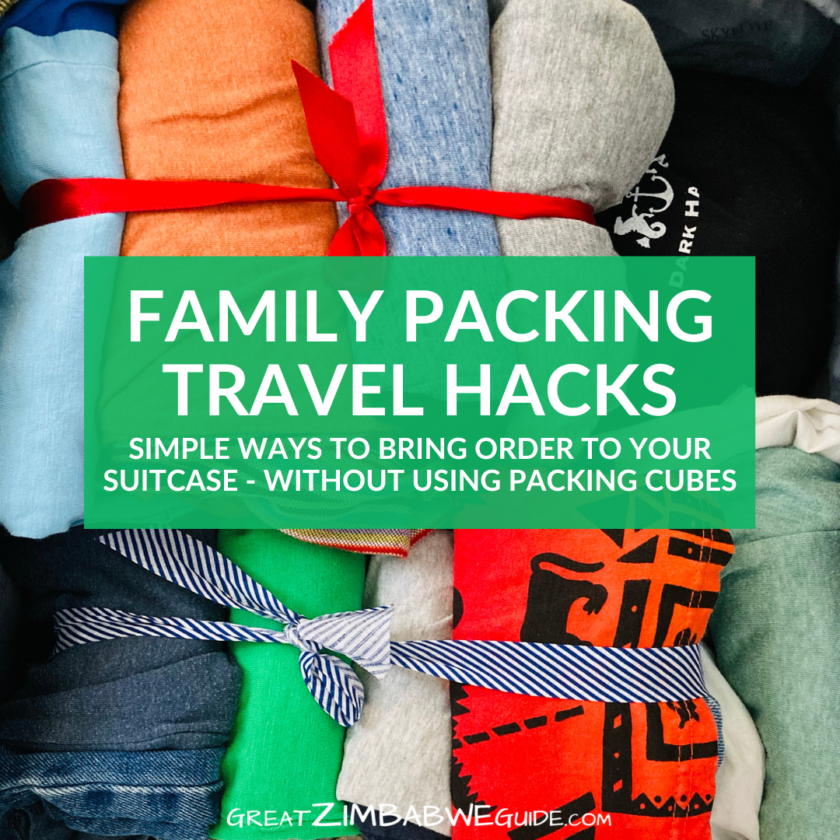 If you get stressed out by chaotic suitcases, or if you can never find those pesky nail clippers even though you know you packed them somewhere, then these family packing hacks are just for you. There are many simple, brilliant and cheap ways to organise all the clothes, toiletries, books and nappies in the family's suitcases. Now I know everyone loves a packing cube, but they can be expensive, and they might not be the right size for your particular bag, clothing or suitcase. There are other easy ways to keep track of all the stuff belonging to different family members.
And as a sidebar, if you're the person organising and packing all the necessities into the bags, here's a virtual high-five and hug specially for you!
Family packing hacks
1. Categorize your items in your bag by use or by person
Everything in your bag first needs to be allocated a simple category, eg: toiletries, swimming gear, clothing.
Choose a complete outfit for each person for each day (eg. socks, shorts, shirt, underwear if you bathe in the mornings), plus a couple of spare complete outfits. Put all the outfits for each person in a separate pile.
Grab one of the complete outfits for Person A for a full day. Fold the large items of clothing vertically, then place them on top of each other, with the socks and underwear in the middle (pictured below). Then gently roll the items together so that they make a neat little roll.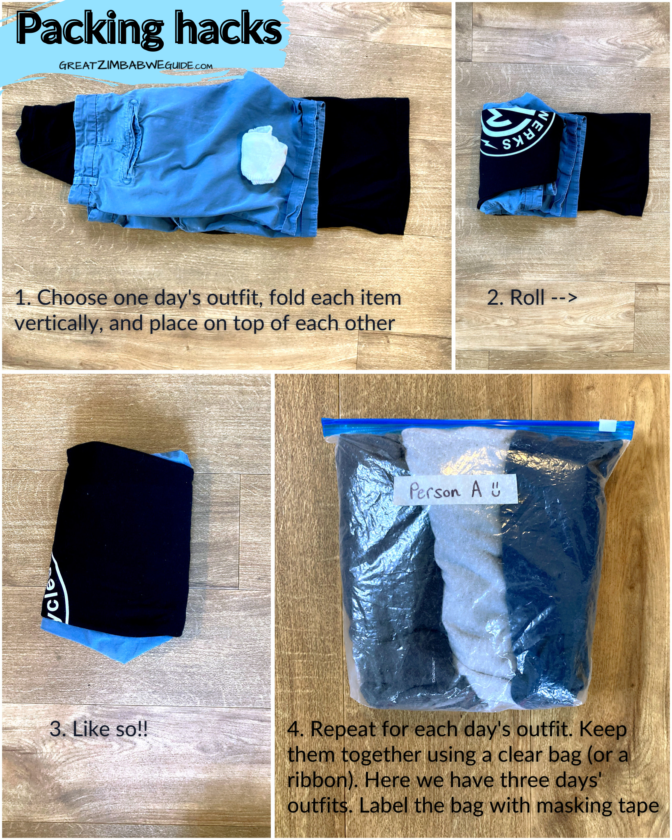 Repeat for each outfit so that you have a wonderful row of little Swiss Rolls for a specific person. Next, the outfits and categories are going to be contained in their own bag or something similar.
2. Choose a method of containing the outfits and categories
Put all the rolled outfits for Person A into a container of your choice. I prefer using transparent bags, so that I can see exactly what is there without needing to rummage around.
Here are ideas of household items that you can use to contain the clothes or categories:
Paper gift bags with the handles removed (pictured)
Clear (or opaque if unavailable) plastic bags/ziplock bags (pictured)
Self-sewn fabric bags (pictured)
Ribbons (pictured) – you could use a colour for each family member
Large elastic bands
Pillowcases
Belts
Cardboard boxes, cut to make shallow trays
… or anything else you can think of!
Each category of packed items should have their own container, eg: Person A's outfits, Person B's outfits, children's spare underwear, adult's toiletries, children's toiletries, first aid, everyone's toothbrushes and toothpaste, nappy change gear. You can choose your own categories, for example, I keep my deodorant and brush in the same category bag as my outfits, because I'll be using those at the same time that I put on my clothes. There will always be items that are loose in the suitcase to fit in the extra spaces, such as shoes (in plastic bags with labels on, of course), spare nappies, towels, etc.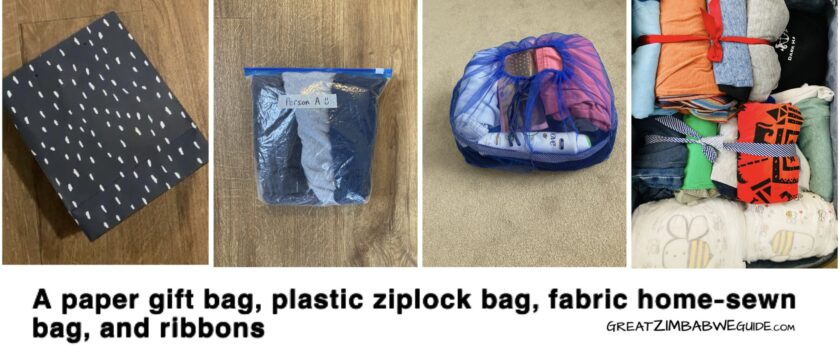 3. Label, label label
A roll of masking tape and a permanent marker are all you need to add labels to the smaller bags in your suitcase. I have a pile of clear Ziplock bags with family members' names stuck on with masking tape, that I use over and over for holidays. Likewise, I have bags that I reuse for First Aid supplies, spare socks, swimming gear, etc. However you choose to categorize the items you pack, if you add a label to it, you'll always know how to find things. In cases where masking tape can't be used, I use brown Kraft gift labels and string.
4. Don't forget to pack a smaller empty bag for dirty clothes
At the end of each day, you'll need somewhere to put dirty clothes without getting them mixed up with the rest of your items. Pack an empty cloth bag, plastic bag, or even a pillowcase for each person to throw their used clothes into, ready for the wash.
Extra plastic shopping bags are always in a side pocket, to store dirty shoes, litter, and so on.
5. Picture how you'll use the items, and pack accordingly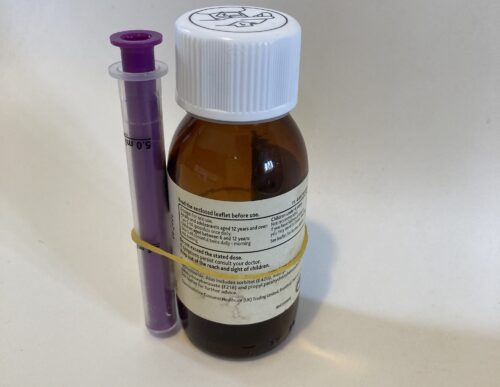 For example, don't just chuck a bottle of medicine in the bag: put the medicine dispenser or spoon in with it, too. I use elastic bands to keep them together. If you have a sickly child while travelling, you don't want to waste time searching for the right tools. I put medicine either in the First Aid or the Toiletries container. Or I take two and put them in both, because you never want to run out of medicine for kids!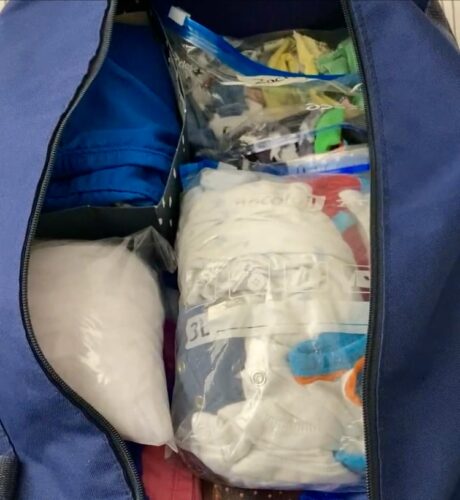 6. Pack items for a nappy change zone to use at your destination
Pack a 'nappy gear bag' to pull out at your destination for a dedicated nappy change zone. This zone can simply be on the floor in the corner of a room. This is in addition to the nappy bag in your hand luggage or backpack, as this will stay at your accommodation. I use a handbag organizer or a folding toiletry bag to keep everything organized.
The nappy gear bag can contain:
Washable change mat
A few nappies
Nappy bags
Tissues
Wet wipes
Nappy balm
A set of spare clothes
A big bin bag to hold dirty nappies
What hacks do you use when you pack for family holidays?
Here are some more ideas when packing suitcases:
Put liquid toiletries in individual bags in case of leakage
Stick to a specific colour palette of clothes so that you can mix and match
Stuff hats with socks or nappies to keep their shape
If taking lots of extra nappies, they can be stuffed into spaces of the suitcase
Always take a roll of toilet paper just in case
Use elastic bands on the sides of backpacks to carry kids toys, bottles and teddies
Choose toiletry bags and nappy bags with hanging loops/hooks, to avoid them touching dirty/wet restroom surfaces
Also for toiletry bags and nappy bags: buy ones that have easy-access compartments and pockets
Take empty plastic bands in the car or plane cabin in case of sickness
Fold hoodies and coats into their own hoods to make them more compact
Use microfibre towels if you're short on space or weight
At the end of a holiday, don't throw away the little bags that you've used – keep them for the next trip
If you liked this article, also take a look at our Tips for flying to Africa with a baby.
Packing hacks: links to items on Amazon
Here are some links to some of the items I've mentioned in this post of packing hacks, as well as otheritems that I've discussed on social media. Disclaimer: I'm an Amazon Affiliate. I don't spam you with ads on this website but I do provide links to products that may be useful to you, at no extra cost.

Follow Great Zimbabwe Guide on Facebook and Instagram for additional photos, videos, tips & stories on this topic.
You might also be interested in these articles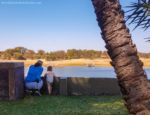 ---
#zimbabwe #packinghacks #familytravel #nappybag #packingcubes #traveltips #africa #afritravel #kidstravel #familyvacation #summer #thriftytips #getorganized #greatzimbabwe #greatzimbabweguide #travelblog #flighthacks #konmari #thehomeedit