This guest post is written by Ruth and Nicola, sisters, who both live in Harare, Zimbabwe. In September 2021, they took a road trip from Harare for a weekend getaway in Victoria Falls. In this, the second part of Ruth's travel journal series, she and Nicola describe the accommodation where they stayed and some of the activities they planned. You can read the first part of their travel journal, where they discuss their slef-drive journey by road, in this link.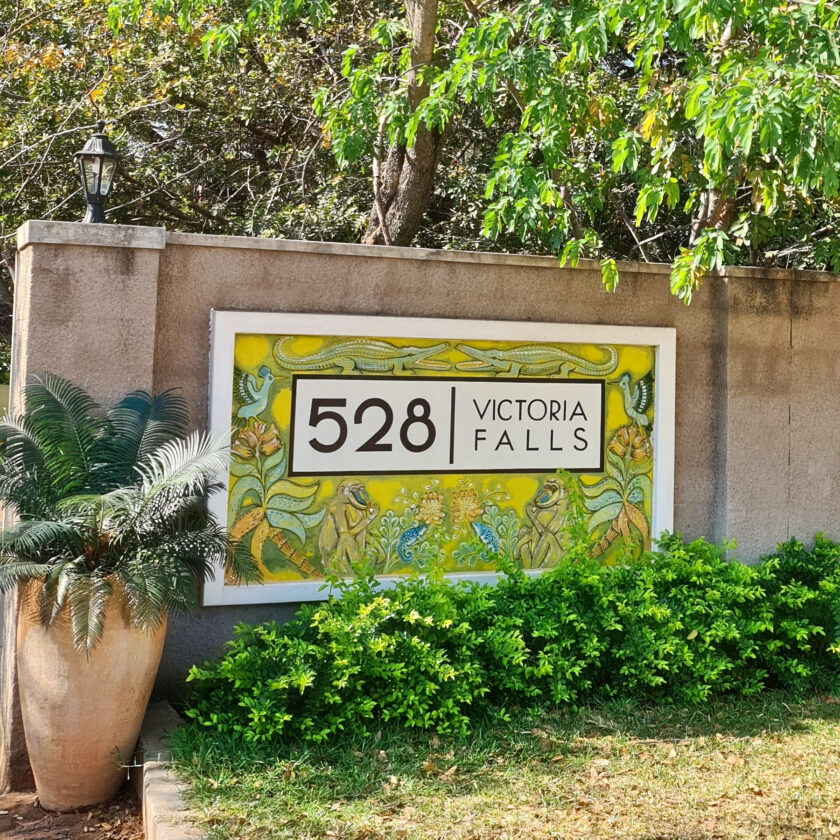 Why we went to Victoria Falls
An invitation to visit one of the Seven Natural Wonders of the World
Ruth writes: One of my oldest friends (we grew up next door!) was getting married in Victoria  Falls, so it was a wonderful excuse to make a weekend of it and really pack in as many of the sights as we could. I'm the owner of two Harare-based shops: The Ginger Tree and Calisa & Co, and once the word got out that I was planning a trip to the Falls, a few of my loyal Victoria Falls-based customers reached out to me and asked us to participate in the Vic Falls monthly market, which happily happened to be the same weekend as the wedding. With these two events to travel for, and seeing as it had been so long since I last visited the town, I got down to planning and my excitement began to grow.
Planning and booking our stay in Victoria Falls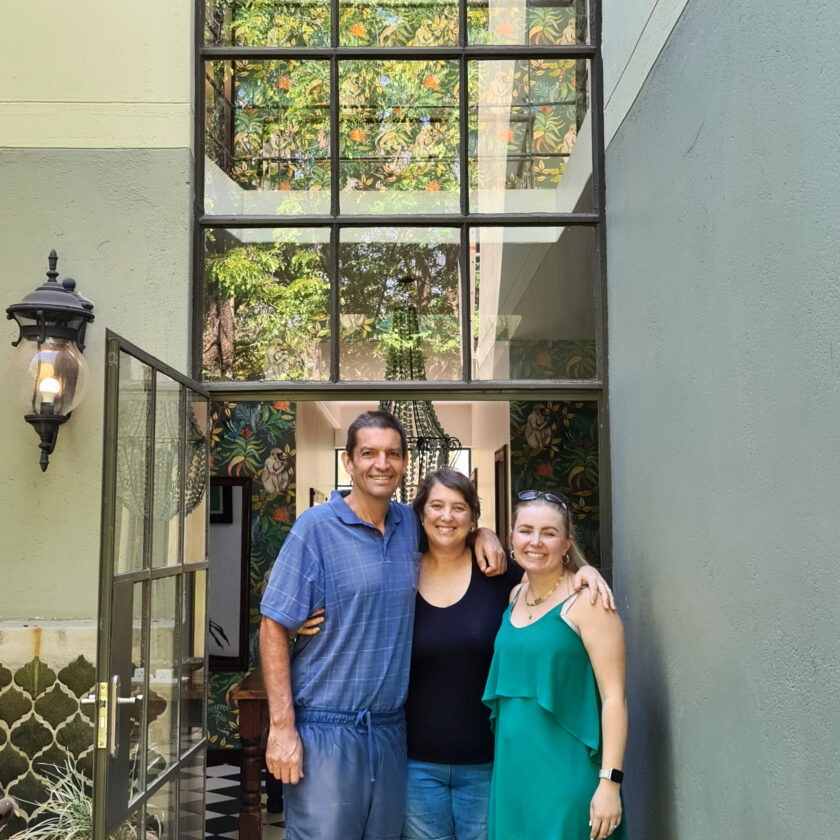 In the wonderful way that social media can work as an extended network of contacts, I was introduced to the lovely Shelley from Africa Conservation Travel. From the introduction to the day we left Victoria Falls, Shelley was a privilege and blessing to work with. On behalf of Africa Conservation Travel, she booked and they partly sponsored our stay at the beautiful 528 Victoria Falls Boutique Hotel. As well as managing our booking, Shelley was superb in sharing information and tips with us about the drive and what to expect beforehand, and while we were there, giving us insight into developments in Victoria Falls from the perspective of a resident. More on that shortly, but if you are looking for someone to help plan your trip to Victoria Falls and manage your accommodation preferences and activity arrangements, I can highly recommend Africa Conservation Travel. Not only are Shelley and her partner, Nick, the most hands-on owners, fully invested in making each guest's stay their best experience, but they are also true to their name through their involvement in many conservation projects. They operate into Victoria Falls, Botswana, Zambia and other areas of Zimbabwe and play a part in conservation projects in each of these. In fact, their involvement extends even further: they give back 1% of EVERY booking – right back into the community or area the guests stay in! 
Where we stayed: Arriving at 528 Victoria Falls Hotel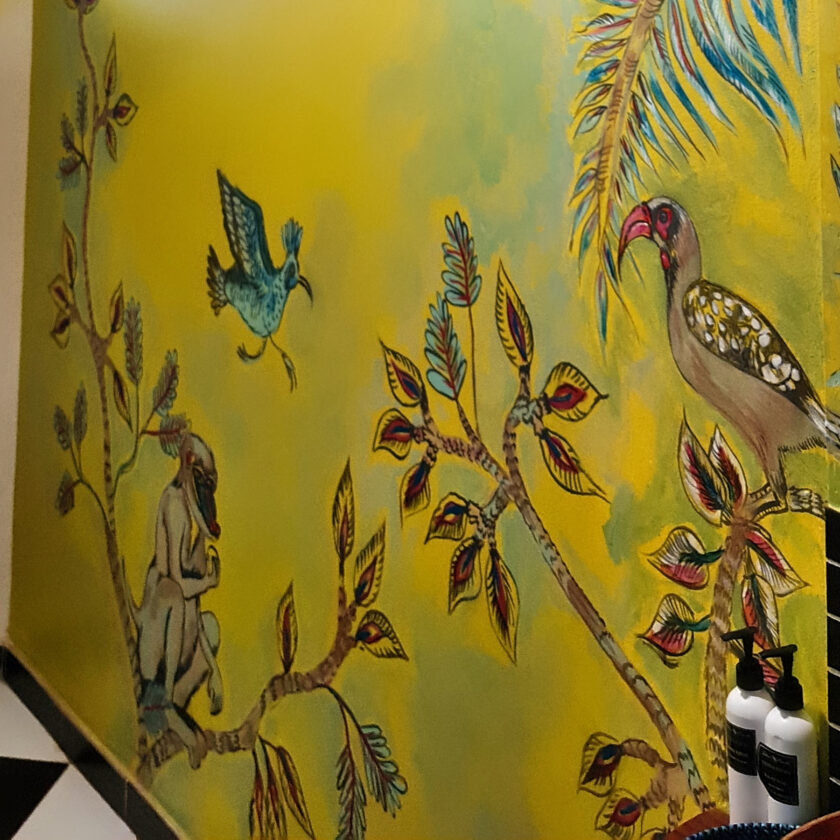 On Shelley's recommendation, we stayed at 528 Victoria Falls – a beautiful boutique guest house the locals call a "tropical oasis". We drove in, from hours on the road in the beating heat, to the cool car park in a lush garden filled with trees. The hotel's three-stories blend into the enormous trees that encase it, and the soft whisper of a breeze wipes all thoughts of the journey's baking tarmac from your mind. A glimpse of the back of the building does not prepare you for the welcome that awaits around the corner.
Following the path curving towards the entrance, our eyes travelled from the lily-padded pond, complete with a hand-carved seating nook, to the floor-to-second-story glass fronted façade marking the entrance. The door was open and our hosts were waiting. The entryway is breath-taking. Not only is the statement Ardmore wallpaper complimented by locally-made glass chandeliers a spectacular sight to behold, but Paul and Meredith are on-hand to give you a personal welcome and a much-appreciated ice-cold, homemade iced-tea! The magnificence of the three-story building cannot be truly appreciated until you are standing on the landing of the third floor looking down through all the open spaced landings to the ground floor entrance – it is truly an architectural masterpiece! Full of big glass windows which let all the light in, but with thoughtful coves and rooms branched off the landings which still give privacy and comfort to guests.
We were escorted to a beautiful room where every detail of the décor and every potential need of a guest had been thought through – from the practical and grand tent that is your mosquito net, to the hand-carved wooden headboards, to the mini tea and coffee bar boasting a selection of teas, coffee and homemade treats. Every room has air conditioning – which makes a world of difference when outside temperatures can reach high 30's or even 40's in summer! The en-suite bathroom is luxury and comfort combined, with a shower-head the size of a car wheel, a generously proportioned bathtub and a statement copper basin – what more could we want!
Rooftop drinks and dining under the stars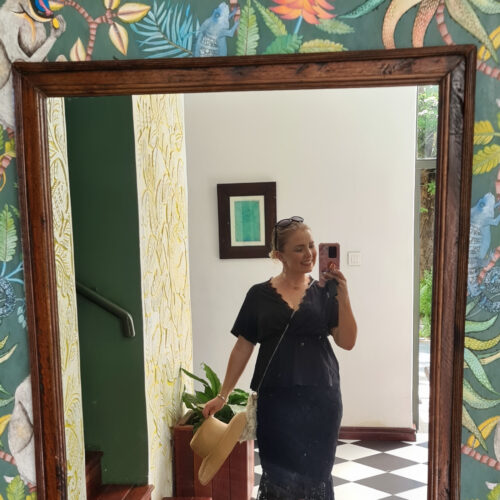 After a quick refreshing shower, we joined our lovely hosts, Paul and Meredith, as well as Nick and Shelley from Africa Conservation Travel, upstairs for a pre-sundowner Gin and Tonic. The bar is located on the 3rd floor. Reaching the landing, you are greeted by a bar counter the length of the room with intricate wood carved detail, funky lantern lighting and an array of colourful artefacts. Turning left, and following the length of the bar, you walk out onto the large decked balcony. From the garden's tree-tops you look out over green scenery to the valley where the Zambezi River runs and eventually falls in the wonder we all come to see. It's a really special spot to enjoy your first holiday beverage!
Dinner was a treat. When the sun had set and we had returned from our "sundowners" (a term we Zimbabweans use for drinks at sunset!) outing, we went upstairs once more to the now candle-lit deck for dinner in 528's tree-tops. Meredith prides herself on her homemade meals and treats – and for good reason! The lasagne was nothing short of mouth-watering; served with locally-made sour dough bread from Simba's Artisanal Bakery, and a delicious fresh salad sourced from a local small-scale vegetable farm. Dessert was homemade (obviously) Tarte Tartin with (need we say it?) homemade custard, and let's just say we were begging to have the leftovers for breakfast!
On both mornings of our stay, we enjoyed breakfast at 528 in another of its beautiful spaces, the downstairs dining area and verandah. With morning light streaming in the huge windows, we walked out the French doors to tables under the trees. We were treated to fresh fruit juice, muesli and yogurt and helped ourselves to mouth-watering croissants and muffins (also from Simba's Artisanal Bakery). We were well filled with this sizable breakfast, but should you wish it, the wonderful staff can additionally whip or scramble up a variety of other cooked breakfasts.
An easy stay: getting around Victoria Falls and taking precautions against Covid-19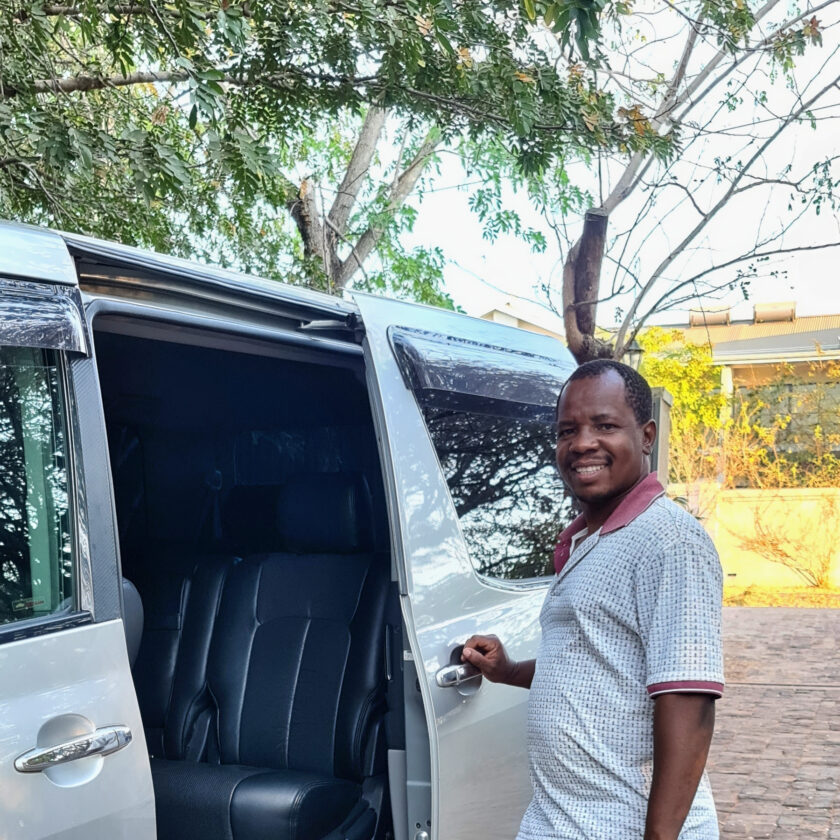 Our stay in Victoria  Falls was a busy one (more on that in our next article), and 528 was a very welcome refuge to return to after our various outings. We would have liked more time to lounge or to read outside, take a dip in the pool, and enjoy the hospitality of the guest house, but even for our whirl-wind trip, the guest house was an ideal base, being just 2.5km from Victoria Falls town (with its shops and restaurants) and 3km from the Falls (waterfalls) themselves. Our hosts never failed to help with directions and put us in touch with Alphas, who we found to be a very reasonable and reliable taxi service and would recommend to anyone staying in Victoria Falls. Whether you have your own transport or not, it is useful to have another transport option when going to busy places where parking may be full. Walking to places is fine during the day, but our hosts did not recommend walking at night due to elephants being known to amble around the town!
Tourism has been very quiet in Victoria Falls since the pandemic began, which actually makes it an ideal time to travel as there are no crowds to fight. When we travelled in September 2021, the country's Covid-19 regulations were not at their strictest, and locals were very comfortable with 'the new normal'. In fact, most of the population in the Victoria Falls town have been vaccinated* (according to local tourism and health authorities). In terms of public spaces, masks were still required for entry, although in outdoor places people were much more relaxed, and as there weren't many people around in general, we felt very safe. On our visit to the great waterfall itself, we passed only a few people and otherwise felt we had the experience to ourselves. At 528 there were only two others staying at the time, who we did not cross paths with, and even if there had been more guests staying, there was plenty of private and public space if we had wanted to keep our distance for health purposes.
For those exploring where to stay in Victoria Falls, Ruth and Nicola would recommend 528 Victoria Falls to the traveller who likes boutique luxury and wants an ideal location – close enough to the action whilst being an oasis to escape to. Paul and Meredith, together with their staff make the experience very personal and memorable. If you are planning a trip to Vic Falls or anywhere else in Zimbabwe, Africa Conservation Travel is definitely worth working with. They have great recommendations, make travelling and managing bookings easy, and you can know that your travel 'bucks' will make a bang in their conservation projects.
Disclaimer: @RuthEverday's stay was in collaboration with Africa Conservation Travel and 528 Victoria Falls. All opinions are written by Ruth and Nicola with freedom.
* https://abcnews.go.com/International/wireStory/zimbabwe-floods-victoria-falls-vaccines-tourism-79347708 
Follow Great Zimbabwe Guide on Facebook and Instagram for additional photos, videos, tips & stories.
You might also like these articles about Victoria Falls, Zimbabwe