Art exhibition in Harare carries a message of hope and resilience
Three Zimbabwean artists have collaborated to explore the themes of resilience and humanity in a new art exhibition in Harare. Lin Barrie (fine artist), Johnson Zuze (wire and found-objects artist) and Kelli Barker (make-up, film and body artist) celebrate the ability within all of us to rise above the physical and metaphorical fires and trials of life. The art exhibition in Harare's cultural & arts scene, called  'Burnt Offerings | Re-invention | Taking Flight' is running now until 31 July 2023. Curated by Kudakwashe Chakwanda. Includes a floral installation by guest artist Neels Scott. You can see the art exhibition daily at the newly opened Pikicha Gallery, Helensvale Shopping Centre, Harare. 
The exhibition is a powerful reminder that art can be a tool to unite people by highlighting shared experience and to spread hope in uncertain times.
One of the collaborating Zimbabwean artists, Lin Barrie, tells us more:
"It's important to keep this art collaboration in the public space as it addresses issues we all face: trial by fire, real and metaphorical: whether death and calamity, depression, drugs, or socio-economic pressures such as joblessness or poaching."
About the artists
Lin Barrie: I am a fine artist who specialises in painting and sculpture. I express my passion for the natural world – animals, landscapes and culture – with my art. In this exhibition I'm interested in the idea of fire being a force that shapes all of us; either physically or metaphorically.
Snail shells are also an important theme for me, being a strong thread in the Mahenye clan story as well as their totem (read my blog for more on that story). Giant African land snails leave behind pristine white shells around the Gonarezhou National Park and the Save Valley Conservancy where I live. I have cast some snail shells using recycled aluminium in partnership with local manufacturer Simpli Simbi. These aluminium shells combine with clay pots and snare wire to make a powerful art/conservation statement.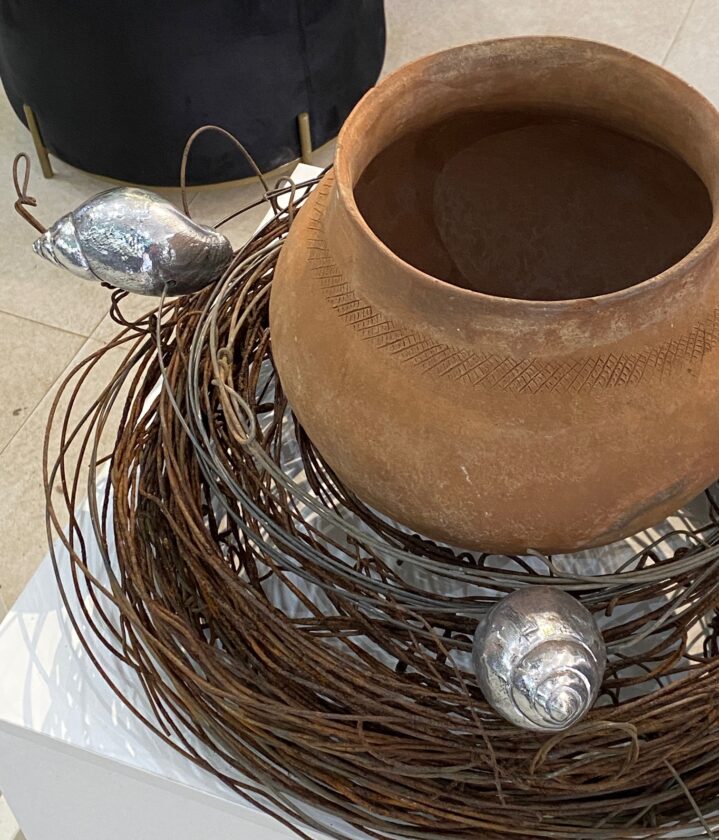 Kelli Barker is a talented make up and body artist who has also turned to film production in this exhibition, together with collaborators Sebastien Lallemand, Faz Pixels and a fabulous all-local crew of creatives. The film, also on the theme of fire and trials, is set to turn many heads and minds.
Johnson Zuze creates incredible wire and found objects sculptured from snare wire that I (Lin) collect in Gonarezhou National Park and the Save Valley Conservancy – creating beauty out of brutality! Snare wires are generally used by poachers to trap and kill wild animals, but here they have been used for good. This brings with it a tangible reminder that a force that a destructive force does not need to have the last word in a story.
Photos from the art exhibition in Harare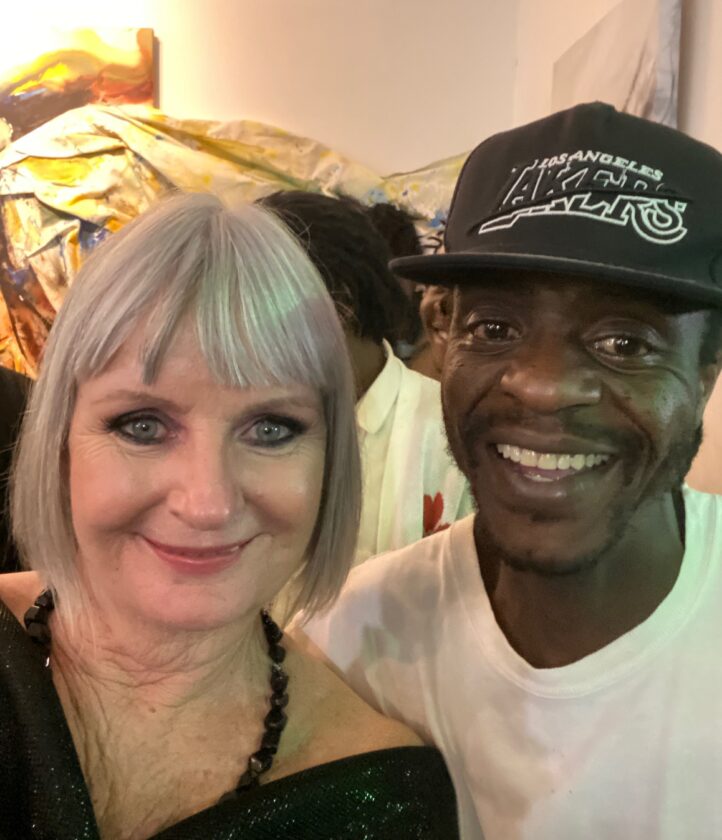 Pictured: Johnson Zuze and I see eye to eye on the use of recycled trash and wire to create art!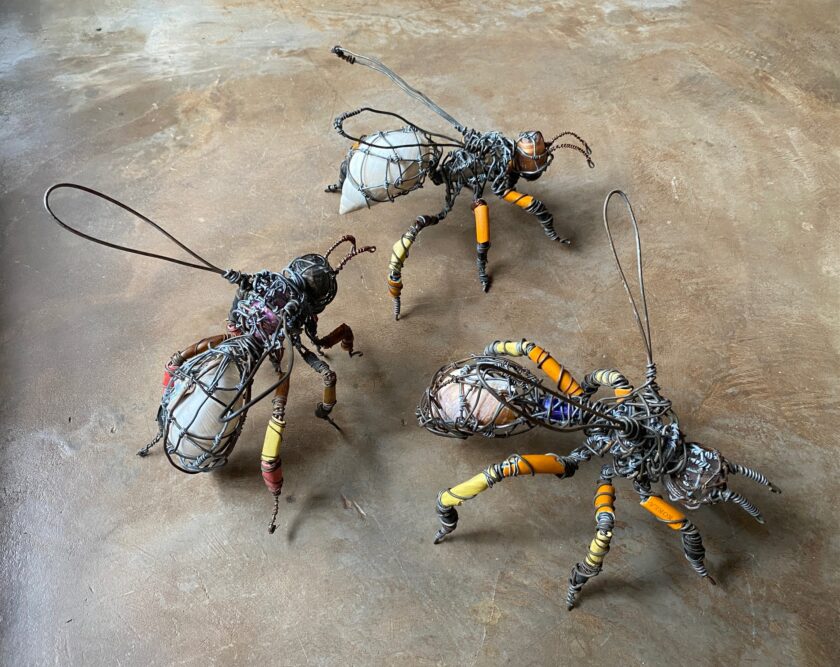 Johnson Zuze fashioned these 'shell wasps' from poachers' snare wire and my giant land snail shells.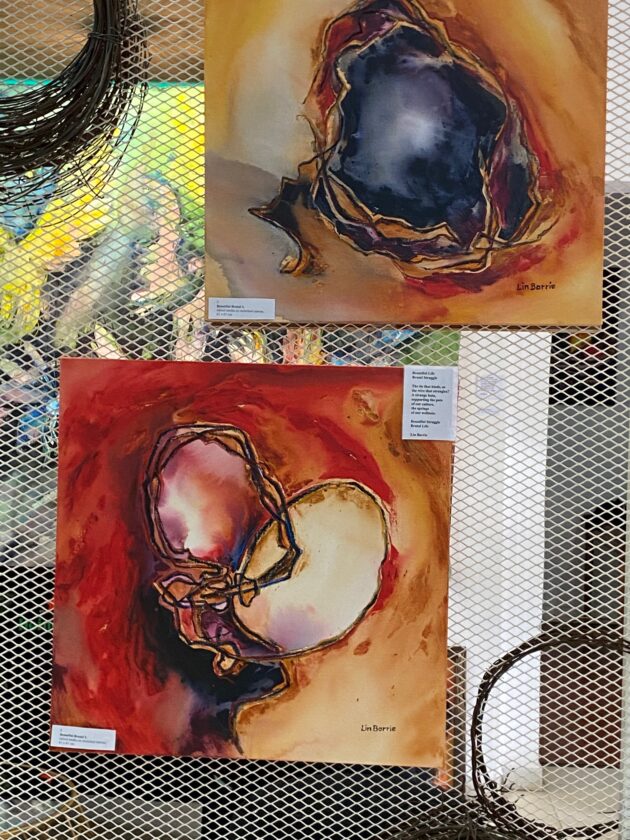 Some of my paintings and installations are of poachers' snare wire, re-purposed: a statement that we can all make a difference in our environment by re-inventing the trash, the waste and found objects around us.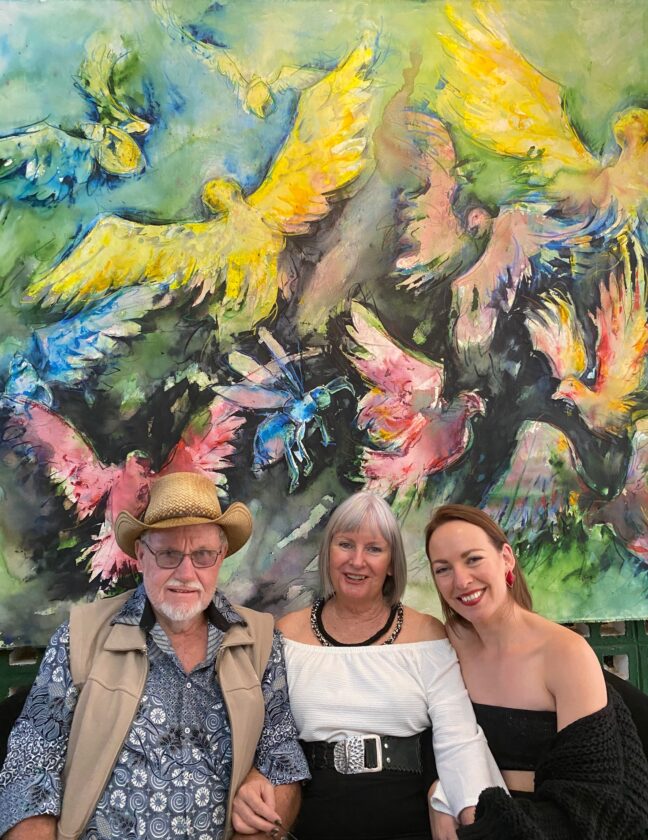 Myself (Lin Barrie; C), Kelli Barker (R) and conservationist Clive Stockil (L) with my huge painting called 'Winged Things', mixed media on canvas. Pictured at the 'Burnt Offerings | Re-Invention | Taking Flight' art exhibition in Harare.
Pikicha Gallery at Emagumeni Helensvale Shopping Centre is a multi-cultural creative space, dynamic art gallery, co-workspace, and bar; well worth a visit in Harare. It is open weekdays and weekends for viewing the exhibition. Why not visit on a weekend when the experience is even more memorable, with great local food and music adding yet another dimension to the space."
---
More about artist Lin Barrie
---
#allthingsconnected #greatzim #zimbabweart #harare #zimbabwe #africa #africanart #artexhibition
Follow Great Zimbabwe Guide on social media for even more Zimbabwe travel & culture inspiration: Facebook (@GreatZimbabweGuide) & Instagram(@GreatZimGuide).
To ensure you don't miss anything, sign up for email newsletters on our Contact page.
More articles you might like
Click on an image to read the article.
My 'Zimbabwe' bookshelf | Best places to visit in Harare | Walking around Great Zimbabwe Monument & Ruins | Harare Travel Guide