Photo safari gear: What's in my camera bag?
I'm still a relative newbie when it comes to photography – I got my first DSLR in 2012. I've done a few courses and I enjoy planning shots as well as doing the post-processing. This blog probably gives a good visual indication of the evolution of my photography!
I don't think that you need the most expensive camera or the most expensive lenses to go on photo safari. You can still be on a budget or use entry-level equipment and take some great shots. For the more expensive items, look out for good condition second-hand ones on Gumtree or eBay. Most of the gear in my camera bag is very versatile, and can be used for photography in urban settings as well as on a photo safari. You don't have to buy stuff that you'll never use again. I'll start off with a snap of my own much-loved camera (with its trimmings) and then we'll get to the list …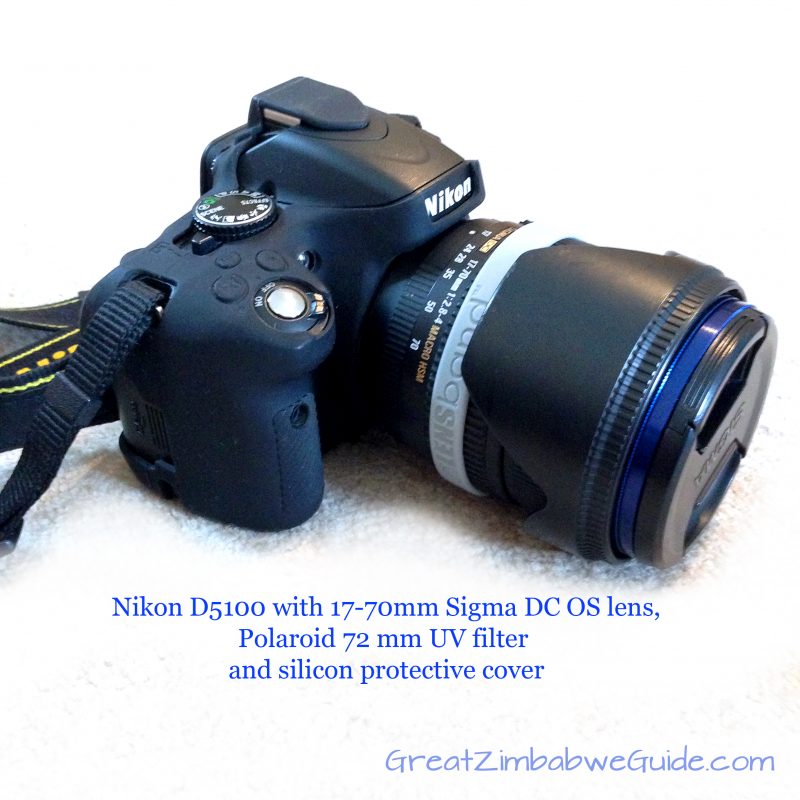 My top 12 photo safari items
I think this is a great entry-level DSLR which is easy to use and is well priced. I've never regretted going for this one. I bought my Nikon D5100 in 2012 and have never looked back. When I was initially shopping around for cameras, I picked up each of the options to see what they felt like – the "feel" was a big factor for me. I think Canons can feel a little plastic-y, whereas my Nikon feels very sturdy and long-lasting. I also prefer the size of the handgrip on the Nikon to the Canon. It has excellent light sensitivity at 1,183 ISO, the screen can flip out for those hard-to-reach shots and the battery life is comparatively good at 660 shots.
This bag has enough space to carry a spare non-telephoto lens, memory cards, filters and batteries along with my camera, which is all I need during a game drive or walk. I like the messenger-style over-the shoulder strap because I can get things out of the bag without having to take the whole bag off my back or needing to find a ledge to put my bag on. I like the compartments and padded inserts that can be customized and moved around, according to what lenses or other equipment I need. This bag also looks good when I'm carrying it around a city or urban environment, so that I don't look like a complete tourist when in a non-bush scenario.
I am, however, a sucker for vintage safari-style camera bags like this Koolertron Vintage Leather Messenger Bag.
If I were going on a long walking safari or canoeing safari where I was doing lots of physical activity besides walking, then I would take a backpack like this Samsonite Universal Waterproof Backpack.

I have three of these that I carry in my bag at all times. Because it sucks when your camera tells you that your card has run out of space and there's an elephant silhouetted against a setting sun. There's no time to fiddle around deleting images – get that spare memory card out your bag and get snapping.

This zoom lens is an all-rounder that can be used both for animal portraits and landscapes on photo safari. It has optical stabilization, making for better image quality, and is versatile in range. I find that I use this lens more than a telephoto one when I'm on safari because it's less bulky and performs well for most distances required in game-drive scenarios. Zimbabwean guides are excellent at getting you close to wildlife!
I used this lens on photo safari in Mana Pools for shots of animals and birds that were far away. However, as we were relatively close to the animals, my 17-70mm lens was more useful, as I mentioned above. On this telephoto lens, the images were a little fuzzy at full zoom and in low light situations. If I were to really splash out on a telephoto lens, I would buy a Sigma 150-500mm f5-6.3 APO DG OS HSM – a girl can dream! I would also want to try out the Nikon AF-S VR 70-300 f/4.5-5.6G IF-ED which has an extremely versatile range, is compact and is a more affordable option.

It's much cheaper to replace a filter than a lens, so I keep a UV filter on my lens permanently. This proved its worth when my camera bag got squashed during a flight. My filter was cracked, but the expensive lens was undamaged. The 72mm size filters fit my Sigma 17-70mm lens.
DSLR cameras cost a lot of money, so it makes sense to look after them. My camera has worn this silicone cover almost since its first outing, and I'm glad that there's an extra layer to protect it from bumps, scratches or even being dropped on the floor. You can see from the photo of my camera at the top of this post that the cover is still slimline and unobtrusive.

This tripod folds up easily and is extremely sturdy. If you're at a waterhole or viewing point, or capturing the vast African sky, a tripod will help your images to be more crisp due to the elimination of camera shake.

Those telephoto lenses can be heavy, so a beanbag is extremely useful. It rests on the side of the car to keep your camera steady. You can leave the beanbag unfilled until you get to your destination, saving on luggage weight. I then just buy a bag of rice from a supermarket in Zimbabwe and fill up the beanbag when I get to my safari destination.

This handy tool has a brush on one end which helps you gets rid of dust (which is prevalent on a photo safari), and a pad on the other end that removes bigger pieces of dirt from your lens. If you have spectacles, it's also useful for cleaning those!

A silicone lens band stops "lens creep" by placing the band diagonally across the lens barrel at your desired focal length. Let's say you want to take a photo of monkeys playing in a tree nearby. If you were to hold your zoom lens upwards and then zoom in on the monkeys, the heavy lens barrel may "creep" downwards again due to gravity. You can solve this problem by moving half of your lens band from its resting position (pictured) and placing it diagonally across the lens.
I have 3 batteries which I carry in my bag fully charged so that I don't miss any photo opportunities. I also have a Nikon MH-24 UK Battery Charger that came with the camera. This 3-prong Type G battery charger works in most Zimbabwe plugs, and is a necessity for recharging batteries after a day of photography.

The LCD screen on a camera needs extra protection on photo safari due to dusty roads, branches that scrape past on a game drive, and yes, sometimes from my biltong-covered fingers.

If I happen to drop my lens cap off the side off a boat or it flies off the back of a speeding vehicle, my lens would be unprotected – not good. Having a spare lens cap "just in case" is a good item to have in the camera bag. Check the size of your lens to ensure you buy the right cap for your lens.
I may not have Lightroom in my actual camera bag, but it still is one of my photography staples which is why I've included it in my list. Previously I used Photoshop for all of my editing, but I find that Lightroom has many more tools for everyday photo enhancement. It is great for tweaking exposure, lightening shadowy areas of a photo, and reducing noise from a tricky image.
I am an affiliate for some of the products that I recommend on this site. If you purchase items through my links I may earn a commission from Amazon and other providers. You will not pay more when buying a product through my links. I'll only ever link to a product that I think is right for the readers of Great Zimbabwe Guide. Affiliate links contribute valuable pennies towards the running of this site. Thank you for your support. – Beth