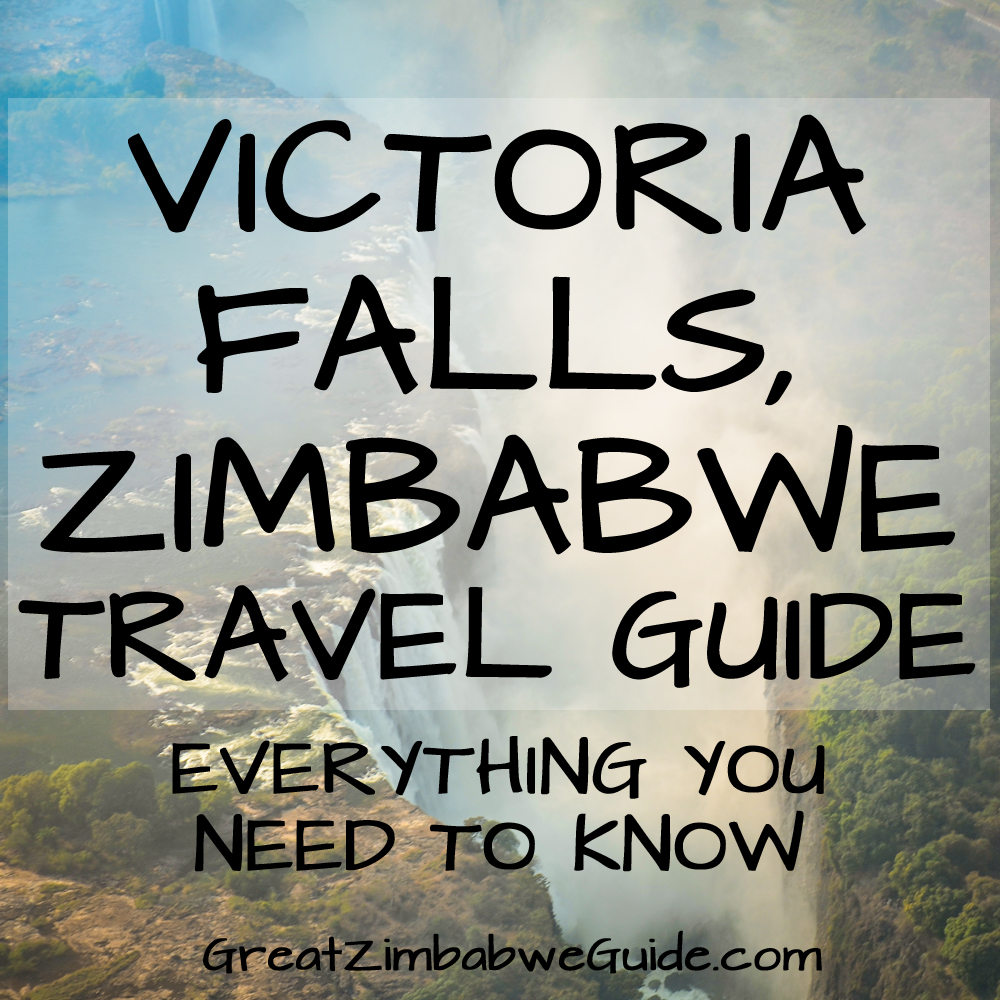 Victoria Falls is a must-do Zimbabwean destination. It's home to one of the largest waterfalls in the world, it's the adrenalin capital of Africa, and has hotels to satisfy every taste. Go white-water rafting, bungee jumping, and abseiling – all around the magnificent Zambezi River. If you're a wildlife lover, you can go on a range of safaris, from canoe-based ones, to conventional game drives, to horseback excursions. You can fly above the falls in a helicopter or go on a sunset river cruise. I'm sure that all visitors to Victoria Falls will share one thing: the unforgettable exhilaration of being in one of the most beautiful places on earth. Here's my Victoria Falls travel guide, giving everything you need to know to plan your visit. I focus specifically on the Zimbabwean side of Victoria Falls, not the Zambian side.

Victoria Falls is the biggest sheet of falling water in the world: twice as high and 1.5 times wider than Niagara Falls. It's 1.7 km wide (just longer than a mile), over 100 metres high, and the spray of the water is visible from up to 70 km (43 miles) away.
Confusingly, "Victoria Falls" is the name of the waterfall itself, and the town on the Zimbabwean side of the falls, and the National Park on the Zimbabwe side. Victoria Falls (the waterfall) is shared between Zimbabwe and Zambia because it forms the border between these two countries. The town on the Zambian side is called Livingstone, and it receives a higher amount of tourism traffic.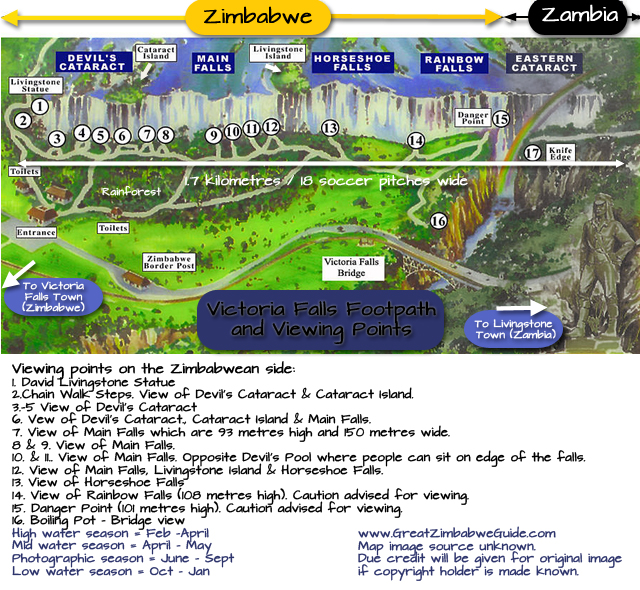 The positive news is that visitor numbers to the Zimbabwean side are increasing, which is good for the visitors themselves. You see, Zimbabwe rather than Zambia has the best view of Victoria Falls. 15 of the 19 viewing points are in Zimbabwe – that's 80% of the waterfall. Only 4 of the viewing points are in Zambia. Read more details about visiting Victoria Falls (the waterfall).
The town of Victoria Falls is compact and easily walkable, so visitors can stroll between the curio shops, lodges and craft markets at their hearts' content. The town is tourist-oriented to the extent that it can sometimes feel like a bit of a theme park. There are take-aways, supermarkets and cafes in town, as well as superb restaurants in the hotels dotted around the area. Some accommodation, such as Victoria Falls Hotel, are within walking distance of the town, and some are a little further out, easily reached by shuttle buses and taxis.
As you drive through a tree-lined avenue either from Victoria Falls Airport or from the Hwange road, you'll first catch a distant glimpse of the spray coming up from Victoria Falls on your right. At first glance, the spray will look like a low, white, fluffy cloud – an innocent teaser of the power of the water beneath. As you continue towards the town, monkeys will greet you from the side of the road, and if you're lucky, perhaps they'll be joined by a local elephant. The wild animals are allowed to roam freely around Victoria Falls Town, an arrangement which works well – most animals instinctively stay away from populated areas, and are not dangerous if left alone.
Victoria Falls Town statistics
Altitude: 915 metres (3002 feet) | Size: ~31 square kilometres (11 square miles) |Population: 33,020 | Nicknames: Vic Falls, The Falls, Mosi-oa-Tunya. Dominant languages: English, Ndebele and Shona, among others | Province: Matabeleland North | Location: North-West Zimbabwe
Best time to visit Victoria Falls
May to November are the best months for most visitors, but see below.
If you want to see the Victoria Falls in full power, go between March and May.
If your main reason to visit is for the white water-rafting, go between August and early January when the rapids are at their best.
If a safari is your priority, go between May and October when the vegetation is low and animals are more easily spotted.
If you're a party animal, don't miss the Victoria Falls Carnival which takes place over the days surrounding New Year's Eve. It's one long party with live bands and entertainment, and thousands of revelers descend on the town. You can also take part in the Victoria Falls Marathon and the Zambezi Cycle Challenge in July, to push your physical endurance whilst being spurred on by some awe-inspiring scenery.
Weather in Victoria Falls
May to September are the cooler and dryer months, where temperatures will reach 25 to 27°C (77 to 81°F) during the day and descend to 7 to 10°C (45 to 50°F) at night.
October to April are the hotter and wetter summer months: highs of 32 to 34°C (90 to 93°F) during the day, and lows of 15 to 19°C (59 to 66°F) at night.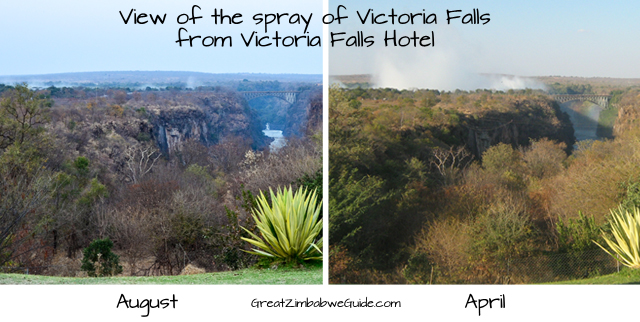 Practical information
There are "touts" walking around selling anything from curios to old Zimbabwean currency. They can be very persuasive, and sometimes annoying. The best thing to do is politely but firmly decline. Showing an interest in their wares will give them hope and make them even more persistent, so don't be tempted to stop and talk. There's a curio/craft market behind Elephant's Walk Shopping Centre where you can engage with local sellers and practice your bargaining skills instead.
If you have questions about currency/money, visas or health precautions please see the Zimbabwe Practical info/FAQ page. Also see my article on What to pack for a Zimbabwe holiday.
Tourist police are active in the town, and are there for the peace of mind of visitors. Victoria Falls is very safe, but bear in mind my tips on how to stay safe in Zimbabwe.
Elephants (as well as warthogs, monkeys and other animals) do wander around the town centre from time to time, and this is one of the unique joys of Victoria Falls Town. If you encounter an elephant, just give it space and respect. Don't make any sudden movements, don't make a loud noise, and don't get too close. Just wait for the animal to move along, and then you can proceed on your way.
Victoria Falls Emergency contact numbers are as follows: MARS private ambulance medical rescue 013 446 46 | Police: 013 422 06.
Why not send a postcard to loved ones: there is a post office behind Elephant's Walk shopping centre (it's on Google Maps). In 2021, I received a postcard sent from Zim to UK in a couple of weeks.
Ensure you read my tips for using cash in Zimbabwe, as you might not be able to withdraw cash or use certain international bank cards in Zimbabwe.

Accommodation
There are loads of places to stay: See my list of Hotels and lodges in Victoria Falls which includes a link to a Google map showing accommodation in the area. Accommodation options range from backpackers lodges to B&Bs and exclusive hotels. Some of the hotels are very touristy to the extent of having African dancers greet you on arrival, whilst others are more down to earth.
Activities in Victoria Falls
There's an abundance of things to do, from river cruises to night safaris – the difficult part is fitting it all in. Here's a list of Activities in Victoria Falls for you to choose from.
Food
Check out the following restaurants: The Lookout Cafe, Lola's Tapas Bar, Ilala Lodge, Victoria Falls Safari Lodge, The Livingstone Room at Victoria Falls Hotel. An article about Victoria Falls' restaurants is coming soon.
What to drink: This is the perfect place to have a cold glass of local Zambezi beer – even better if you're on the Zambezi River at the same time! Bohlingers is another local beer that may not have as fitting a name as 'Zambezi', but it definitely tops the taste test.
If you need to buy groceries, there's a large, well-stocked supermarket (Spar) on the main road, Livingstone Way. Due to Zimbabwe's economic situation some of the products are imported from South Africa, which are a little more costly, but there is a wide variety. Fresh produce is abundant.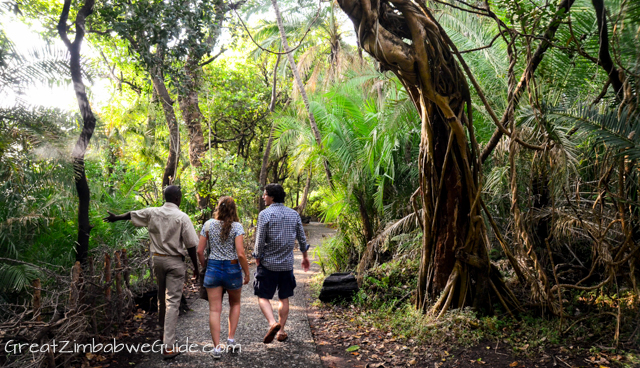 Transport within Victoria Falls
Victoria Falls Airport is 22 km from the town and a pick-up service is usually offered by your accommodation – double-check with them first. If you prefer to organize your own transport from the airport, there are taxis waiting at the terminal which will take you into town at a cost of around US $30 (irrespective of the number of people in the taxi). The taxis aren't metered – a fee is arranged upfront and is paid in cash, usually US Dollars. Alternatively you could contact a tour company such as Wild Horizons or Shearwater, who offer a shuttle for around $14 per person. The tour companies also have shuttles from Livingstone Airport into Zimbabwe, at a cost of around $24 per person. For more information on Victoria Falls airport, see my page on Flights to Zimbabwe.
Victoria Falls town centre is very small which means that the only transport you'll really need is your feet. The curio shops and restaurants are in easy walking distance of each other.
If you're staying at a lodge out of town, check if they have a shuttle service that goes into the town centre – most of them do (and it's often free).
If you do an activity such as the gorge swing or white-water rafting, transport from your accommodation to the activity is usually included.
You can also rent a bike from Royalty Linkerz at a cost of $5 per hour and cycle around the area.
Car Hire in Victoria Falls is available from the airport and the town centre. There are a number of car hire companies outside the main airport terminal. You can also pre-book your car hire online. Companies available are Auto Europe, Europcar and Avis, among others. I don't really think it's necessary to hire a car in Victoria Falls because it is so small, but if you're travelling elsewhere in Zimbabwe then it might be an option. See my article about Driving in Zimbabwe for more details.
Transport links with other areas
For info on getting from Victoria Falls to other areas of Zimbabwe, see the article on Transport within Zimbabwe or one of the posts below.
Inter-city buses, shuttles and coaches offer affordable transport to Hwange, Bulawayo, Harare and South Africa.

Here's a list of reputable shuttles (with hyperlinks to their websites): GoDirect, Shumba Shuttle, Hilton Transfers, Elite Premier, Samaita, Wild Horizons (Victoria Falls and surrounds only) and Shuttle Direct (Harare only). Also, Black Rhino Safaris offer transfers and tours to Harare, Bulawayo, Matopos, Victoria Falls, Great Zimbabwe and other locations. Groups can contact Pesha Safaris (

[email protected]

), Hersov Tours (+ 263 773 923 500) or Shumba Shuttle.

Internal flights are available to Hwange, Bulawayo, Harare and other areas.
My advice is to choose your accommodation at your next location, and ask them to suggest transport options for you. They are experts in helping guests with the logistics of their holiday.
Also see my list of Tour Companies operating in Zimbabwe if you want to book a packaged holiday.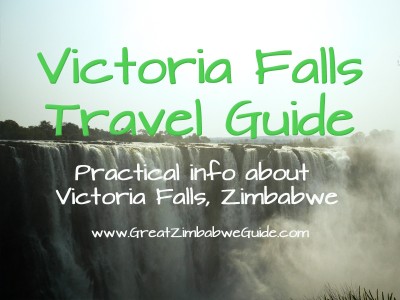 Guided tours from Victoria Falls
Most of the activities in Victoria Falls are accompanied by a guide. See Things to do in Victoria Falls for a list of the activities to do locally, including tour company information.
Wild Horizons and Shearwater offer day trips from Victoria Falls to Chobe National Park.
This and That Safaris offer day trips from Victoria Falls to Hwange National Park and Chobe National Park. They also offer a rail tour across Zimbabwe from Victoria Falls to Harare.
Black Rhino Safaris offer transfers and tours to Harare, Bulawayo, Matopos, Victoria Falls, Great Zimbabwe and other locations.
What to read
Fortunate by Andrew JH Sharp – Part of the story takes place in Victoria Falls. Read my review of this book here.

Last updated Dec 2017