(Last updated Nov 2022)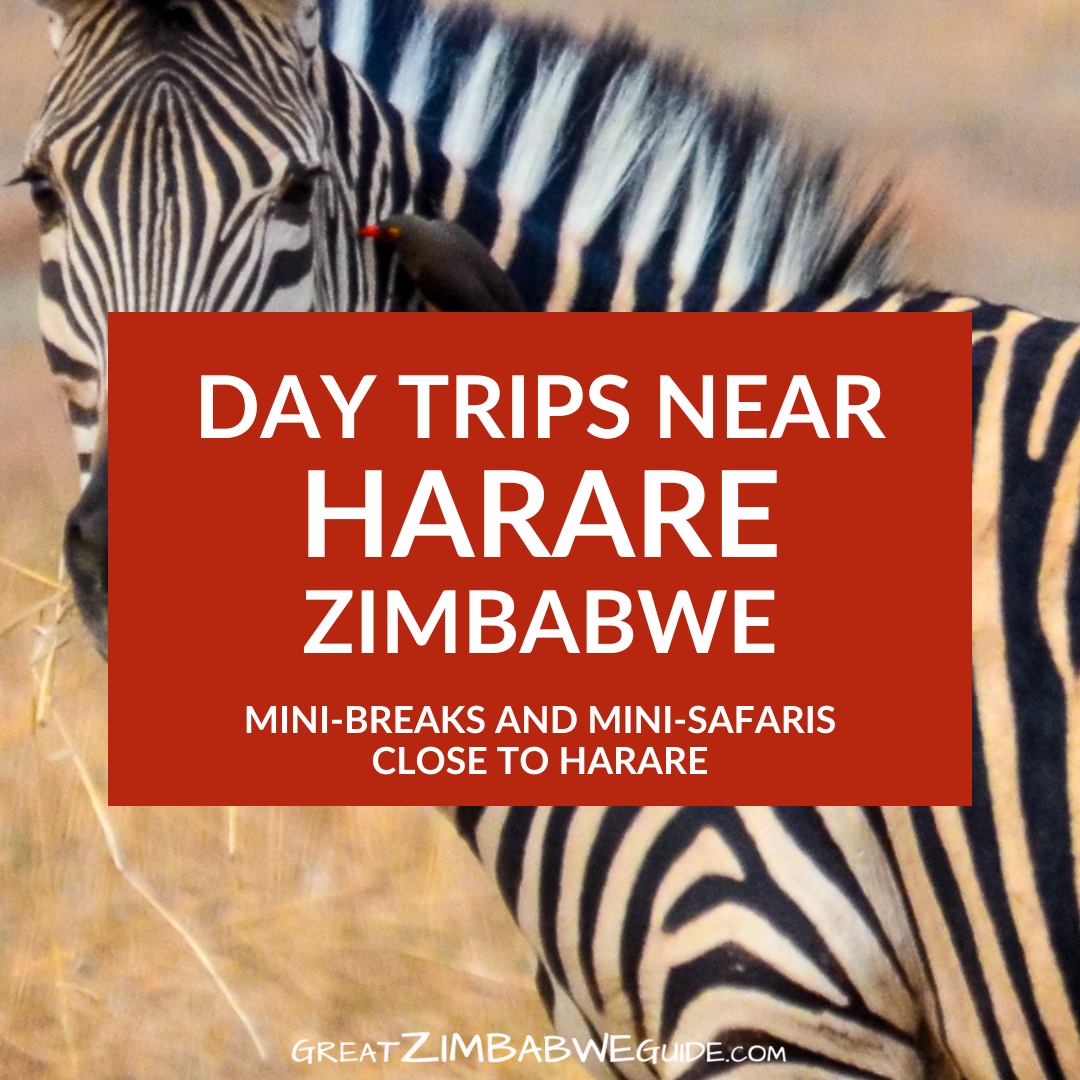 Want to have a wilderness break away from the bustle of Harare city? Here's our list of the best day trips, mini-breaks and mini-safaris close to Harare. You'll need to allocate at least three hours to enjoy these day trips fully. Many of these venues offer accommodation, so they make great weekend and overnight breaks from Harare, too.
You don't have to venture far from the capital to get close to nature and see some of Zimbabwe's wildlife. My advice is: Get out there and take advantage of these wonderful activities and locations!
If you have a car (or are renting one) most of these locations are easy to find, as long as you've check the directions on a Google Maps (or map book) before setting off. If you're visiting Harare with a tour company or a lodge, all you need to do is ask them to arrange a visit to one of the places below and they will be happy to help.
Most of these venues are family-friendly, and offer activities for all ages. For overnight breaks, it's best to book ahead.
Best Day Trips from Harare, Zimbabwe
All the venues on this list have so many activities to offer that we recommend at least three hours to enjoy them fully. If you're looking for shorter activities in Harare, read our post on Best places to visit in Harare instead.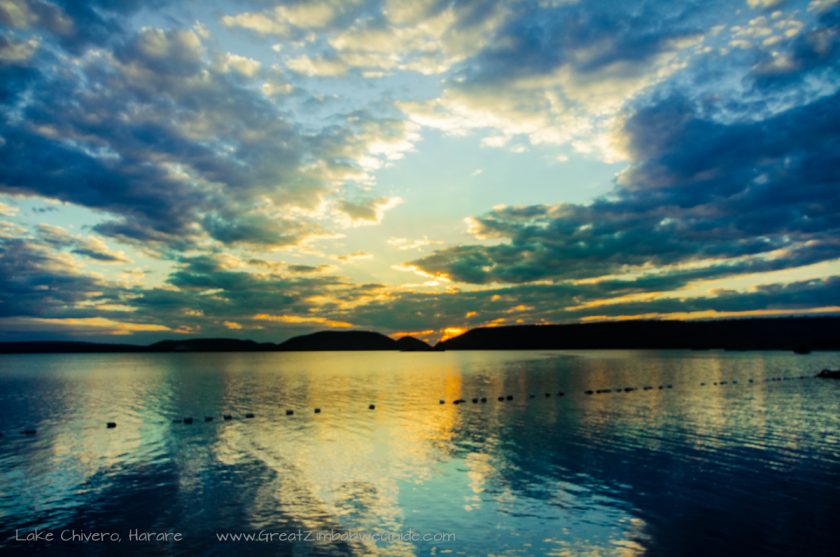 This beautiful recreational park is run by the Zimbabwe Parks Authority, and is an internationally recognised protected wetland. The 6,100-hectare park is home to giraffe, zebra, white rhino and more – all on the shores of Lake Chivero. It's a great family-friendly place to go game viewing, fishing or sailing against the picturesque view of the lake.
You could simply take a picnic and drive around the game park for a few hours; or you could book a guided walk or choose from a wide variety of hire equipment to really make a day of it. There are picnic and fishing sites, guided horse rides, self-drive or guided game drives, crocodile pond visits, game walks (booking required), tennis, volleyball, assault courses, sailing and canoe hire. Self-catering accommodation is available in the form of lodges, chalets, camp sites and caravan sites. The lodges have recently been refurbished and are good value. Take your own food and drink.
Details: Budget-friendly. The recreational park is 45 km from Harare off the Bulawayo Road. The ZimParks' area is on the south side of the lake, turn right before the dam wall; follow signs to the game camp entrance and rest camp. See details in the National Parks Facebook link in the heading above. Map available here. Self-catering accommodation available if booked in advance. Small entrance fee.
Ngomakurira Mountain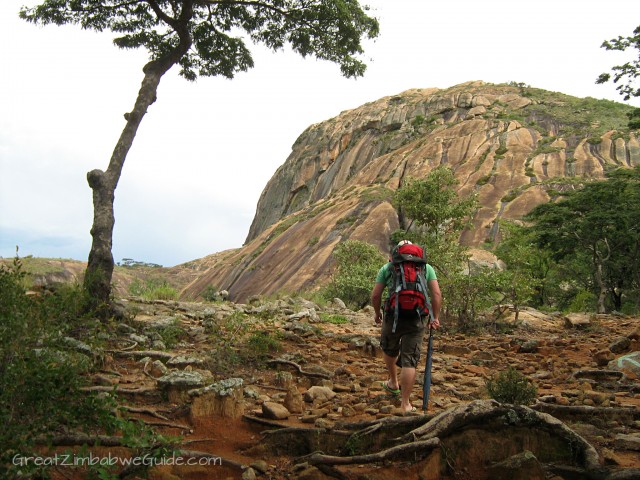 Ngomakurira (The Mountain of Drums) is Domboshawa's big brother. It takes an hour or more to walk to the top of this granite mountain, depending on which route you take, and it's much more scenic than Domboshawa. There's a small lake at the top, as well as a beautifully unexpected mini-forest. No need to book ahead. If you're in Zimbabwe but can't get to Bulawayo to see the Matobo Hills, definitely go to Ngomakurira for a taste of Zimbabwean rocky wilderness.
Details: Budget-friendly. Located approx. 30 km out of Harare, off the Borrowdale Rd. Turn right at sign "Ngomakurira Conference Centre". View Google map here. No need to book ahead; accommodation unavailable. A small entrance fee is payable at the car park. Take your own picnic and drinks.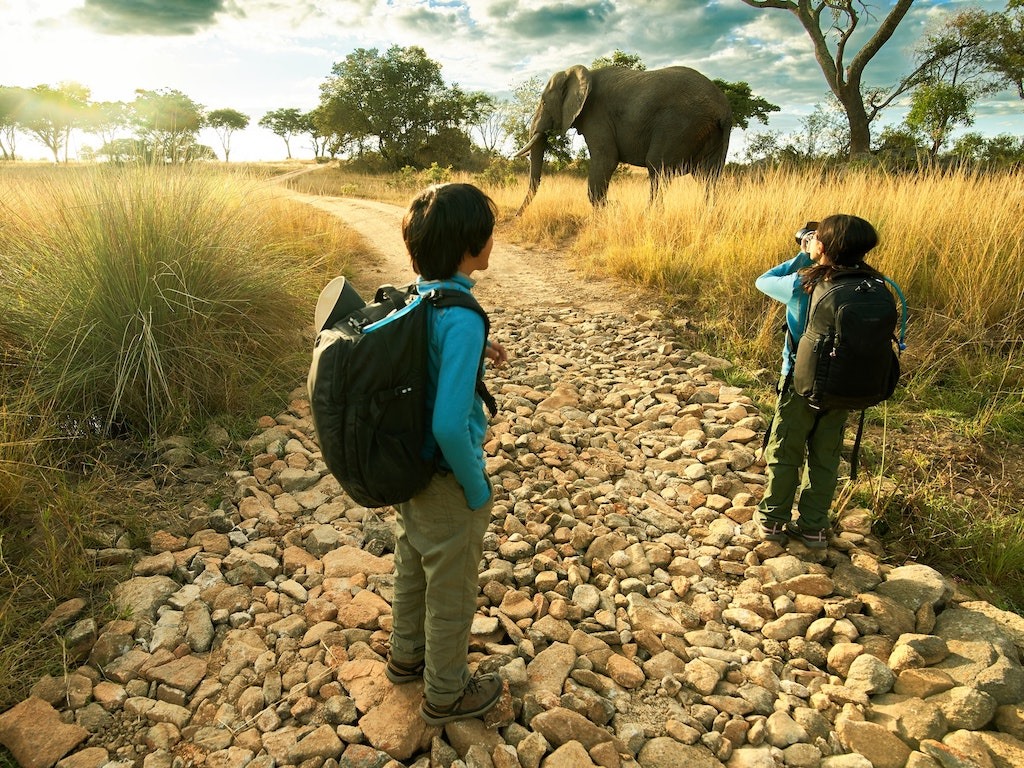 Image source: Imire Facebook page
This famous safari lodge is best known for its rhino conservation programme. At Imire you can see an impressive array of wildlife in an up-close conservation environment, including elephant, rhino, lion, hyena, giraffe, zebra, buffalo and more than ten different types of antelope – as well as over 150 species of birds. Imire Lodge offers both day trips and overnight stays. A day trip visit includes a full game drive and lunch served in the conservancy with a visit from the elephants or rhino. Overnight trips include feeding the rhino and elephant, followed by sundowners at the lookout and a gourmet three-course dinner.
Details: The lodge is 125 km out of Harare off the Mutare Road. Map and contact details here, or see their Facebook page. Day trip or overnight accommodation available; booking is required. Fees for activities vary.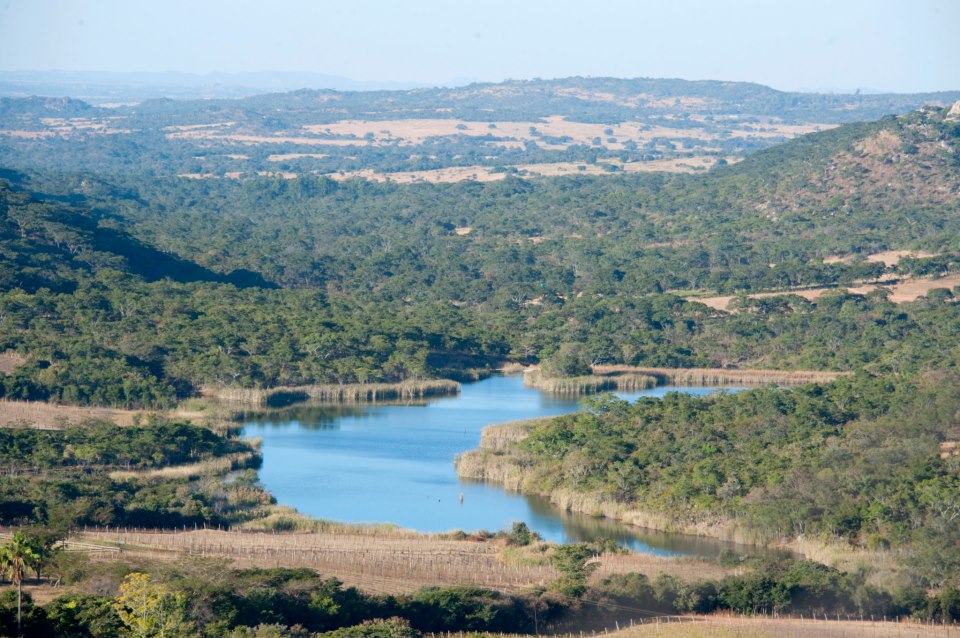 Image source: Bushman Rock Safaris
This boutique winery also boasts a restaurant, game (wildlife) park, fishing area, canoeing, rock art, horse rides, accommodation and polo grounds, all set around a dam in the serene Nyamasanga River Valley. An overnight stay is required in order to enjoy the activities. Thatched lodges overlooking the lakes and valley provide the perfect spot to relax.
Details: Located 40 km out of Harare, off the Mutare Road. View it on Google Maps. Contact details here. Pre-booking and accommodation is required. Fees for activities vary.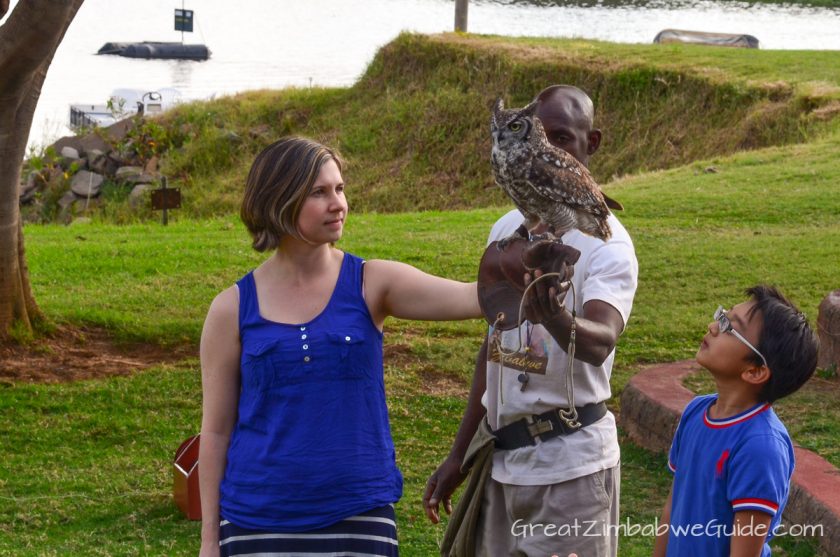 This private bird rescue park is located within Lake Chivero Recreational Park which contains over 460 species of indigenous birds, from African Fish Eagles to Peregrine Falcons. The bird park is a non-profit organisation offering refuge for injured and orphaned birds. It has a "birds of prey" display at 4pm each day, which is a great, hands-on way to show kids how fascinating these birds can be. Additional activities are speedboat rides, game-viewing, fishing, horse riding, or simply relaxing on the waterfront restaurant. I loved my visit to Kuimba Shiri Bird Park and I think this is a fantastic family-friendly day out. Lake Chivero was declared one of the seven RAMSAR sites in Zimbabwe by UNISCO and WWF and the Government of Zimbabwe. RAMSAR is the international convention for the protection of wetlands.
Details: Located near Lake Chivero, approx 30 km from Harare off the Bulawayo Road. Google map here. Self-catering accommodation is available at waterfront chalets and a camping site. Fees for activities vary. Read my post about Kuimba Shiri for more details.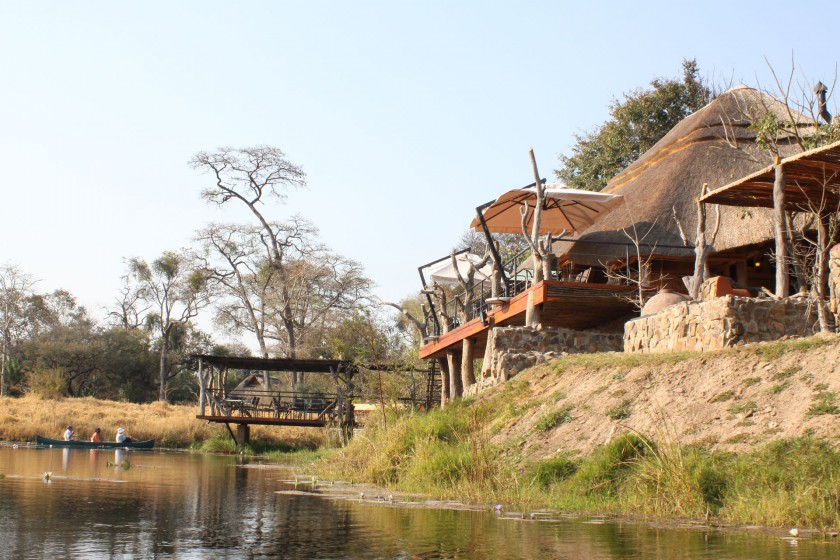 Image source: Pamuzinda Lodge
These two lodges are run by the same management, and they share a 13,000-acre wildlife reserve on the Selous River. They offer a taste of the African bush in a secure setting, allowing predator-free walks through the bush. There are free-roaming giraffe, zebra and other plains game. The Selous River offers fantastic canoeing opportunieis. When we were at Pamuzinda, we loved our time with Spike, the "tame" warthog (who was our favourite), and Geoffrey the giraffe. Activities include horse rides canoeing and bush walks.
In terms of accommodation, Pamuzinda is the smaller, more upmarket option, set on the river. Chengeta is better suited for families and groups.
Details: The lodges are on the Selous River, just an 1.5 hours outside of Harare. 65 km from Harare, off the Bulawayo Road. Luxury and group accommodation is available – full board or B&B. Fees for activities vary. Day trips start at 09.30 and end at 16.3o, with lunch provided. Half-day trips are also available. Please do book ahead. See the links in the heading above the photo to contact them.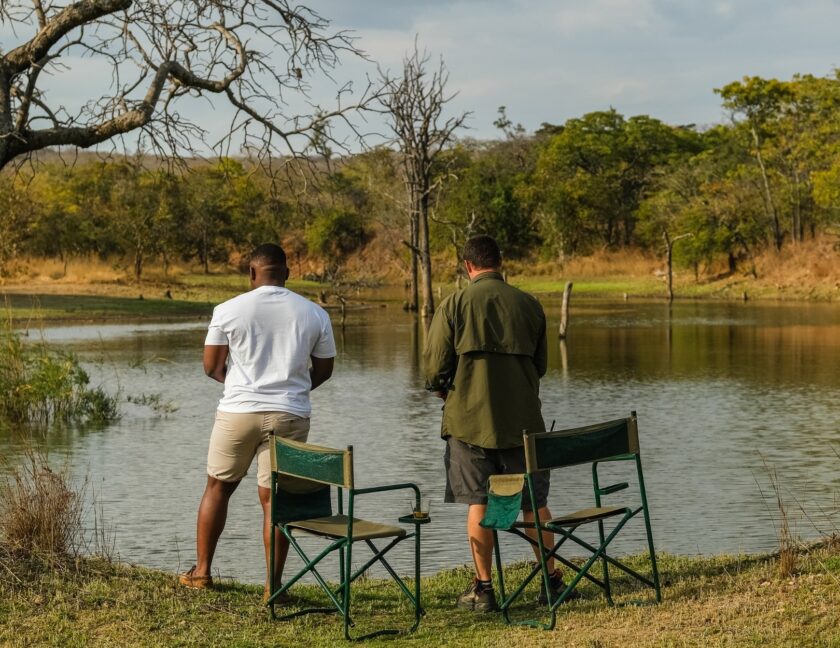 Image source: Hippo Pools Facebook page
Located just over 2 hours from Harare, this wilderness is best visited as part of a mini-break so that you can immerse yourself in the bush landscape. Activities include mountain biking, fishing, birding, canoeing, and swimming. Mountain bikes and fishing equipment are available for hire. Other popular attractions to explore include the ancient big Baobab tree, the bushman paintings, the Crowned Eagle's nest and the sandy beaches along the Umfurudzi River banks. Visitors can also go on guided walking tourse to see the wildlife and birdlife in the area.
Accommodation includes chalets, lodges, a safari tent or campsites; either on a dinner, bed and breakfast basis or self-catering.
Details: Located approx. 140 km from Harare, off the Shamva Rd. Day trips or overnight accommodation available with a range of catering options. It's best to contact them ahead of time to book your activities. See the link in the heading for their website.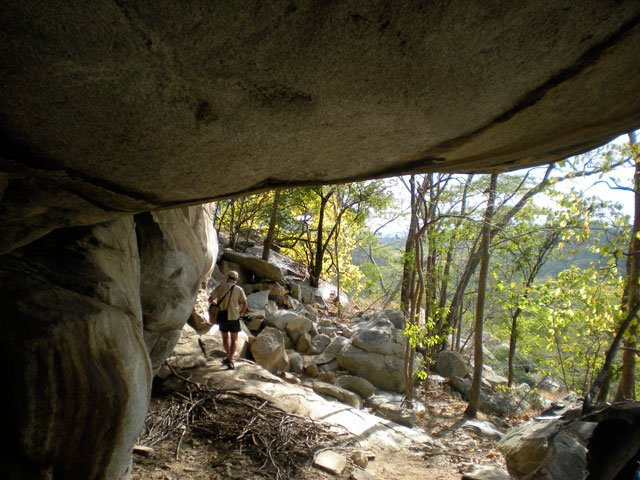 Image source: Umfurudzi Park
This safari park is about 2 hours our of Harare by car, so also is probably better as a weekend break rather than a day trip. At 7,600 hectares, it's a larger-sized park, which allows a lot of space for the family to explore. Activities include game drives, wild swimming in the rivers, canoeing, fishing, climbing, viewing of bushman cave paintings, mountain biking or walking in this beautiful park that holds a variety of plains game. There is also an enclosed buffalo and elephant breeding area which is only allowed with the attendance of a ranger. You can hire a 4×4 vehicle for a game drive if necessary. There are picnic spots for you to bring your own food and enjoy an al-fresco lunch.
Details: Located approx. 140 km from Harare, off the Shamva Rd. Map and contact details here. Self-catering accommodation available in permanent furnished tents, chalets and camping sites. Fees for activities vary. Visitors can bring their own food or buy basic cooked meals from the bar. It's best to contact them ahead of time to book your activities. See the link in the heading for their website.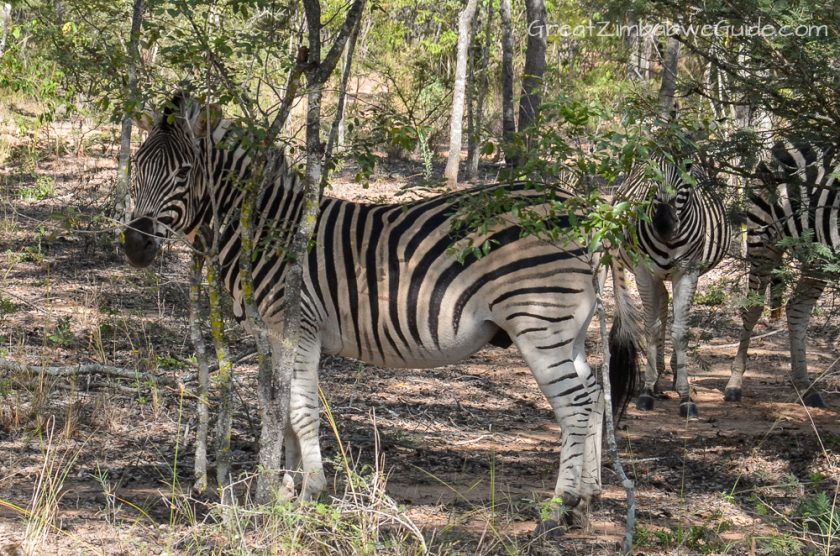 Game sanctuary for plains game (zebra, giraffe, etc, no predators) located near Harare International Airport. Activities include game drives, fishing, canoeing, bush walks and rock painting viewing. You can bring your own picnic to enjoy on the lakeside, or buy refreshments in the tea garden. Read about my visit to Mbizi Game Park for more info.
Details: Located 22 km outside Harare on the Twentydales Rd. Map and contact details here. Self-catering and catered accommodation is available. Fees for activities vary. Do contact them ahead of time to check that there aren't other events/parties taking place during your visit. See the link in the heading to visit their website.
Paradise Pools at Arcadia Dam
Paradise Pools is a great spot for wild swimming in the rock pools or motorboat riding around Arcadia Dam, Bindura. There are bring-your-own braai (barbecue) facilities, ablutions, camp sites and self-catering chalets.
Details: Located about 90 km from Harare, near Bindura. See it on Google Maps here. Email young[at]mweb.co.zw but booking is not required. Self-catering accommodation available.
Beautiful wildlife reserve with plains game and a wide variety of birds, very much off the radar of large tour operators so you are bound to have plenty of space to yourself. There are walking trails, cottages, camping facilities and picnic sites.
Details: Located on the Springvale Campus of Peterhouse School, approx. 83 km off the Harare-Mutare Road. Open every day of the week. Contact gosho[at]peterhouse.co.zw for camping/cottage bookings. Small entrance fee.
This farm, 100 km out of Harare near Wedza, offers authentic tours of a working Zimbabwean cattle ranch. The main rustic log cabin offers overnight accommodation in addition to camping. Activities include quad biking, volleyball and fishing. It is refreshingly basic, and tours to local attractions are also available.
Details: Located 100 km from Harare near Marondera. Link to Facebook page in the heading.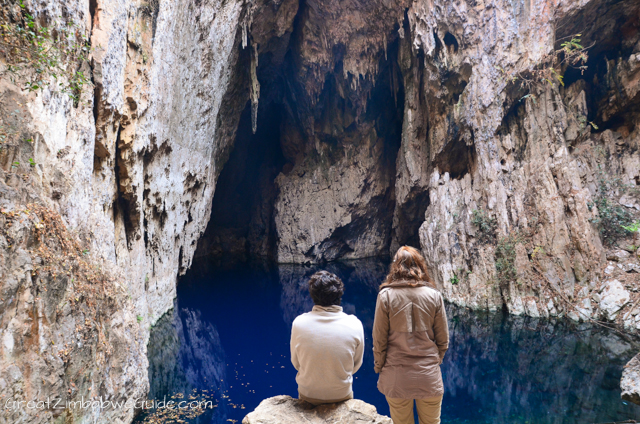 Chinhoyi Caves comprises a series of pools and underground caves filled with cobalt-blue, almost transparent water. Visitors can see 50 metres in the open pools, through the water into the caves. There are shaded picnic spots for you to enjoy a packed lunch, as well as camping facilities and a nearby motel if you'd like to stay overnight.
You can even learn to scuba dive with here with Dive Wild – there are over 100 metres of diving space in these pools and passageways.
Details: Located 129 km from Harare on the Chirundu Rd. Well signposted. Google map here. It's also a good place to stop for a picnic en route to Kariba or Mana Pools. Self-catering accommodation available. Small entrance fee payable at the gate. Read my Guide to Chinhoyi Caves.
Note (August 2023): Bally Vaughan/Mwanga Lodge was once on this list of best day trips from Harare. However, upon reading that Bally Vaughan purchased two tiger cubs for their facility, we will be boycotting this establishment. Tigers are not native to Africa. There are national parks and sanctuaries in Asia that protect wild tigers better than any African 'sanctuary' could. The tigers at Bally Vaughan were bought for the purpose of making money. The tigers were not rescued by Bally Vaughan – they were bred at a facility in South Africa. The tigers may be well-kept, but we do not participate or condone 'sanctuaries' that are involved in breeding animals for the sake of tourism interactions.
You might also like the following articles