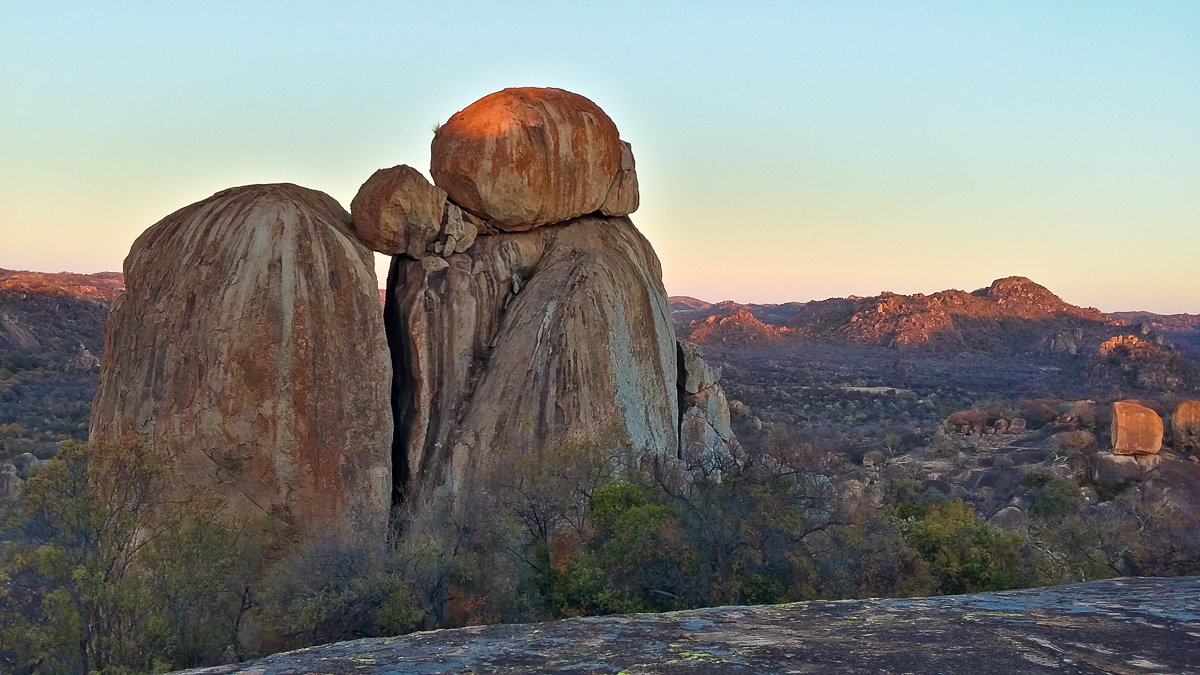 This guest post is written by Stuart Webb-Martin who lives in the UK. He went on a self-drive holiday to Zimbabwe with his family in August 2016. Here, he shares his thoughts on activities, road conditions and accommodation. In this third instalment of his travel journal, he recounts his time in the majestic Matobo National Park and Harare. In case you missed it, you can read the first post here.
Introduction: I grew up in Zimbabwe and have been longing to take my British family out to see "my home" so that they could experience the real Africa, and share my love of wildlife and open skies.
We were time- (and money-) restricted so we decided for an itinerary of Victoria Falls, Hwange National Park, Matobo National Park and Harare.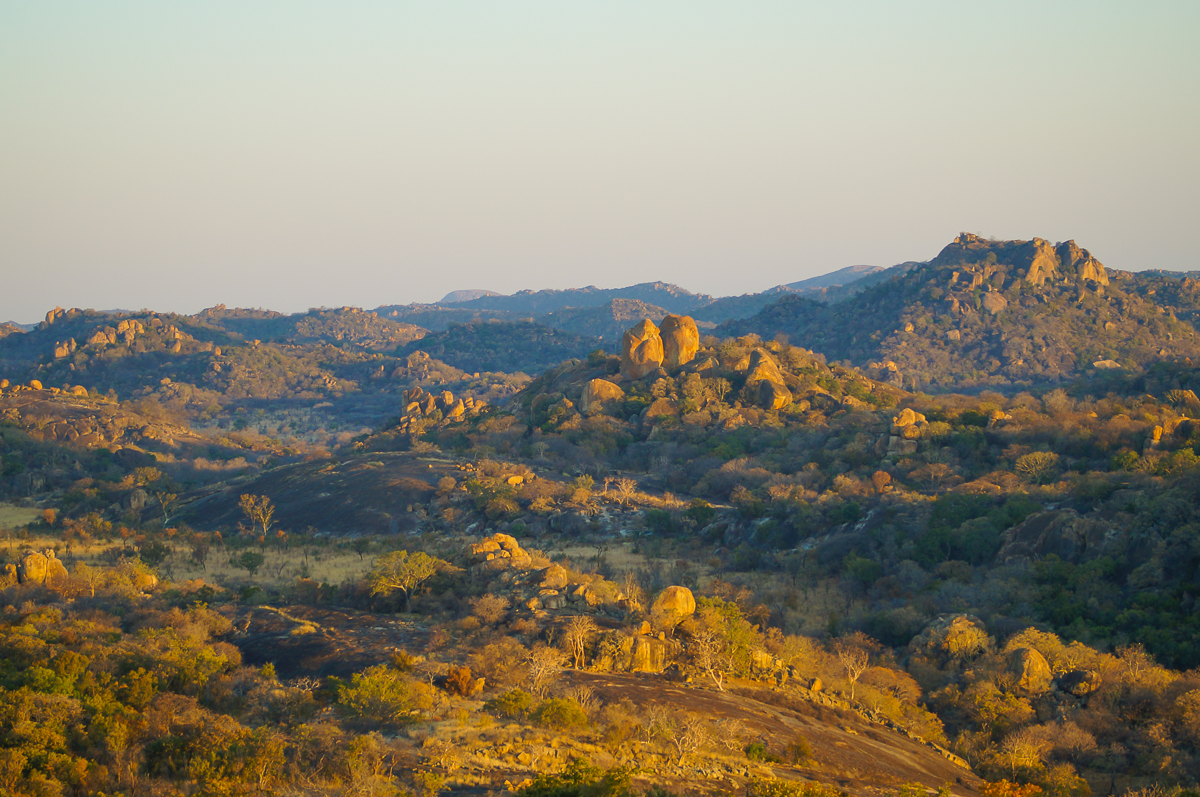 Views over Matobo National Park
(Continued from previous post about Victoria Falls here.) By far the longest drive of our Zimbabwe holiday was from Victoria Falls to Bulawayo (around 5 hours). We set off about 9:30am from A'Zam to travel back down the Hwange road to Zimbabwe's second city, meeting the same road blocks and tolls, again not having any issues. We had been warned not to stop at lay-byes on the side of the road for toilet stops, as the local buses tend to stop there and the surroundings are pretty gross (because there is no such thing as motorway service stations on this road). We stopped for a break just as we entered the Sikumbi Forestry area where Hwange's "presidential elephant" herd roam. Not long after we had stopped, a huge elephant herd appeared and crossed the road just 50 metres behind us. This was the heaviest traffic we had seen in hours and my, how privileged we were just to see these prehistoric beasts crossing the main road, mums, babies and all.
We made it to Bulawayo for a late lunch at 26 On Park, a lovely old colonial house turned into a restaurant and art gallery. We ate a hearty meal in the garden and admired the resident African Hoopoe with its amazing crest, before heading down past the old college where my mum learnt to be a teacher, and on to Matobo Hills Lodge.
Matobo mountains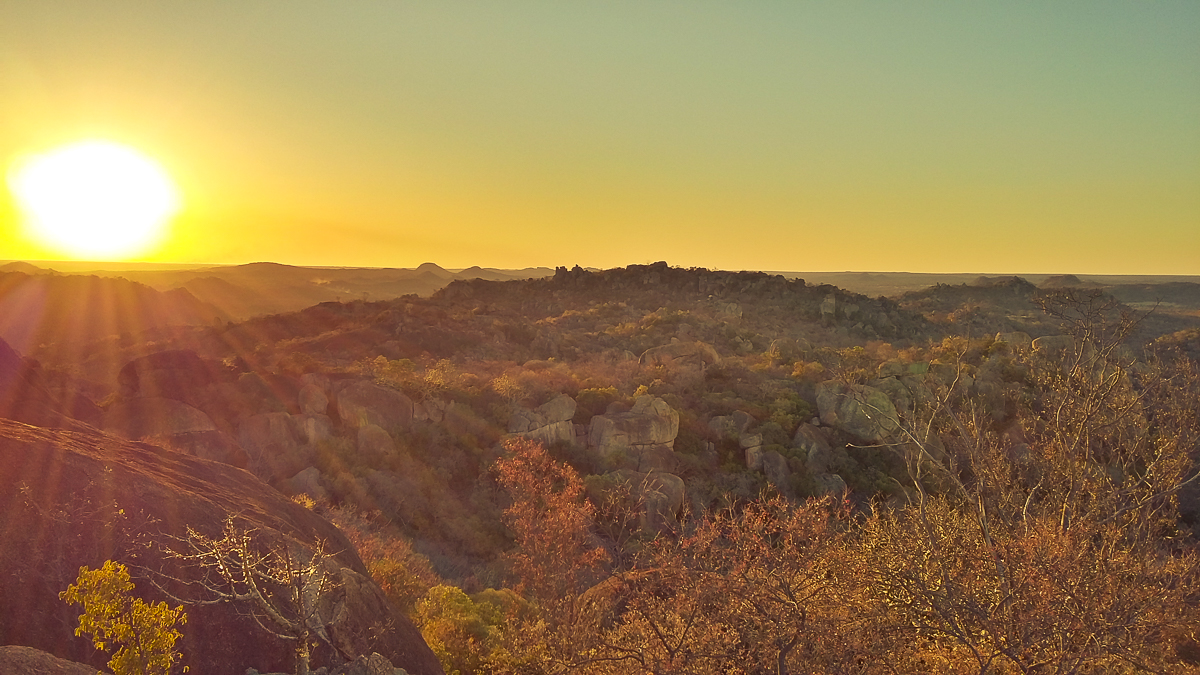 Views over Matobo National Park
I had forgotten how beautiful granite kopjes are. As we made our way from the main gate of Matopos National Park to the lodge, we saw a few impala, zebra, baboons and a leopard tortoise (something I was not expecting to see, which was great). Due to the relative safety from wild animals in the area (no buffalo, lion, elephant, etc.) we did a bit of exploring around the lodge and climbed Matobo Mountain just in time for sunset. It's quite a climb, but the view from the top was incredible as we sat and listened to a nearby baboon troop settling down for the night. We watched the horizon change from a light orange glow to a deep red before setting off down the hill again before it got too dark. We did not see or hear any sign of other human activity – magic!
Rhino tracking and story swapping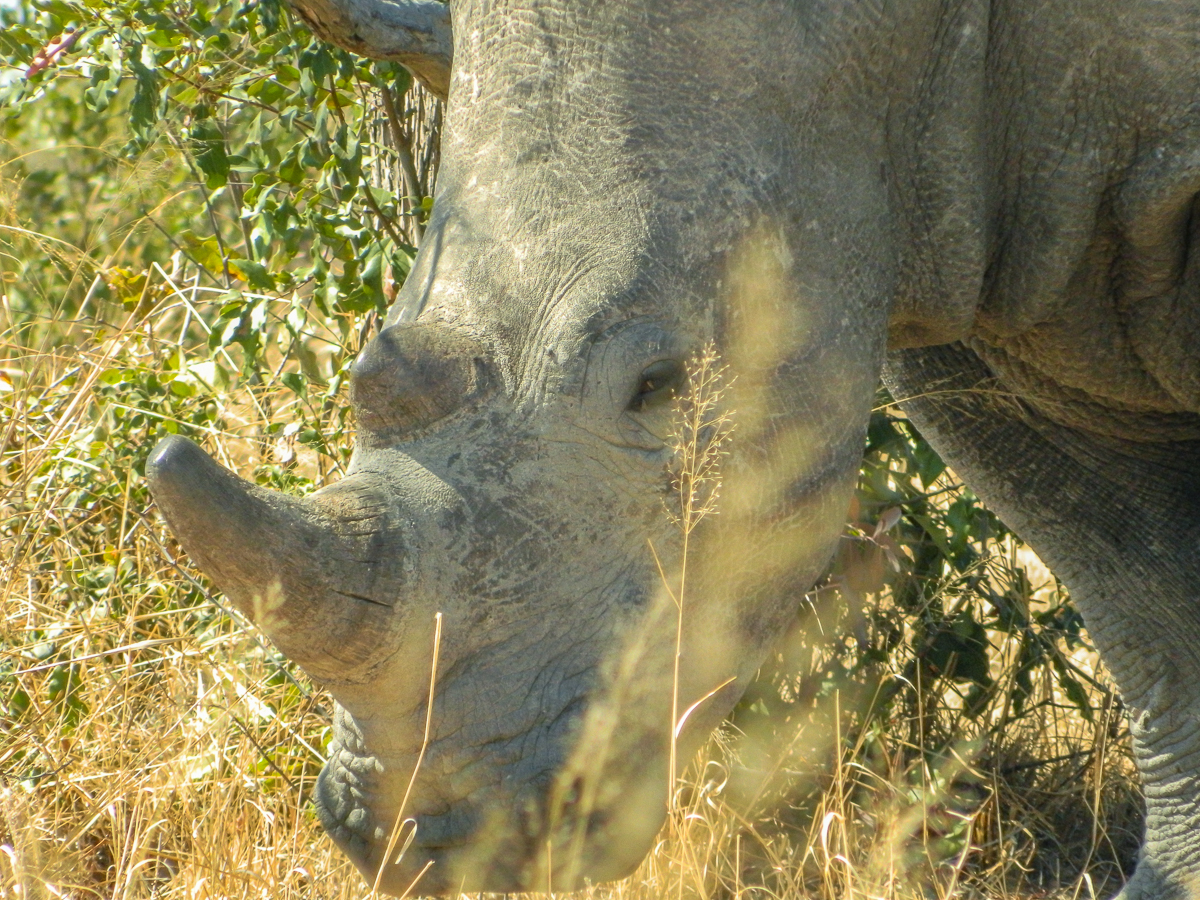 Seeing rhinos up close in Matobo National Park
The main drawcards of Matobo National Park are the rhinos. We contacted a local guide (Ian Harmer of African Wanderer) and went on a mission to find "his babies". We managed to track a group of them, and got closer to these beasts than I ever thought possible. How could anyone want to harm such beautiful docile creatures? It really is beyond me.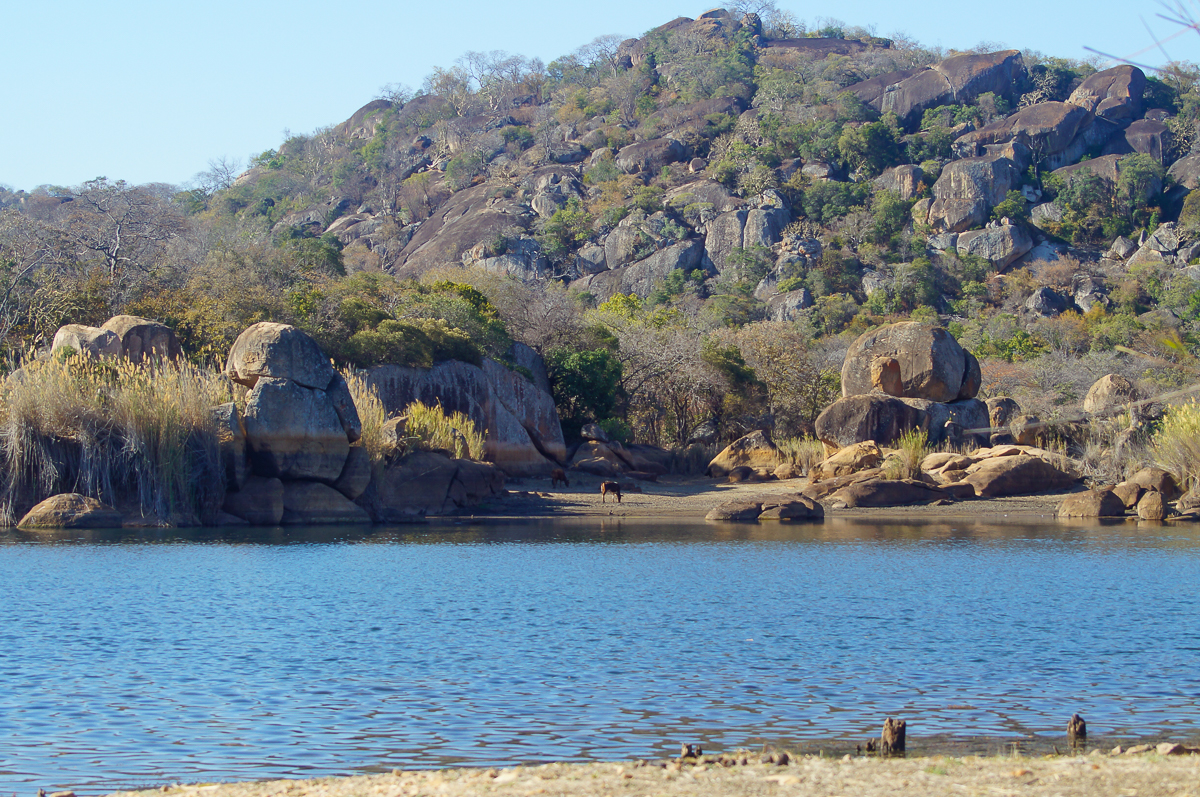 Mtsheleli Dam in Matobo National Park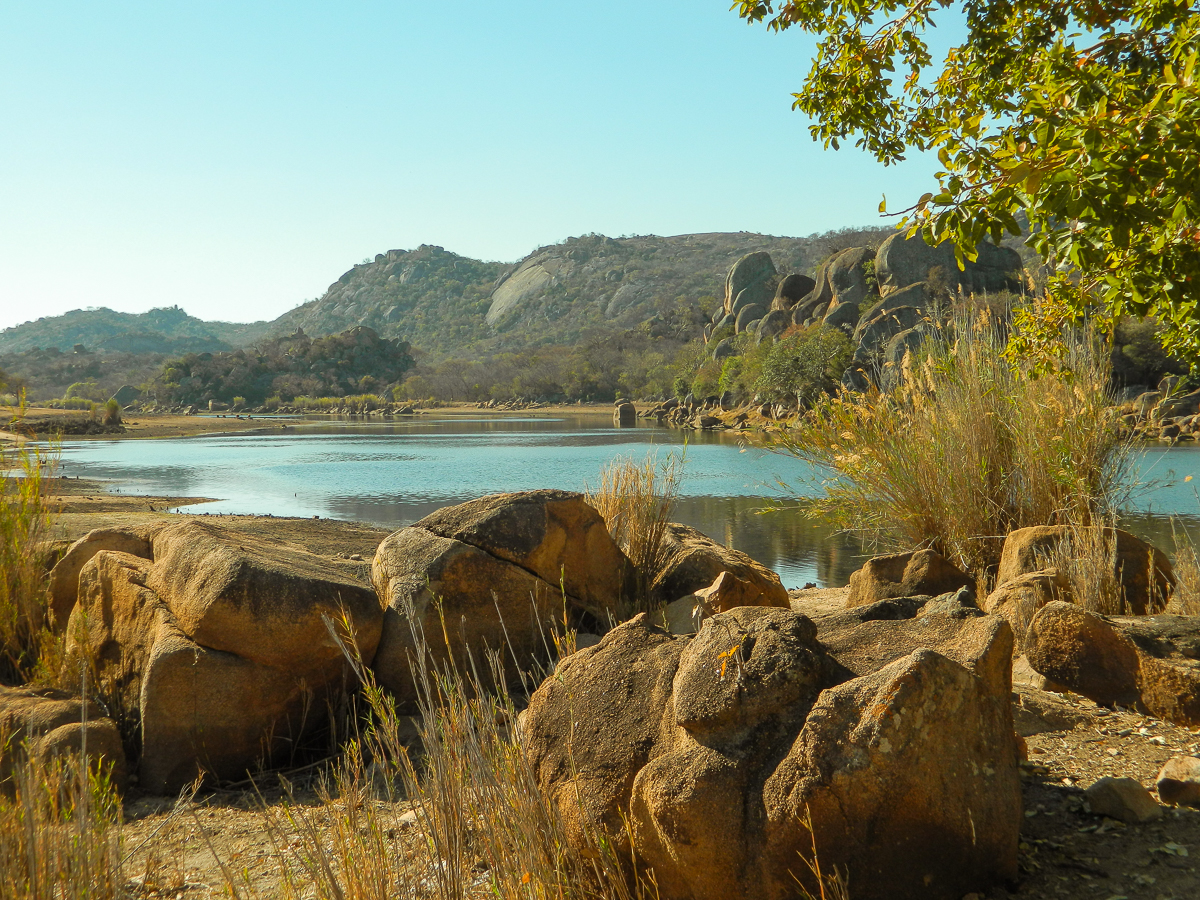 As we had our own vehicle, we decided to do a bit of exploring in the park and dove down to Mtsheleli Dam for a spot of fishing and walking. We didn't catch much, but the scenery more than made up for it and but the experience of seeing local cattle with their dingle, dongle cow bells round their neck coming to quench their thirst, and the local women coming down to do some washing and collect some water for cooking. Seeing the ladies balancing 20-litre drums on their heads in their vibrant dresses was a real African experience and something I remember fondly from my childhood. The drive down to the dam and back is not for the faint-hearted though, as the road needs an upgrade! We spent the evening watching an elephant shrew family running around the rocks at Rhodes' Grave at "The View of the World" and drove slowly back to the lodge, hoping to get a glimpse of the many leopards in the area, but were unsuccessful.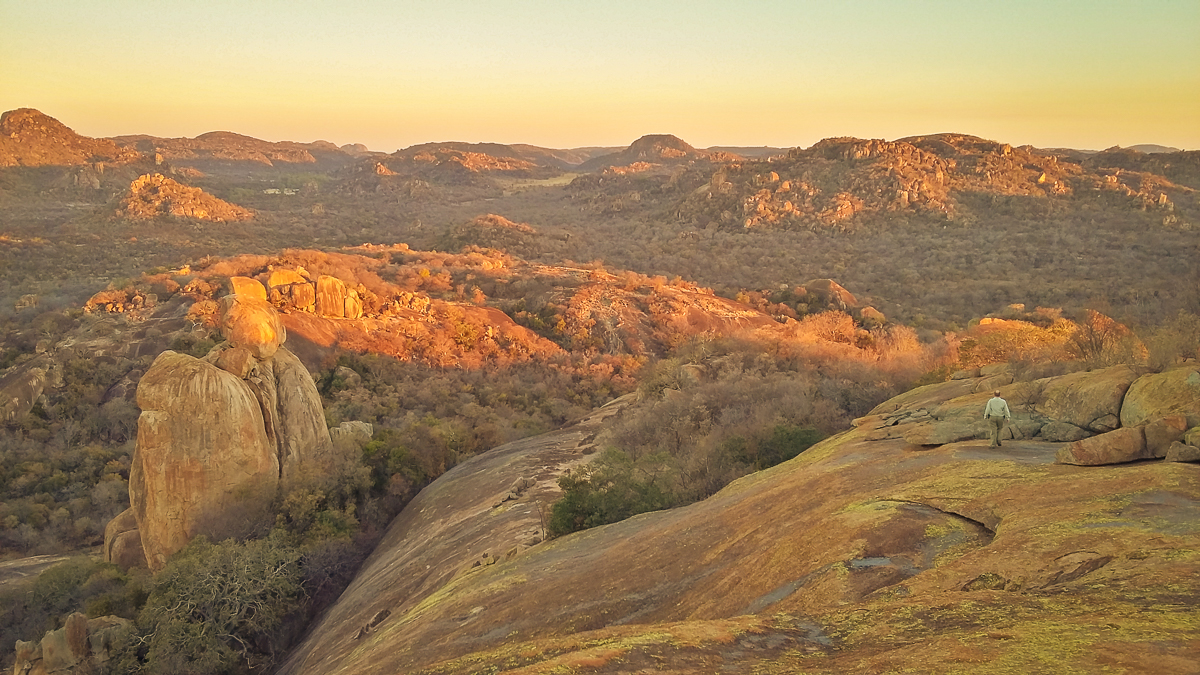 Walking in the sun-drenched hills of Matobo National Park
We spent our final night of our African safari swapping stories by the fire under the stars with the staff and other guests, whilst listening to the nightjars and drinking some beverages. Nothing quite beats sitting round the fire in the bush: No mobile phones, no TVs, no noise from passing traffic, no distractions, no obligations, just getting back to nature.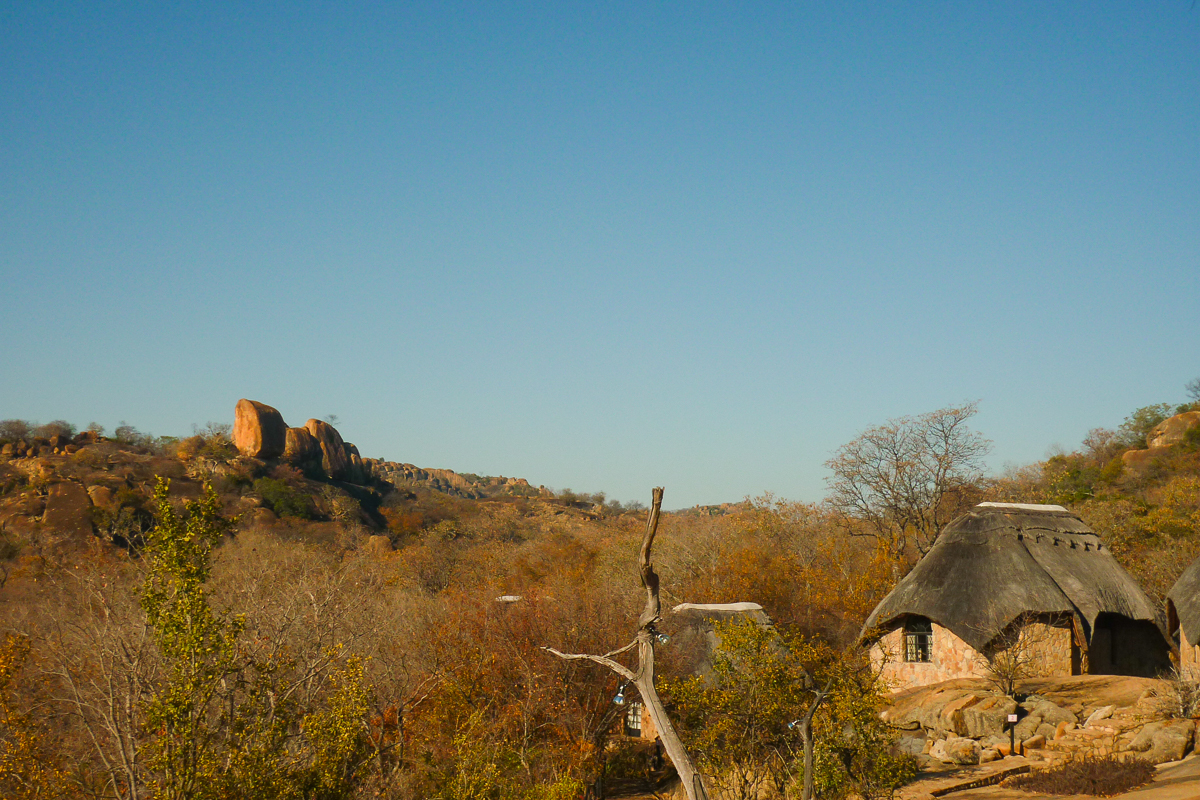 Matobo Hills Lodge
On the road: Bulawayo, Chegutu, Harare
On our way out of Matobo, we visited the MOTH Shrine and bushman paintings in the park, and stopped in at Food Lovers Market (wow, what a place) in Bulawayo to get a packed lunch for our journey to Chegutu where we stayed with my Godparents.
The road all the way to Harare was in good condition, though still had the usual police roadblocks and tolls. Again we had no issues. The scenery changed from forests to open grassland with a lot more civilisation in between the towns and, at this time of year, plenty of bush fires. We were going to stop at the old hotel (Midlands Hotel) in Gweru, somewhere we used to stop when I was younger, but Gweru was run down and very dirty so we kept going and only stopped at a vacant lay-bye under a tree for lunch.
After a few days in Chegutu, where we went sailing and fishing at a local dam, we moved on to stay with friends in Harare. Harare is like any capital city: Busy, full of enterprise and activity. We stopped in at my old home and visited a few friends in town, including stopping in at Sam Levy's Village in Borrowdale. We didn't have to do much in town but everything you need seemed to be there, most of the traffic lights worked (some even being solar powered), and the roads were generally in good condition.
We had no problems with the local police, except we were frustrated at being pulled over during a drive to see friends in Marondera, rather than the commuter omnibuses which performed all kinds of illegal stunts on the road. The Msasa trees were all in their spring colours (reds and oranges) in the highlands, making for a very beautiful drive. We left Zimbabwe on a bit of a sour note, but it didn't spoil my pleasure of returning. As we drove to Harare Airport via the centre of Harare, we got caught up in crowds clashing with police, with several water cannons on the go. This momentarily frightened us, but once through, it was smooth sailing to Harare International.
Why I want to go back to Zimbabwe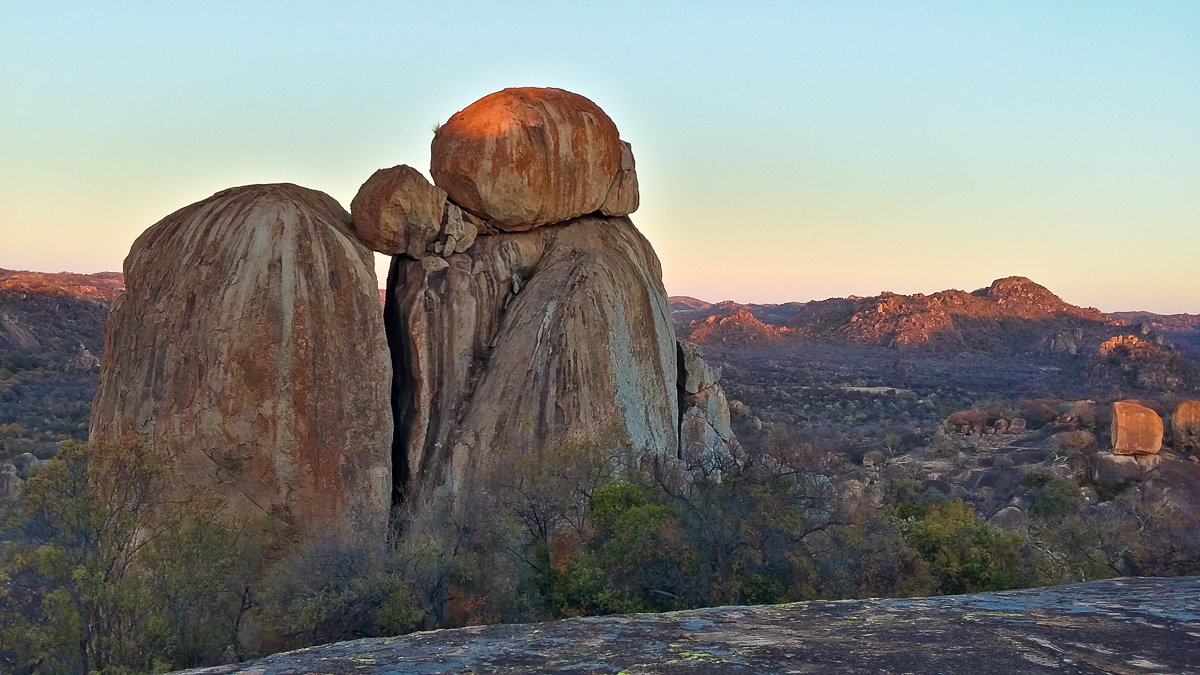 There were three things that really astounded me about my trip home. I feared for our trip after hearing so much bad news and about the struggles of local people, but I was pleasantly surprised that so many things seemed to work and how so many things are in good condition compared to when I last visited (2011).
I was also so humbled by the local people trying to do everything they could to make ends meet by selling carvings, selling home-grown crops and the tastiest organic honey EVER on the side of the road, and generally doing whatever they could to keep themselves busy, all the while doing it with smiles on their faces. There is no state benefit system in Zimbabwe, so if you don't work, you don't eat!
The final thing was probably the most surprising to me and my British family, and that was the high standard of the service, facilities and particularly the food. I have never eaten so well in terms of quality and quantity on holiday, and all in one of the most beautiful and diverse countries in the world. I can't wait to go back!
All views in this article are unsponsored and independent. The writer was not paid for visiting any of the accommodation in this article, and all views are his own. Neither the writer nor GreatZimbabweGuide.com were paid to publish this article.