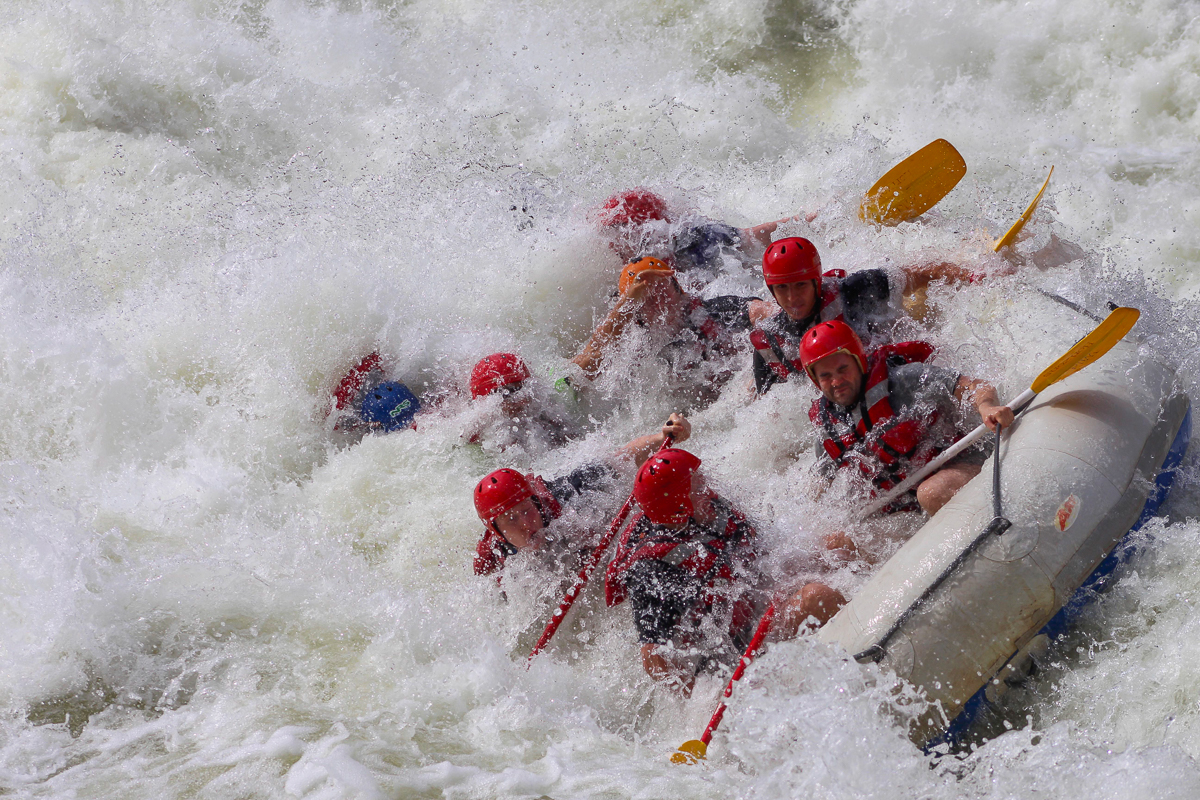 This guest post is written by Stuart Webb-Martin, who lives in the UK. He went on a self-drive holiday to Zimbabwe with his family in August 2016. He shares his thoughts on activities, sights and accommodation. In this second instalment of his travel journal, he recounts his time in Victoria Falls, The Adventure Capital of Africa. You can read the first post here.
Introduction: I grew up in Zimbabwe and have been longing to take my British family out to see "my home" so that they could experience the real Africa, and share my love of wildlife and open skies.
We were time- (and money-) restricted so we decided for an itinerary of Victoria Falls, Hwange National Park, Matobo National Park and Harare.
(Continued from the previous post about Hwange here.) We hit the inevitable police roadblocks on the way back from Hwange to Victoria Falls, and again had no issues. Beware driving into Victoria Falls town, as there are police with speed guns right at the bottom of the hill on the way to and from the airport.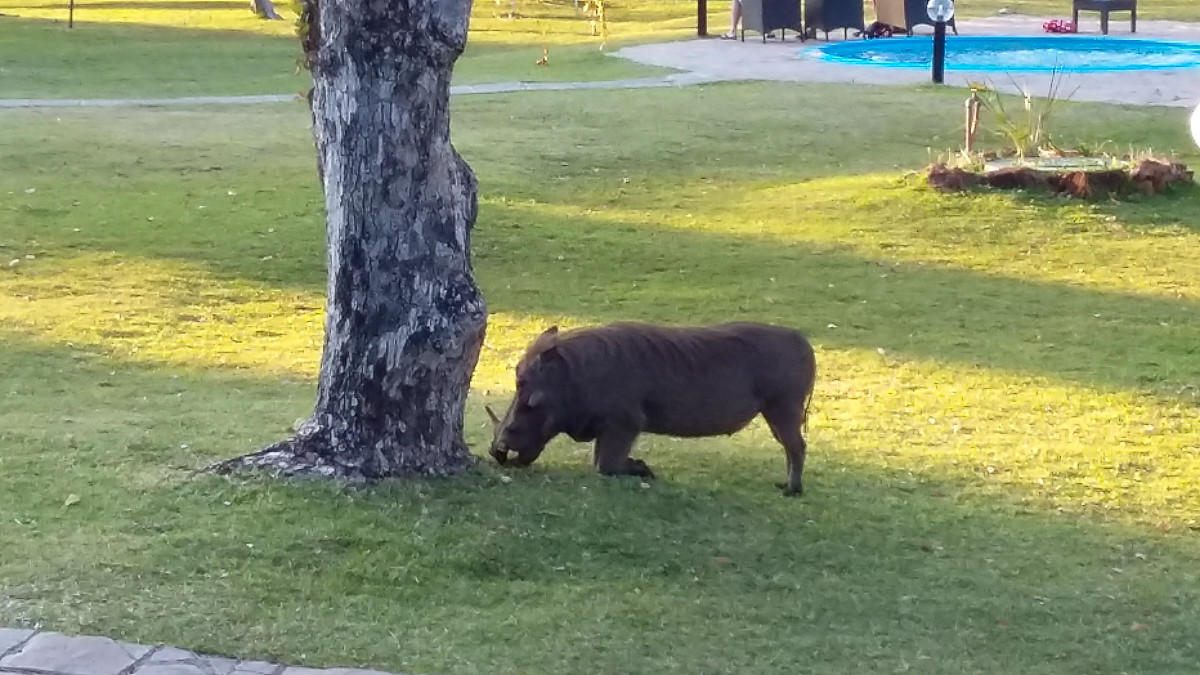 A warthog grazing at A'Zambezi River Lodge
There is clear contrast from the bush to driving into Victoria Falls where you are faced with billboards, taxis, street vendors and the hustle and bustle of civilisation. The town is booming compared to how I remember it. All the shops, restaurants and hotels in town were busy and there were people walking around quite happily next to the resident warthogs and baboons.
A'Zambezi River Lodge, Victoria Falls

Pool and riverfront area at A'Zambezi River Lodge
We checked into A'Zambezi River Lodge and were greeted by smiling staff and cold fruit drinks. "A'Zam" Lodge has a lovely family atmosphere with entertainment every night by the outdoor dining area. The pool and grounds are well kept, I just wish we had better views and access to the river. The river bank had local boat tours moored bow-to-stern most of the way along the front of the hotel. Despite this, it never felt crowded or noisy. The rooms were a bit small but it didn't matter, the balcony was pretty big with chairs to sit on and we were hardly ever in the room anyway. Why go to Victoria Falls to sit in your room? The ambiance of the hotel, the pool, outside lounge and bar are far better places to hang out if you aren't doing an activity or going out for dinner.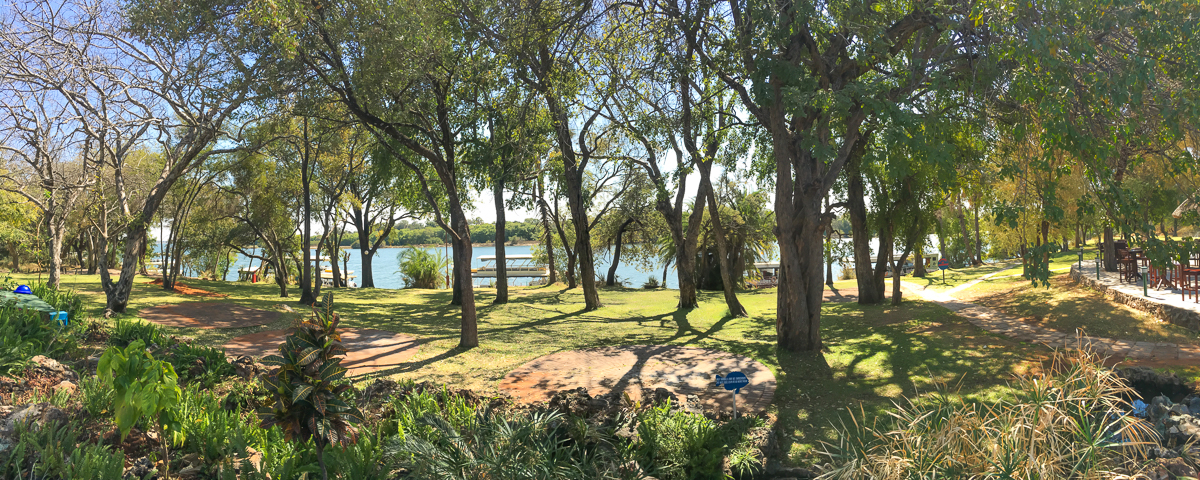 The grounds of A'Zambezi River Lodge
As we were a large group we wanted to make sure we got spaces on the activities we wanted to do, on the days we wanted to do them. So we did all of our bookings beforehand through a local tour operator (Victoria Falls Guide, but others are available). They enabled us to pay for our activities (and our hotels) in bulk before we travelled, and in phases, so we didn't have to worry about the cash shortages in Zimbabwe, nor have the risk of carrying around lots of cash. It all worked out very well and ran smoothly. It was great not having to worry about what to do next and how to get it sorted, though I am sure for most things you can just turn up and do it. Most hotels and restaurants in "the Falls" catered for plastic money too so paying for things with credit cards wasn't a problem. As a bonus the ATMs allowed us to take money out in town too so our initial worries were unfounded.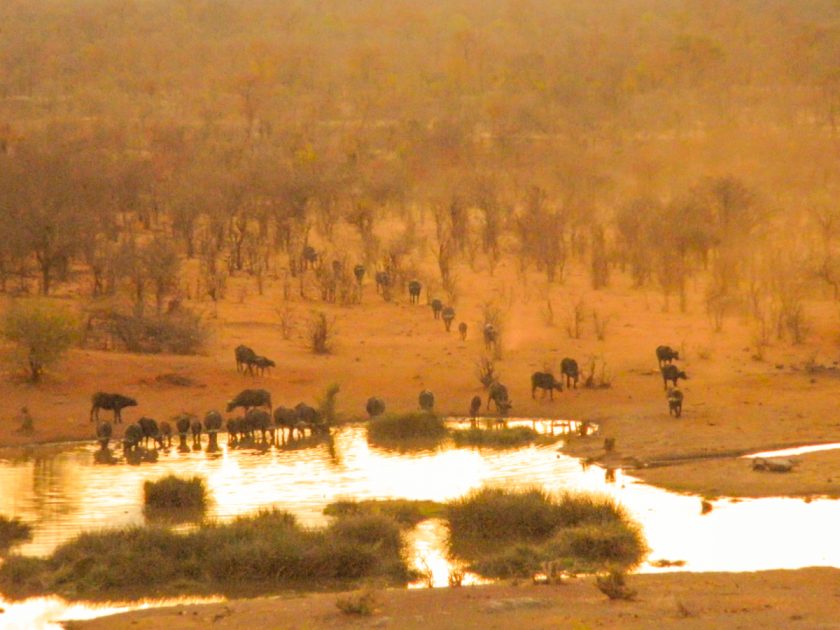 Buffalo at the water hole at Victoria Falls Safari Lodge
Immersing ourselves in The Adventure Capital of Africa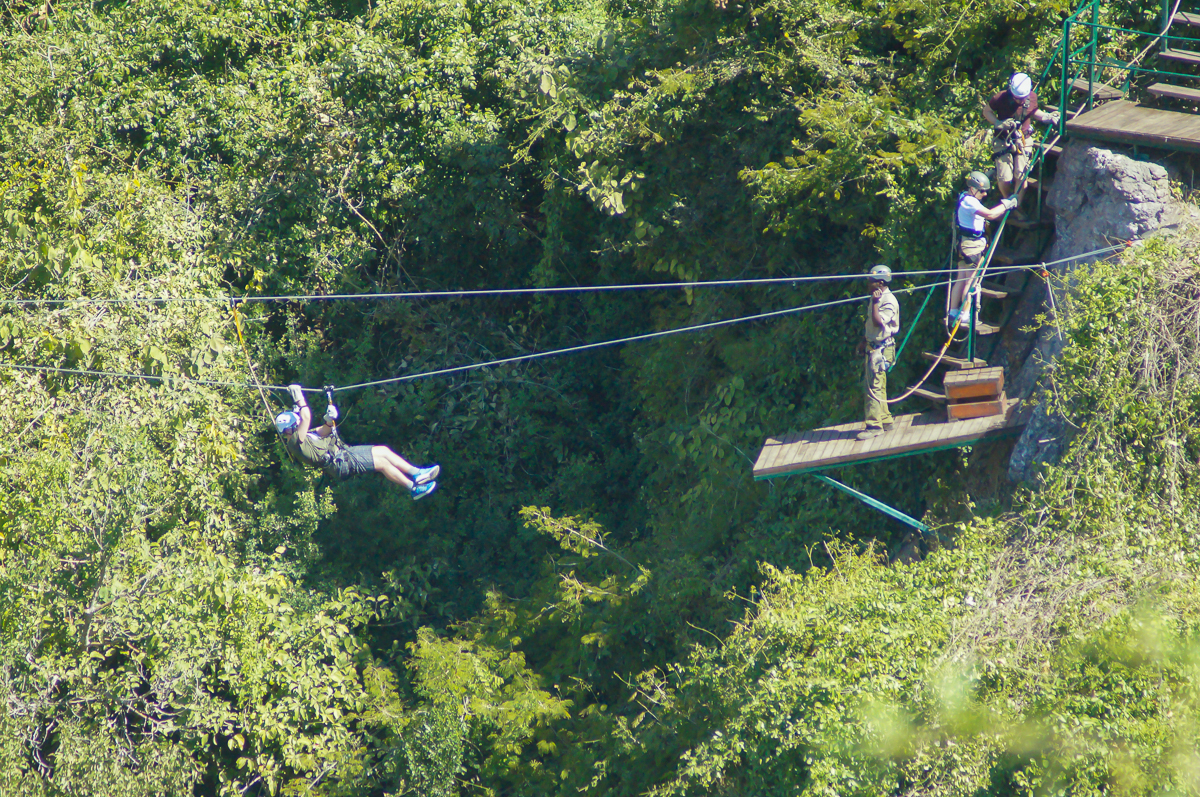 Doing the high-wire canopy tour
A'Zam Lodge was our base in Victoria Falls for five days and we made trips to The Stanley Terrace for afternoon tea at Victoria Falls Hotel, went white water rafting, had dinner at The Boma, visited the Falls themselves, went on a sunset cruise, went fishing, did the canopy tour, went elephant riding, lion walking and to Chobe National Park (Botswana).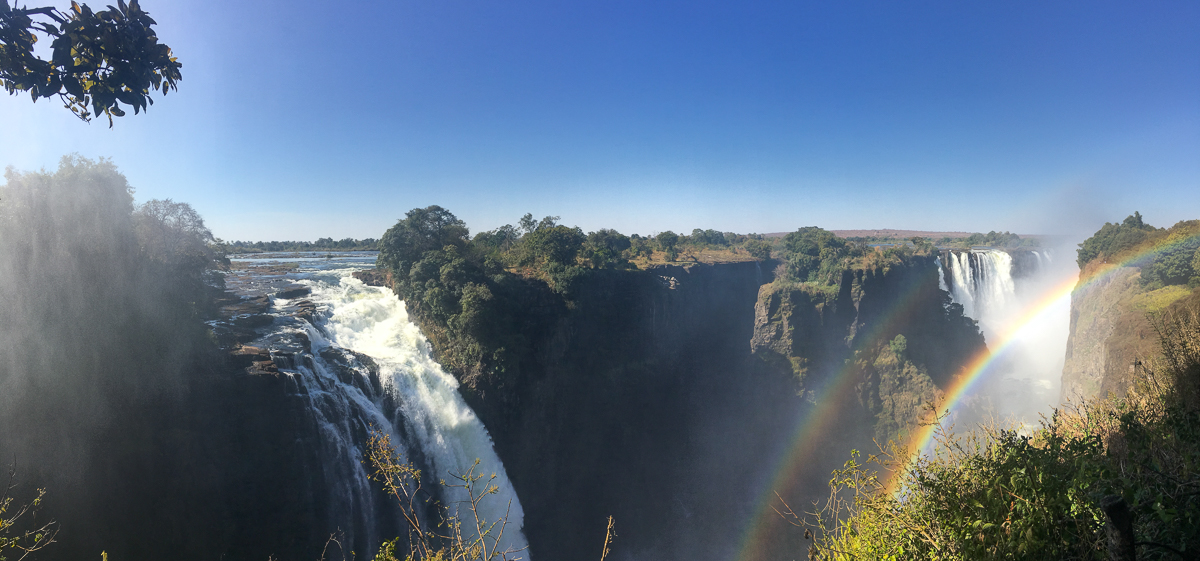 Overlooking part of Victoria Falls (August)
There really is a lot to do in Victoria Falls and we didn't even cover half the activities or places to eat. The elephants and lions in the animal encounters appear to be well-treated and looked after much better than counterparts in Asia so I didn't feel people should have reservations about doing these activities. One word of warning though, if you're staying at A'Zam Lodge, it is usually the first pickup and last drop off point, so expect early starts and long days! Transfers are included with activities so we didn't need the hire car for those days. Oh and there are mosquitoes – lots and lots of mosquitos at A'Zam in August: Being so close to the river it is something you can't really get away from.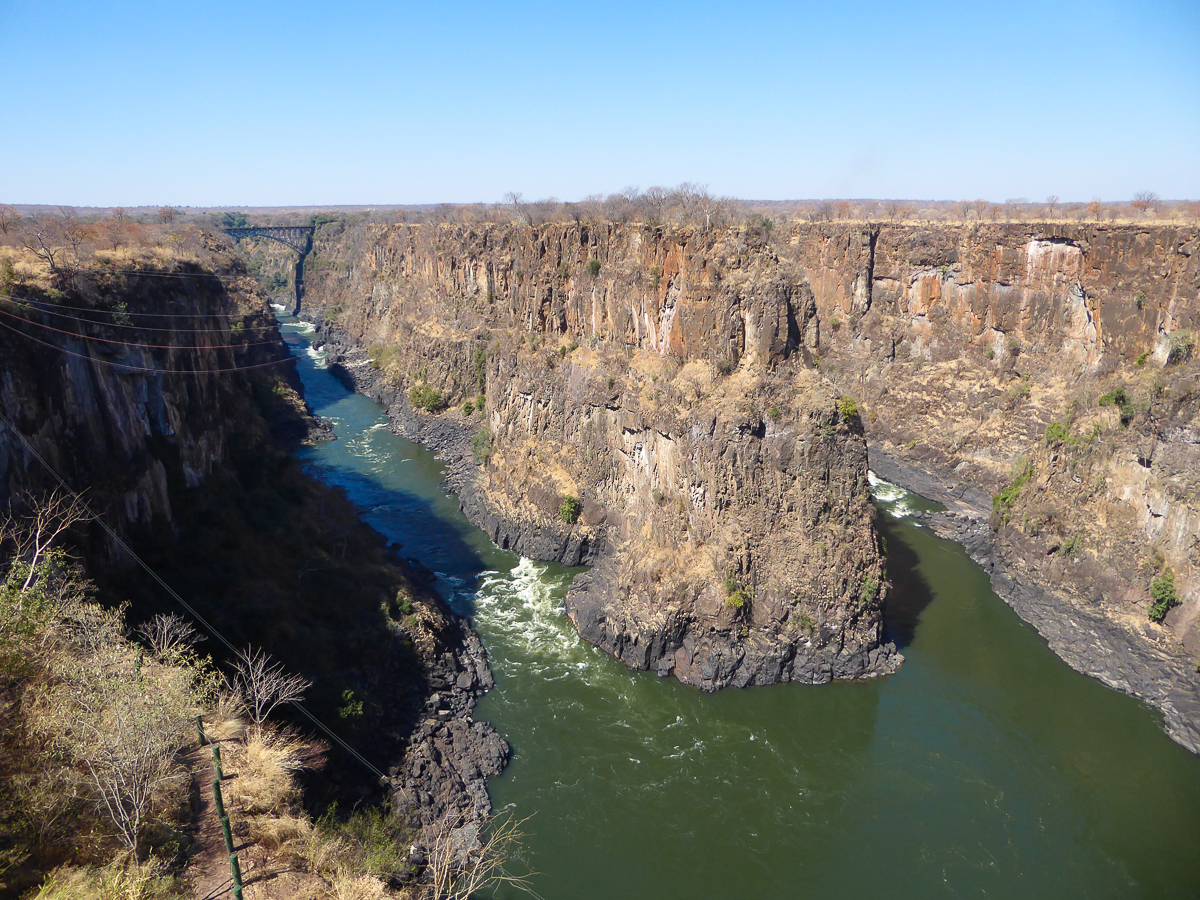 View of the Zambezi River from The Lookout Cafe
I highly recommend the evening dinner experience at The Boma. The food is good, particularly warthog steaks and kudu stew, but by far the best bit is the singing, drumming and dancing. It's great fun. I also had a wonderful time at The Lookout Café. The food there is excellent and the views are spectacular, looking down the gorge and across to the bridge. It's also a good hangout to watch the crazy people doing the gorge swing – it looks intense. We liked it so much here we went back – twice!
Even though we had a hire car, it wasn't a necessity within Victoria Falls. Getting around Victoria Falls town is easy, there are plenty of taxis and most of the activities offer transfers included in the package, but you can just as easily walk from most hotels to town, and to the Falls where a number of the activities start. Just beware of local wildlife as there are no fences.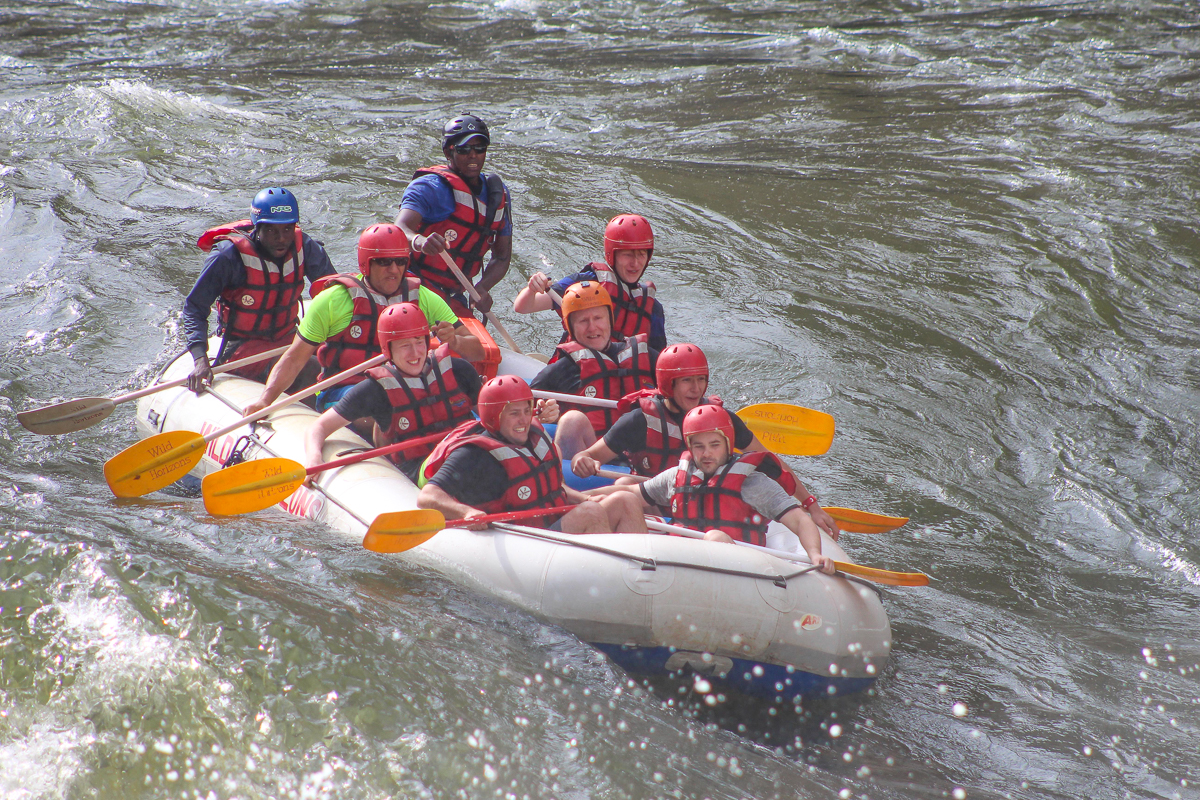 Between rapids while white-water rafting
I am glad I did the white water rafting, the longest stretch of Grade 3-5 rapids in the world, but I shall not go again. I drew the short straw and got a front seat in the raft (at the front there is nothing to hold on to and you bear the full force of all the waves) and ended up on a "long swim" twice, once on the longest rapid – I now know what it's like to be in a washing machine! The best part of the whole trip was walking under Victoria Falls at the start of the rafting trip, what an amazing experience. Lunch at the top of the gorge after the climb out, and yes it is a climb, was a great way to retell the stories of each rapid, grateful we survived unscathed. After the excitement of the rafting and the strain of the climb, having a cold drink overlooking the amazing view across the gorge from the rim is lodged in my memory forever.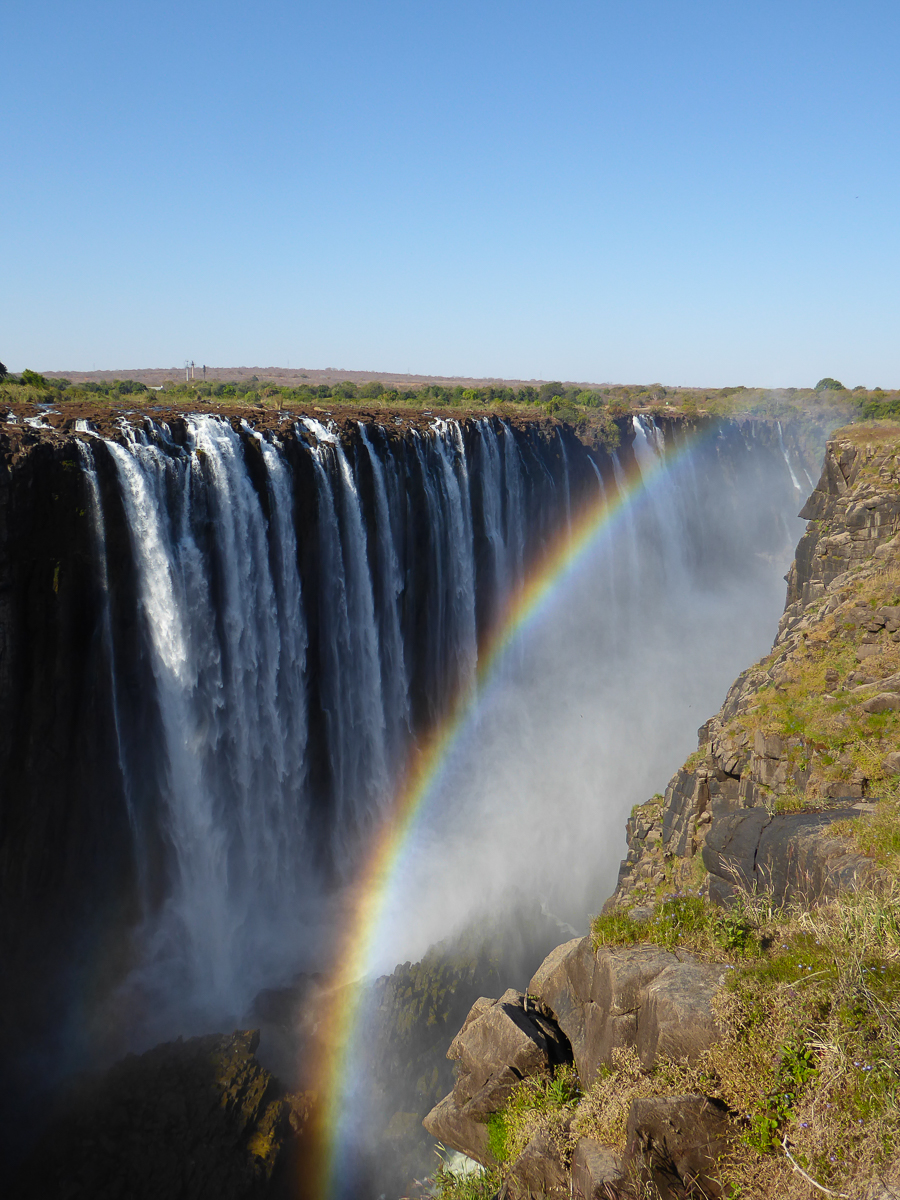 A rainbow over part of Victoria Falls (August)
On our final day in Victoria Falls, Adventure Capital of Africa, we did a bit of shopping in the local markets in town. We wanted a few souvenirs and things to hang up on the walls at home. There is a lot of really lovely artwork and carvings but it is so difficult to choose what to take, as there are dozens of shop- and stall-owners trying desperately to get your attention to buy their wares.  We got quite frustrated with all the pestering but felt so sorry for them all, as they were just trying to make a living in a country with 90% unemployment. We ended up spending most of the afternoon there, buying a few things from many different stalls, so we felt like we did our bit.
In the third instalment of Stuart's self-drive Zimbabwe travel journal, he continues the family adventure in Matobo National Park (Matopos) and Harare. Read it here.
All views in this article are unsponsored and independent. The writer was not paid for visiting any of the locations in this article, and all views are his own. Neither the writer nor GreatZimbabweGuide.com were paid to publish this article. All photos in this article are courtesy of S. Webb-Martin.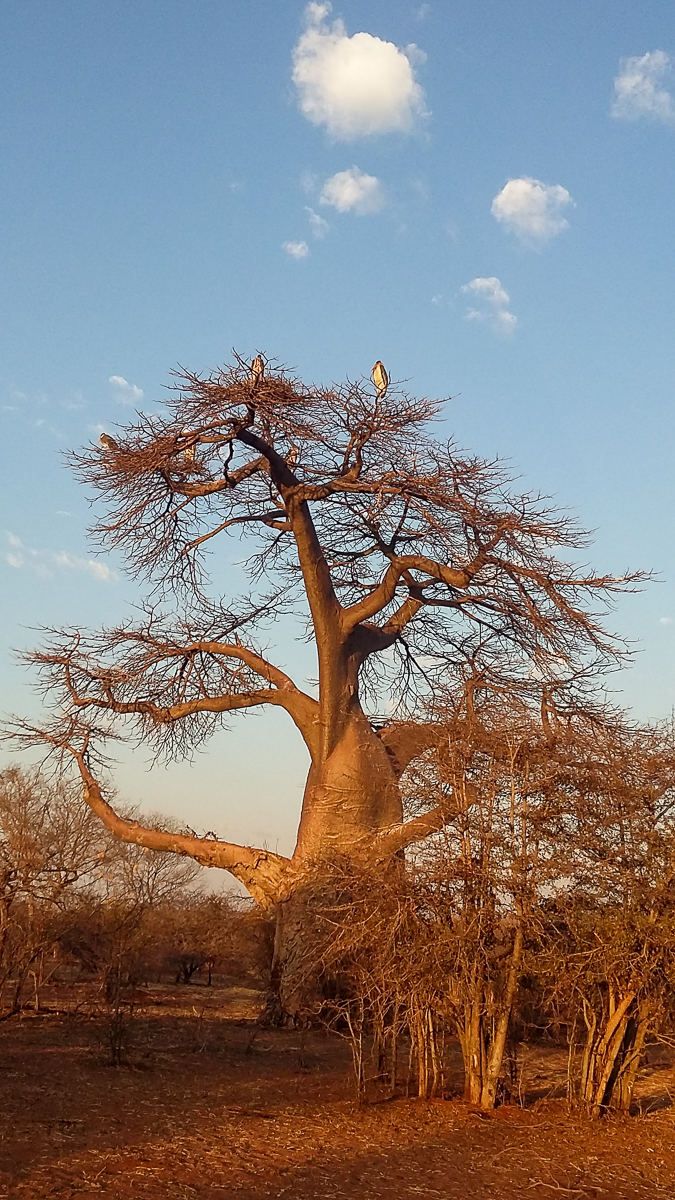 Marabou storks in a baobab tree, Zambezi National Park, Victoria Falls
You might also like: