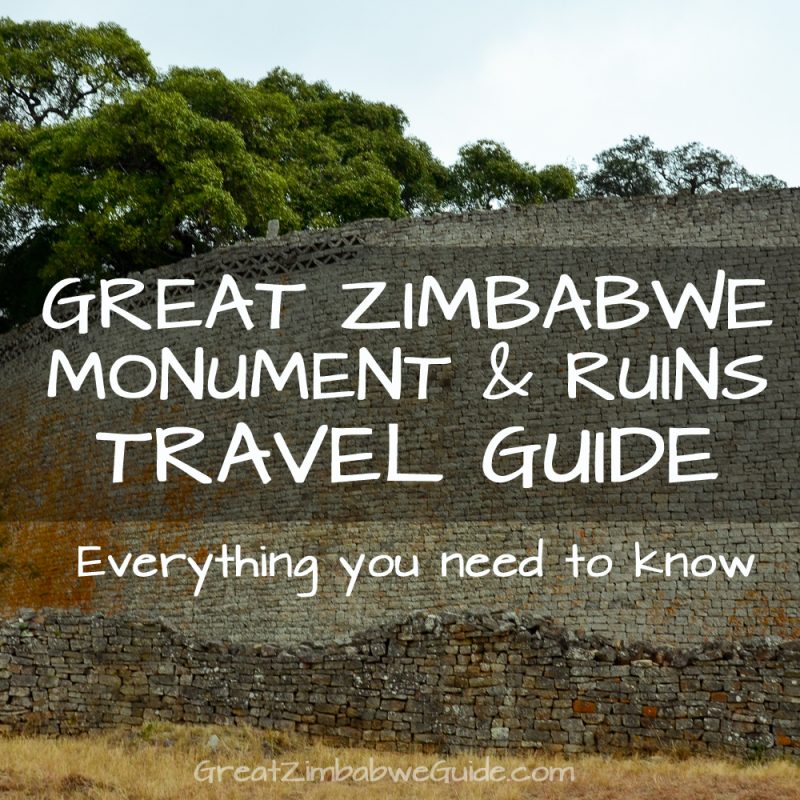 These ancient city ruins have intrigued both locals and visitors for centuries. The local name for the area was "Dzimba dza mabwe" (roughly "Houses of Stone") or simply "Zimbabwe". When Rhodesia became independent in 1980, the nation was named after this ancient city, and the country itself was called Zimbabwe. The ruins then became a monument called "Great Zimbabwe". Read more about its history here, and keep reading below for practical details on visiting Great Zimbabwe Monument and Ruins.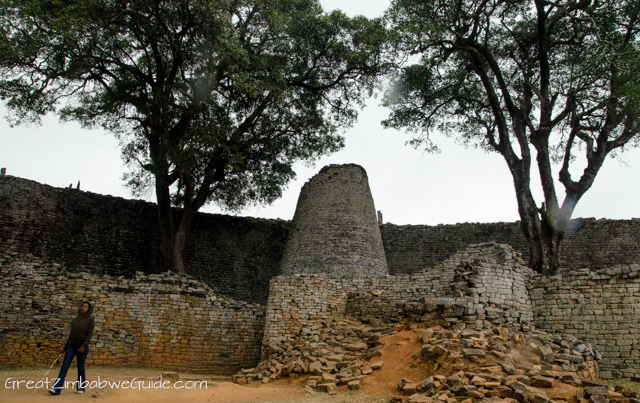 Getting to Great Zimbabwe Monument & Ruins
The ruins and monument at Great Zimbabwe are located south of Lake Mutirikwi, 25 km south-east of the present-day town of Masvingo (roughly pronounced "Ma-shing-o"). Most of the tourist-friendly hotels are found closer to Great Zimbabwe Monument and the nearby Kyle Recreational Park rather than Masvingo itself. By car, Great Zimbabwe is around 4 hours from Bulawayo and Harare, and around 8 hours from Victoria Falls.
How to get to Great Zimbabwe Monument
Self-drive: If driving from Beitbridge, Victoria Falls, Bulawayo or Harare, you need to first drive to the town of Masvingo. The road is tarred and fairly busy especially between Beitbridge, Masvingo and Harare, because this is a main international freight route.
TIP: Don't pull off the road in remote areas between Harare and Masvingo: this seems to be one of the thew main roads in Zimbabwe where there have been sporadic reports of roadside robberies.
Masvingo town centre is small, with palm-lined, wide streets lined and rather shabby buildings. Upon arrival in Masvingo, follow the signs to Great Zimbabwe, and turn left off the A4 Beitbridge road. Here, the road is narrower but still in good condition. There is a good dirt road to the National Monument which is passable for most vehicles. Enter Great Zimbabwe Monument and Ruins at the ticket office to pay the entry fee and then drive round to the large car park and picnic area where you can then walk around the site.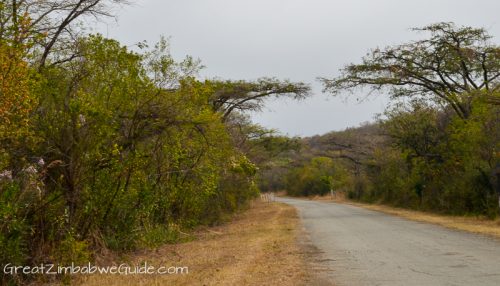 The road to Great Zimbabwe Monument.
If you don't have your own transport: Ask your hotel or lodge in Great Zimbabwe to help organise your transport. There's no scheduled reliable public transport from Masvingo to Great Zimbabwe, but many of the lodges have their own intercity shuttle facilities. There's also a charter flight to Masvingo Airport with the company HAC (see the Internal flights page).
Alternatively, if you're happy using cheap public transport, backpackers can catch a minibus or bus to Masvingo from Harare Road Port or Mbare Terminals, or from Bulawayo/Mutare. There is no website for the minibuses as there are scores of private ones, but there is a website for Zupco bus company giving times and fares.
When you arrive in Masvingo, you will then need to catch a minibus from outside the Pick 'n' Pay supermarket on Leopord Takawira Avenue to Great Zimbabwe (this will take about 20 mins). The minibus will drop you off at a crossroad near Great Zimbabwe Ruins for around US $1.50. You'll need to walk past Great Zimbabwe Hotel to the Ruins (about 2 km). When travelling back from the ruins to Masvingo, independent travellers could have lunch at Great Zimbabwe Hotel and ask them to book a taxi for a group of you to Masvingo, which will cost around US $12.
This and That Safaris and Black Rhino Safaris have guided tours of Great Zimbabwe Ruins from Bulawayo or Harare (contact them to ask about other locations). Many of the lodges in the Great Zimbabwe area can book guided tours of the ruins for you.
Practical information about Great Zimbabwe Monument & Ruins
Entrance fee: $5 for Zimbabwe residents, $15 for other visitors (2017). Check out the NMMZ site for current prices. When you pay your entrance fee at the gate, you can hire a National Parks guide to show you around the site, but when I did this the guide wasn't very personable, and didn't give me any extra information that wasn't in the booklet. Perhaps this was because there are fewer tourists in this part of the country to give guides the experience they need … perhaps that particular guide was just having a bad day.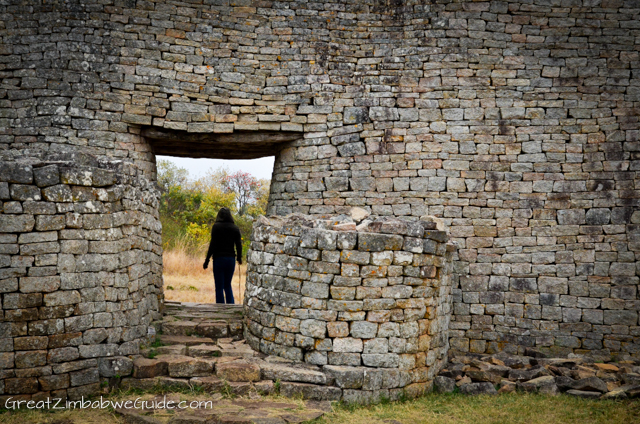 It's easy to follow the signs and walk around the site without a guide. There are information booklets available at the curio shop and directional signs around the site. Here'a link to a guide to walking around Great Zimbabwe Monument and Ruins.
If you don't have much time and you're a fast walker, you could see the whole site in couple of hours, but it's best to dedicate about 4 hours to walk around it, to have some food and soak up the atmosphere.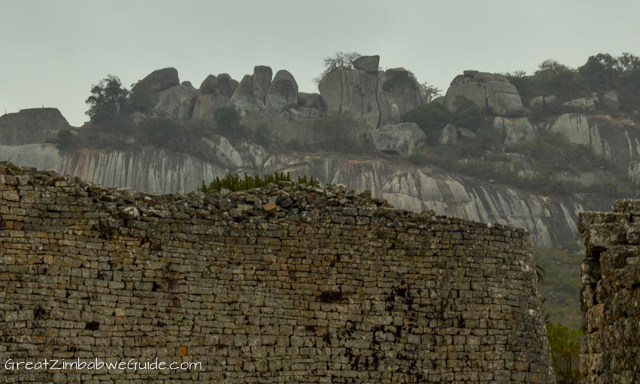 There's a large and shady picnic area at the entrance, so you can bring your own refreshments. There is also a modest restaurant on-site where you can try traditional sadza (maize meal). You could also get a packed lunch made by your hotel, or drive to one of the other nearby hotels for a meal. Great Zimbabwe Hotel is within walking distance, about 1 km from the ruins, and serves food all day. See the map below for the hotels in the area.
There are toilet facilities at the main gate and museum, but not inside the ruins themselves. There's no supermarket or cash machine at Great Zimbabwe Monument and Ruins – ATMs can be found in the town of Masvingo 25 km away.
TIP: It can get hot at Great Zimbabwe so make sure you have a hat, water and sunscreen, and maybe an umbrella to use as shade.
Great Zimbabwe Monument is managed by the Zimbabwe Government department called National Museums and Monuments of Zimbabwe (NMMZ) – visit their website and click on the 'Contact us' for their head office address, email and telephone number. At the time of writing, the NMMZ reservations telephone number was +263 775 398 917 or +263 773 456 633.
Where to stay in Masvingo and Great Zimbabwe
See my dedicated post all about accommodation: Where to stay in Masvingo and Great Zimbabwe Monument.
Here's a responsive Google map showing the sights, accommodation and points of interest in the area around Great Zimbabwe. You can zoom in and move around the map to see more detail.

Read more about Great Zimbabwe: