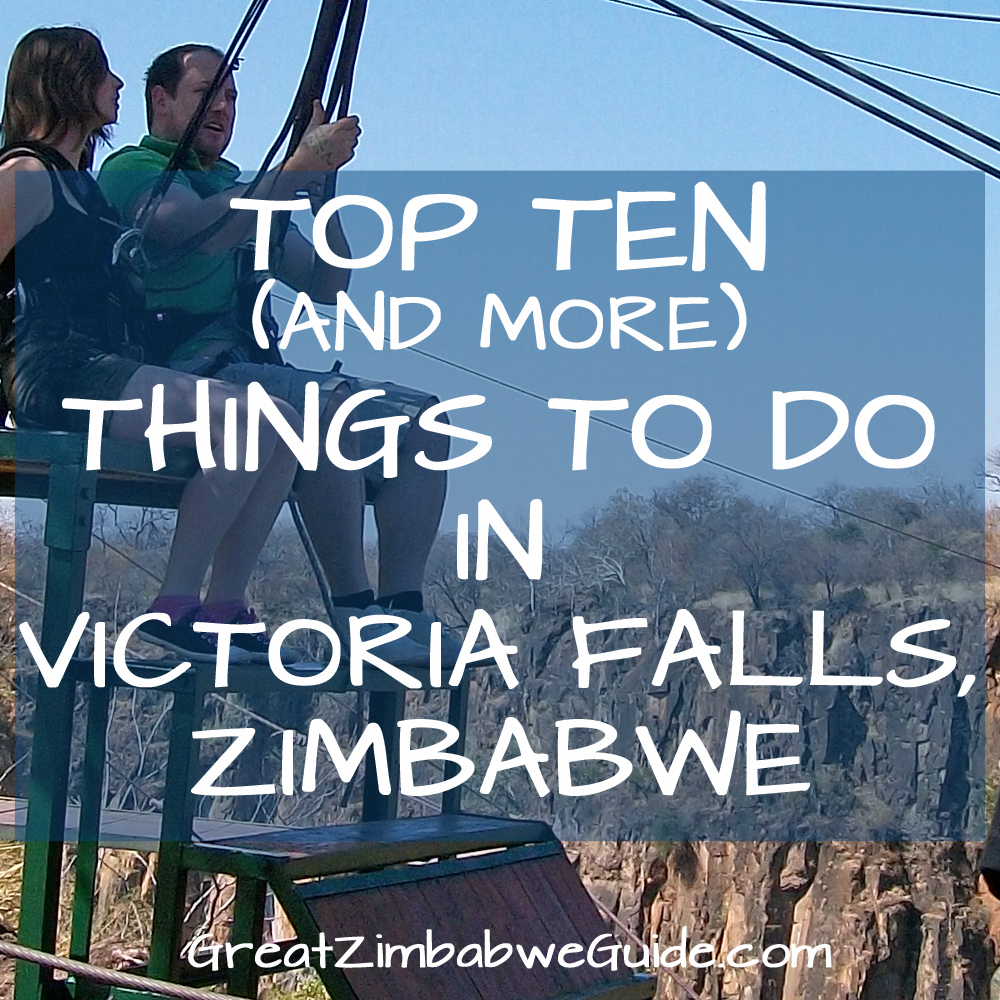 Victoria Falls never disappoints, whether you're seeing the Falls themselves for the first time, or catching your breath after gorge swinging over the Zambezi River.
Top ten things to do in Victoria Falls Town, Zimbabwe
Click on the headings below for full details on the activities such as costs, how to book, best times to go, what to wear, family-friendliness, what to expect, etc.
Victoria Falls is the biggest sheet of falling water in the world: twice as high and 1.5 times wider than Niagara Falls. It's 1.7 km wide (just longer than a mile) and over 100 metres high. There are no words to describe what it feels like to see it for the first time. Breath-taking and awe-inspiring, maybe, but even they don't do it justice.
Food is cooked on-the-spot for you: choose what you are brave enough to try – warthog, kudu, impala; or the more conventional beef, pork and chicken. The enigmatic MC will carry you through the night's entertainment, which includes traditional dancing, singing and drumming. After dessert, every guest is given an African drum (njembe) and taught some African rhythms. Gimmicky and cheesy? Maybe. A great night of entertainment for young and old? Absolutely.
All jump enthusiasts should do the gorge swing. It's higher than the bungee jump and offers a better chance to see the beauty of the gorge when you've reached the bottom (mainly because you're not upside down).
The bungee jump is 111 metres high, starting at the centre of the iconic Victoria Falls bridge, ending near the rapids of the Zambezi river below, in one of the most scenic places in the world.
Are you not a fan of adrenalin activities? Or so wired up by your bungee jump that you need some time to chill? A river cruise allows you to take a break and enjoy the natural beauty of the Zambezi River with a refreshing beverage in your hand.
The white-water rafting here is considered one of the best runs in the world, with grade 5 rapids broken up by sections of smooth river where you can soak up the beauty that goes unseen by other visitors to the falls.
This was one of the highlights of my visits to Victoria Falls. Although I don't like heights, I absolutely loved the helicopter ride because it showed me the sheer size of the Zambezi River, Victoria Falls and the gorges.
Victoria Falls is home to some wildlife rescue centres and other programmes. These allow visitors to get closer to the animals than they usually would be able to in the wild. See the link above for information on encounters with vultures, elephants, lions and crocodiles.
The Victoria Falls Bridge is an impressive feat of engineering, built as part of the "Cape to Cairo" railway dream. See it as its founders intended: from a steam train.
You can see the Big Five in Victoria Falls's National Parks, including getting up close to elephant, crocodiles and more. The game drives in these scenic reserves are much more exclusive than in many other African countries.
Also see the post More things to do in Victoria Falls for even more Victoria Falls activities, including visits to traditional villages, swimming in Devil's Pool (Zambia), bike tours, high tea, fishing trips, historic tours, hiking, and safari art classes.
General Victoria Falls activity booking information
Many tours and activities can be booked when you're at Victoria Falls Town – you don't necessarily need to book in advance unless time is limited.
Booking is very easy and can be done at your hotel or lodge activity desk because they have direct links with the activity companies. Alternatively book directly with the activity company offices in the town. I recommend Wild Horizons and Shearwater (both offices are located on Park Way in Victoria Falls).
If you're keen to do a combination of these activities, special offers and packages from companies like Wild Horizons and Shearwater are worth a look. The activity companies also offer transfers between Victoria Falls and Hwange, Chobe, and other locations.
Most activities include transfers to and from your lodge – when you book, just specify where you want to be picked up.
Most activities are accompanied by a guide.
Do not buy tour tickets from street vendors. If you do get approached, politely decline without giving false hope to the vendor.
(Last updated Feb 2017)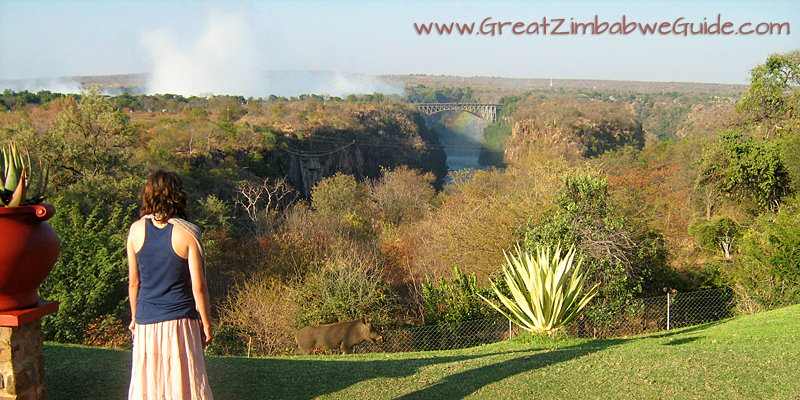 Also see: