Have you read our post about the Top ten things to do in Victoria Falls and want even more activity ideas? We've listed some below. Booking (where necessary) is usually done via your accommodation or through a tour company (companies are listed on the Things to do page). Transport/transfers for the activity is often included in the price, but check at the time of booking.
Swim above the waterfalls, in Devil's Pool in Zambia
Cost: Approx. US $85, booking required. Also called Livingtone Island, this is situated at the very top of Victoria Falls and is one of the prime experiences in the area. As it takes place on the Zambian side, I couldn't include it in the Zimbabwe top ten list. Swim to the rock pool where you can literally look over the edge of the waterfalls, with the pounding water of Victoria Falls below you. Usually available September to the end of January. Book through your hotel, or Tongabezi (Zambia) or Shearwater.
Family friendly?: For strong swimmers above a certain height only.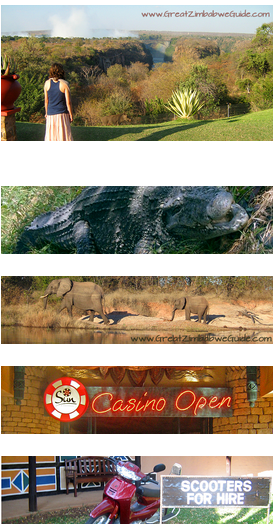 Bike tour around Victoria Falls area
A lovely way to see the town and many other must-see spots in Victoria Falls. The tour usually lasts around 3 hours and covers a distance of around 13 km on predominantly flat areas so it is an easy ride. It starts at Victoria Falls Hotel; goes through a township; past a church, market, school and clinic; past The Big Tree; along the scenic Zambezi River (and probably seeing some elephants, warhogs and monkeys); onto the Victoria Falls Bridge and back to the hotel. Includes snacks and drinks. Book with Royalty Linkerz, your accommodation or tour operator.
Cost: US $65-80 for a 3-hour tour including snacks.
Bikes can also be hired on an hourly basis for $5 per hour Royalty Linkerz if you would prefer to cycle around the area without a guide.
Family friendly?: Yes, for kids old enough to ride an adult's bike. For confident cyclists who are good at following instructions.
Have an English afternoon tea at Victoria Falls Hotel
This hotel is one of the icons of Victoria Falls, dating back to the colonial period when Europeans first started venturing into central Africa. It also has one of the most breathtaking views of the Zambezi River, Victoria Falls and the Victoria Falls Bridge. This hotel should be on everyone's list of places to visit in Victoria Falls and is suitable for a range of budgets: you can choose to have a cocktail in the garden, or full English-style "high tea" on the terrace (booking not reuired), or an opulent wine pairing meal (see below). Read about one of my visits to the hotel here.
The Livingstone Room restaurant in the hotel is decked out in colonial grandeur and makes for an excellent night out. Try its award-winning 7-course taster menu. (Booking recommended.)
Family friendly?: Absolutely! From the lawns, to the view, to the paraphernalia-filled corridors, children will have a world of new things to see.
Go on a Cultural Tour
Visit a traditional Zimbabwean village or township for an insight into daily life. When many tourists visit Africa, they move from one secluded enclave to the next, without really seeing what life is like, away from the sights. This is a chance to learn a bit more about the strong and generous people who live in Zimbabwe.
Cost: Approx. US $50, booking required.
Family friendly?: This is a great family-friendly option because it is so hands-on, and is a way to meet Zimbabweans in their homes and learn about their lives.
Lunch in a Zimbabwean home
A local Zimbabwean family will cook you a meal in their home, telling you about their cuisine and lifestyle.
Cost: Approx. US $21, booking required. A family will serve you a traditional meal in their home in a high-density suburb of the town. (Book through Wild Horizons.)
Family friendly?: Yes, for the same reasons as above.
Go on a fishing trip
Fish for Tiger, Bream and more in the Zambezi River, with an experienced angler. This is often a safari as well as a fishing trip, because you will see hippo, crocodile, birds and more from your boat.
Cost: Prices vary. From US $70 for visitors. Book through your hotel, Wild Horizons or Shearwater.
Family friendly?: Yes, for children who are old enough to enjoy being in a boat for a few hours.
Have a burger and watch people do the bungee jump
Victoria Falls Bridge Cafe has a view over Victoria Falls and the bridge itself. Details on their website. Booking not required. Remember to take your passport to go to the bridge.
Victoria Falls Lookout Cafe enjoys views over the bridge and the Zambezi River gorge. You can watch bungee jumpers in the distance as well as the gorge swingers, close by. Details on their website.
Cost: Prices vary depending on what you eat or drink, but cost is mid-range. The Bridge Cafe is mainly a burger bar, whilst the Lookout Cafe has a more varied menu.
Family friendly?: Yes, but remember that these great views come with great height.

Dothe Victoria Falls Bridge Historic Tour
Get a guided tour around this impressive bridge, which was part of Cecil John Rhodes' "Cape to Cairo" dream. It was designed by George Andrew Hobson, constructed in England and then shipped to Zimbabwe. George Darwin, son of Charles Darwin, officially opened the 198-metre bridge in 1905.
Cost: From US $55. Details on their website. Booking recommended, book through your accommodation or Shearwater.
Family friendly?: Yes.
See the famous "Big Tree"
Free of charge, booking not required. This huge baobab tree was once a meeting spot for pioneers and traders, and is estimated to be over 1000 years old. Located about 3km out of town on Zambezi Drive.
Brose the Victoria Falls Craft Market
Free of charge to walk around there yourself, booking not required. Situated behind the post office, Livingstone Way. See traditional stone and wooden carvings, woven baskets, colourful printed fabrics and more. Tribal  dancers often perform here too. There are some touts who walk around, but politely say "no" once, and then ignore them; they will lose interest.
Official craft market tour: US $20, booked through your hotel or tour operator.
Family friendly?: Yes.
Canoe the Zambezi River
Cost: Approx. US $120, booking required. A scenic journey on the mighty river, dodging crocodiles and hippos in the safe hands of a guide who knows the river like an old friend. Half-day or full-day journeys. Book through your accommodation or tour operator.
Family friendly?: For older children and teenagers only. Silence and compliance are needed at certain times so as not to disturb the animals and to stay out of harm's way.
Dine like a local at Mama Africa Restaurant
Booking not required. In the far end of the Trading Post Shopping Centre in town is an ethnically-styled restaurant serving traditional African food, and often has live jazz entertainment. It is a hotspot that the locals love.
Free entrance, cost of food and drink varies but prices are affordable.
Family friendly?: Yes.
Sundowners at Victoria Falls Safari Lodge Buffalo Bar
Victoria Falls Safari Lodge, or the 'Saf lodge', as it's known, has a superb view over a private game concession with its own watering hole, so you can have an evening refreshment while watching a herd of elephants do the same. It is the only hotel in Victoria Falls with a view of the sunset. There is a shuttle service between the lodge and the centre of town. Booking not required for sundowners. Read about my trip to the lodge here.
Free entrance, cost of food and drink varies.
Family friendly?: Yes.
See animals in Lower Zambezi National Park
If you have your own wheels, then be your own game guide and take a drive around the national park. See elephant, antelope, zebra and much more. Visit the Zimbabwe Parks website for details.
Booking not required for drives, cost of entry is around US$15 for visitors. Note: in information packs, this park is often paired with nearby Victoria Falls National Park which contains the Falls and the rainforest, however the two parks are separate for vehicles.
Family friendly?: Yes, as long as children are happy to stay in the vehicle for the game drive. The need to be quiet is not as important as in official safari vehicles, because your vehicle will be more sound-proof.
Visit the Casino at The Kingdom Hotel
Try your luck at the fruit machines in the casino of this opulent-African styled hotel. It has a theme-park feel to it, and has been designed in the style of the ancient Kingdom of Munhumutapa. Elephant tusks adorn the domed rooves, giant statues stand at the entrance; there is a casino, spa and 4 swimming pools and a number of restaurants. Booking not required for the casino. See their website for details.
Family friendly?: Yes.
Have lunch at scenic Gorges Lodge
The lodge is about 20 km from Victoria Falls town, but well worth the journey for the stunning view of the Zambezi gorge. You can sit in the open-air restaurant and drink in the awe-inspiring drop below you. Read about my Gorges trip here. Booking recommended. Prices are reasonable by hotel standards.
Family friendly?: The railings are not suitable for very young children.
Walk along the Zambezi River from Victoria Falls to A'Zambezi Hotel
If you fancy taking a walk after you've seen Victoria Falls, this is for you. From Livingstone's statue at the waterfalls, turn away from the falls and take the scenic riverside walk along the Zambezi River (approx 2 hours). This should only be done by people with experience in the behaviour of potentially dangerous animals, as there are hippos and crocodiles nearby. After a drink/snack at A'Zambezi hotel, get a taxi back into town. Booking not required as this is a self-guided walk. Cost: As it starts from Victoria Falls, the entrance fee to the falls will need to be paid.
Family friendly?: For teenagers and above only.
The Elephant Hills Resort has an 18-hole championship golf course, designed by Gary Player. It's one of the few golf courses in the world where golfers can see buck, warthog and elephant while considering the intricacies of putting. Booking not required. Cost: Green fees with a caddie from approx. US$ 20.
Family friendly?: Yes, if they enjoy golf! Note that they need to be old enough to be silent and still if they see a wild animal on foot.
Have a beauty treatment
Many of the hotels in Victoria Falls have their own spas and beauty rooms where you can get a manicure, massage and many other treatments. The treatments are often in open-air or scenic environments, with the full beauty of the African bush close by. Visit the websites of Victoria Falls Hotel, Elephant Camp, Victoria Falls Safari Lodge, Bumi Hills hotel Resort, and The Kingdom Victoria Falls for more details and prices. Booking recommended.
Rent a scooter and see the town
…from Victoria Falls Safari Lodge and go for a ride around the town. Booking not required.
Cost: Starting from approx. US $39 per day.
Family friendly?: Age 18 and over.
Fly above the river on a microligh
If you fancy flying over Victoria Falls with the feeling of the wind at your back and the sound of the thundering water beneath you, this is for you. The flights leave from the Zambian side, but transport included.
Cost: Approx. US $60 for 15 minutes, US $ 320 for 30 minutes, booking required. Book with Shearwater or Wild Horizons.
Family friendly?: I would suggest it's suitable for age 12 and over, although the official minimum age is 6 years..
Jet boat along the Zambezi River
Does what it says on the tin – fast and furious! Book with your hotel, Shearwater or Wild Horizons. Operates from the Zambian side, but transport is arranged by the company.
Cost: From approx. US $110.
Family friendly?: Minimum weight is 40kg.
Hike into the gorge of the Zambezi River
Take a guided hike down into the bottom of the gorge and see Victoria Falls from below. The hike lasts around 3.5 hours and involves some rafting, too. Book with Shearwater.
Cost: From approx. US $48. Operates late August to early December only.
Family friendly?: For sure-footed, strong hikers only, age 15 years and above.
See the National Park on a horseback safari
The Zambezi Horse Trails operate in the Victoria Falls National Park; a beautiful wild place to go horse riding and see elephants and other animals up close. There are a range of options for complete novices to experienced riders. Duration: From 2 hours to multi-day 8 hour rides.
Cost: From US $85 to US $145 per person. Book through Shearwater or Zambezi Horse Trails. Maximum weight 90kg.
Family friendly?: I would advise it's suitable for novice riders aged 14 or older; or for younger children who are proficient at riding.
Art Experiences
The Art Village Tour from Wild Horizons consists of  a cultural tour, an art workshop with a local artist, and a dinner cooked by a village headman's wife.
Duration: 15h30 to 20h00 daily.
Cost: $110 per person.
Family friendly?: This is family friendly for any age that is old enough to be engaged in the art. Price reductions for children under 12. Please note: Clothes should be knee length or longer to honour local Ndebele culture.
The Elephant Art Experience from Wild Horizons allows you to interact with elephants and have a crash course in art. You'll be provided with paper, paint and easels, and a close-up view of the elephants in the orphan sanctuary. You'll go home with something much more unique than just a photo. A two-course buffet lunch and refreshment will be served before you are returned to your lodge.
Duration: 11h30 to 14h30 daily. Cost: $160 per person. Family friendly?: Yes, for children aged 5 and above. Half price for children under 12. Wear clothes that you don't mind getting a bit messy from the paint.
Also see my Victoria Falls travel guide for everything you need to know about Victoria Falls, including links to transport and accommodation information.