Helicopter tours above Victoria Falls are called 'the flight of angels' because David Livingstone once said that the falls were so beautiful that they 'must have been gazed upon by angels in their flight'.  Only a birds-eye-view can capture the scale and grandeur of the falls, and helicopter tours are becoming increasingly popular.
This activity is actually one of my favourite things to do in Victoria Falls, so it would rate a lot higher in my personal list, but that's because I am not an adrenalin-seeker and wouldn't do the bungee jump, for example!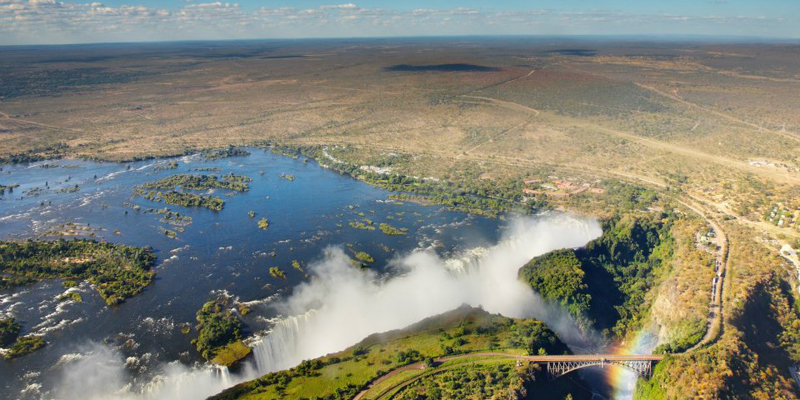 Photo courtesy of Victoria Falls Steam Train Company
Helicopter tours are a sore point for some, though, because the regular drone of the engines sounds terrible for those on the ground. The mechanical mosquito sound from overhead does detract from the natural beauty which is the main drawcard of the falls. This disruption could be limited if the helicopter companies would implement no-fly times at certain times of the day, and I hope this happens in the near future.
Useful information:
Helicopter flights cost approx. US $140 for a 12-13 minute trip, and US $275 for a 25 minutes trip, excluding park fees.
Flights depart every 15 minutes or every 30 minutes throughout the day.
The main language of the tour is English, but French, German, Italian and Spanish private tours are available at extra cost.
Book through your accommodation, with your tour company, at the Wild Horizons or Shearwater reservation offices in Victoria Falls town.
You'll be picked up and dropped off at your hotel before and after the tour.
The helicopters are specially made with bubble-shaped windows for maximum viewing opportunities.
Read about my helicopter flight or watch a video excerpt to tempt you.
 Next: Do an animal encounter: Number 8 of things to do in Victoria Falls.