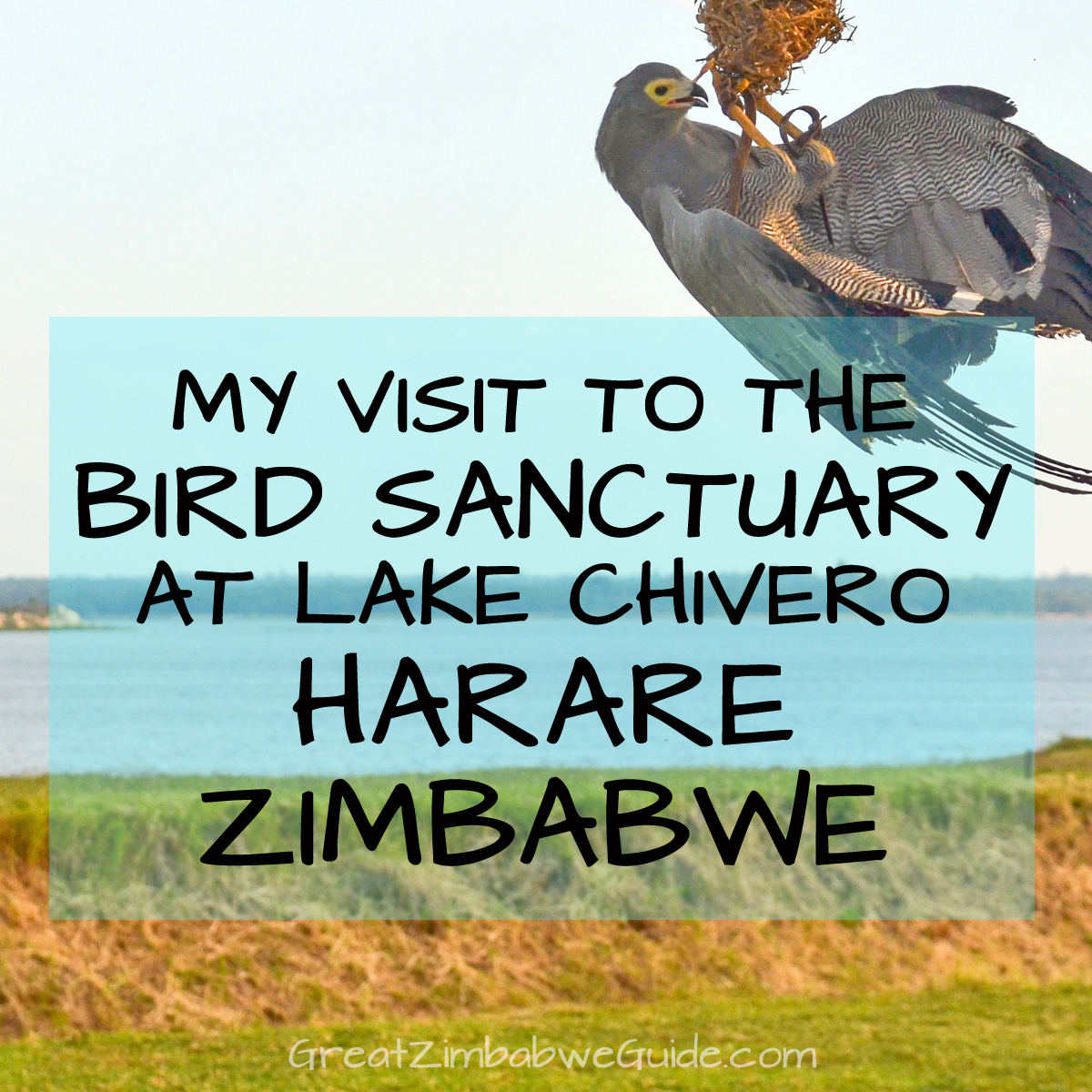 I visited Kuimba Shiri Bird Park in May 2016, and I can wholeheartedly recommend it as one of the best family days out in Harare (and Zimbabwe, for that matter).
Note: I was not paid for writing this article. I visited this establishment independently and anonymously.
We wanted to go on a family day trip from Harare that would meet a number of criteria: Plenty of room for our group (there were 12 of us, including kids), space for the kids to run around, a shaded area for adults and older family members to relax, a safe environment for a toddler, and enough activities to keep the kids occupied. Well, we got all of that and more.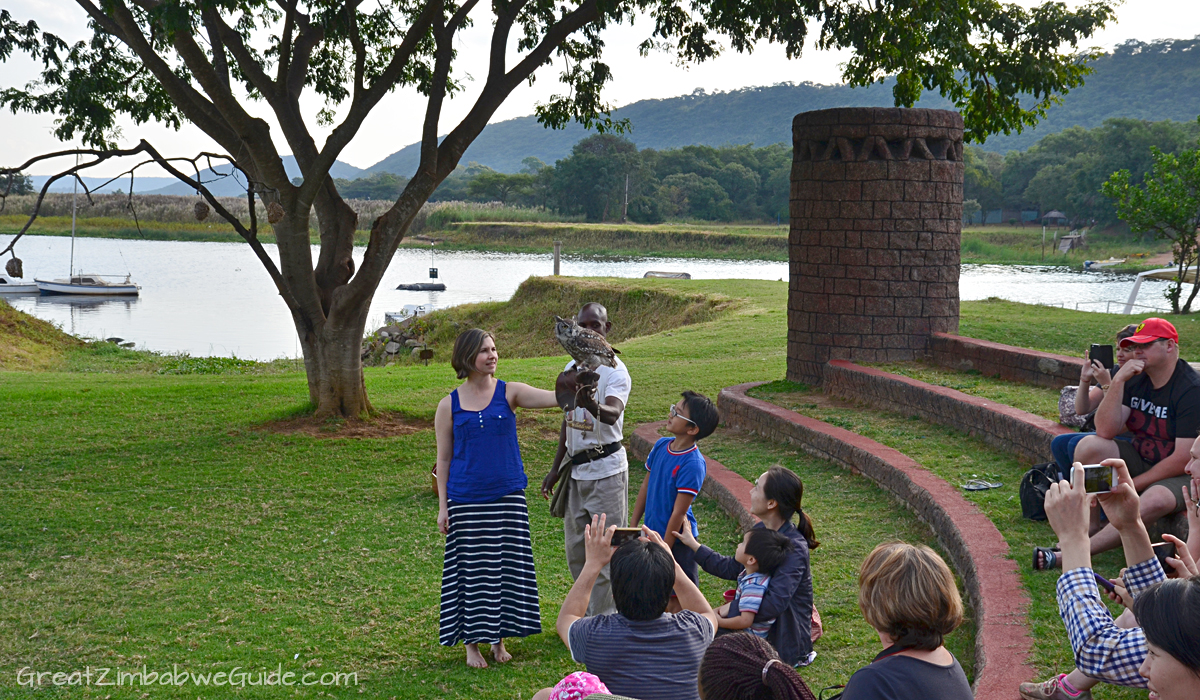 Getting to the Bird Park
Kuimba Shiri Bird Park is located on the northern shore of Lake Chivero, roughly 30 km from Harare city centre. It is very easy to get to by car, and is well signposted (directions are at the bottom of this article). The Bird Park is a privately-owned venue, but because it is within Lake Chivero Recreational Park, visitors must pay the Zimbabwe National Park visitor fees ($1 per vehicle) at the entrance gate. Entrance to Kuimba Shiri itself was $5 per adult and $3 per child at the time I visited, and it was well worth the money.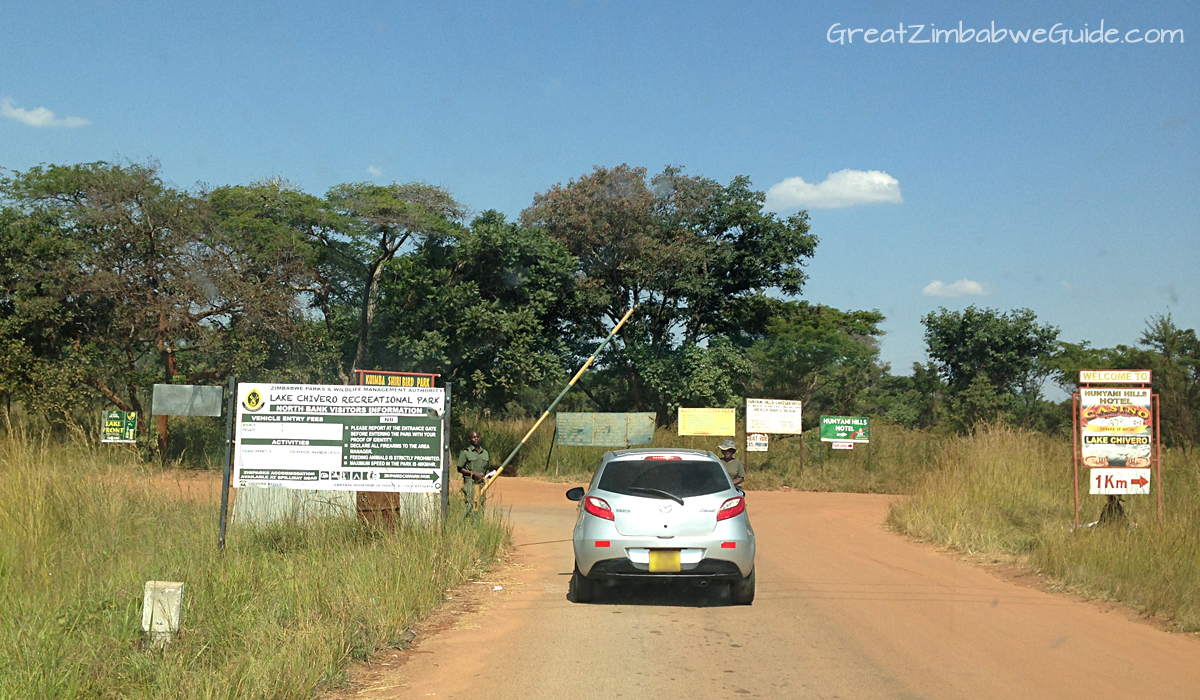 There's a large, tree-lined car park where we easily found a space on that Sunday afternoon. We had packed a picnic to eat there, but we discovered that we weren't allowed to take this in with us and that we had to buy food and drink on the premises. I guess this is a necessity to help keep the Park running financially, which was fine with me.
Walking into the Bird Park, we were greeted by an expansive tree-lined lawn, plenty of tables and chairs, a blue swimming pool, a jumping castle, parrots perching around a pond, and the deeper waters of Lake Chivero in the distance. A large, open-sided thatched lodge contained the kitchen, bar, reception and bathrooms. The place gave the immediate impression of being peaceful, welcoming and well-kept. We found a large table for our group under the trees, and we ordered food and drinks from the unpretentious but varied menu. As well as burgers and steak, Admiral's Cabin Restaurant also has vegetarian and salad options, all at reasonable prices. I had a generous steak, salad and chips, and it was tastier than any equivalent I've had in the UK ( and much cheaper, too).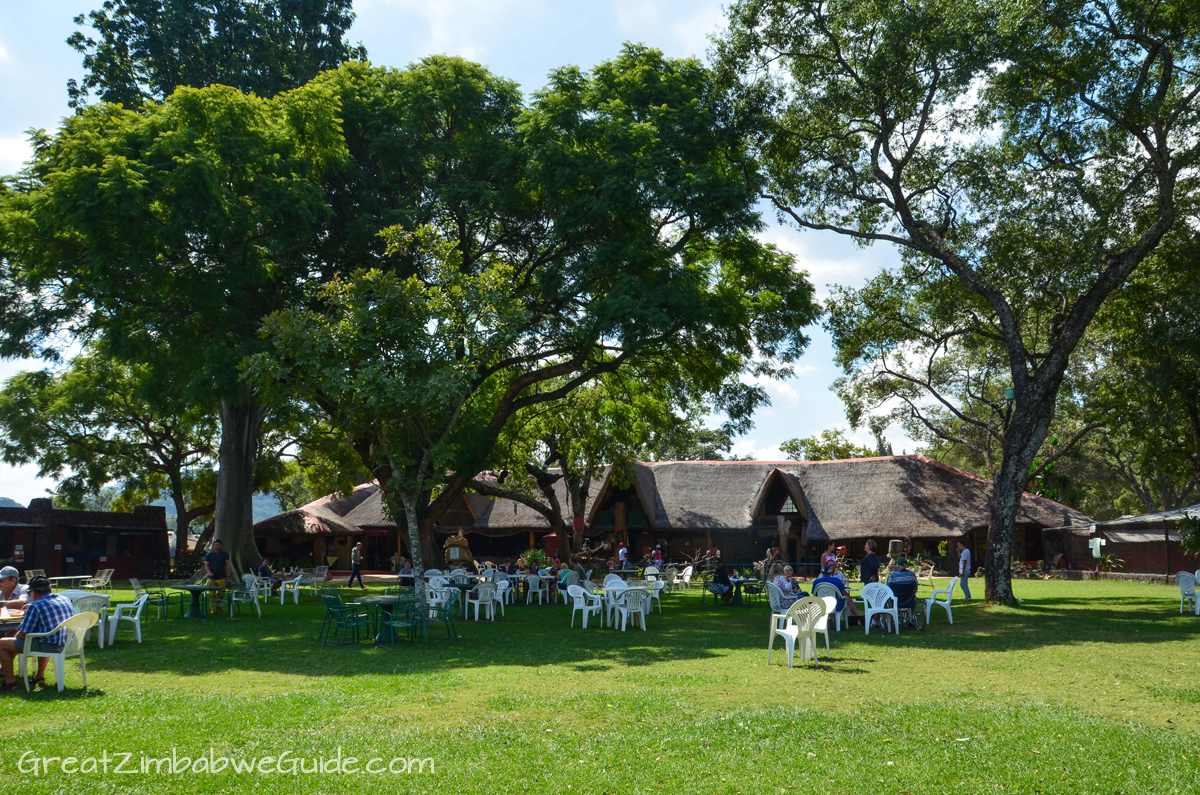 Things to do at the Bird Park
We had wanted somewhere that had plenty for the kids to do, and we weren't disappointed. At the side of the lawns are a number of aviaries containing a wide variety of birds, from cockatoos to African goshawks. The aviaries are arranged around a grassy walkway leading to a large pond overlooking Lake Chivero. This circuit is a pleasant, interesting and easy walk that is suitable for all ages. The birds at Kuimba Shiri are all orphaned or injured, with many being nurtured to health and rehabilitated where possible. Lake Chivero Recreational Park boasts over 460 species of birds in the wild, and you will be able to see many of these flying freely around the trees and shoreline at Kuimba Shiri, too.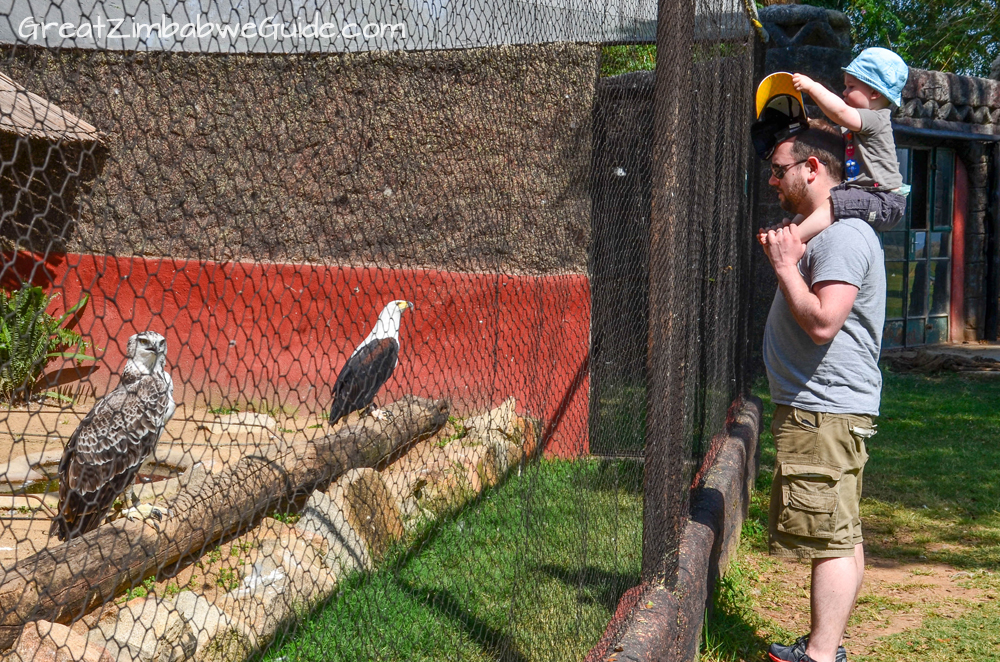 The kids also enjoyed going in the swimming pool (which has a paddling area), the horse ride around the lawn (for a small fee), and there was the option of going on a jumping castle. If we had wanted, we could have gone on a boat cruise around the lake, with a good chance of seeing white rhino or giraffe along the shoreline. I believe that Kuimba Shiri is also an excellent fishing spot, with a number of international angling records being broken here.
I was happy to relax on the lawn watching yachts gliding on the far side of the lake, listening to the sound of birdsong in the trees ('Kuimba Shiri' means 'Singing Bird') and the laughing of children nearby. Our toddler son was happy playing on a blanket under the shade of the trees, far away from both the lake and swimming pool. I'm always cautious of babies being near water, but the gardens of the Bird Park are set away from the lake's shoreline, so I didn't feel anxious about this at all. It was a place that the adults could relax and chat with each other while the kids could be occupied, all in a beautiful location − an ideal combination.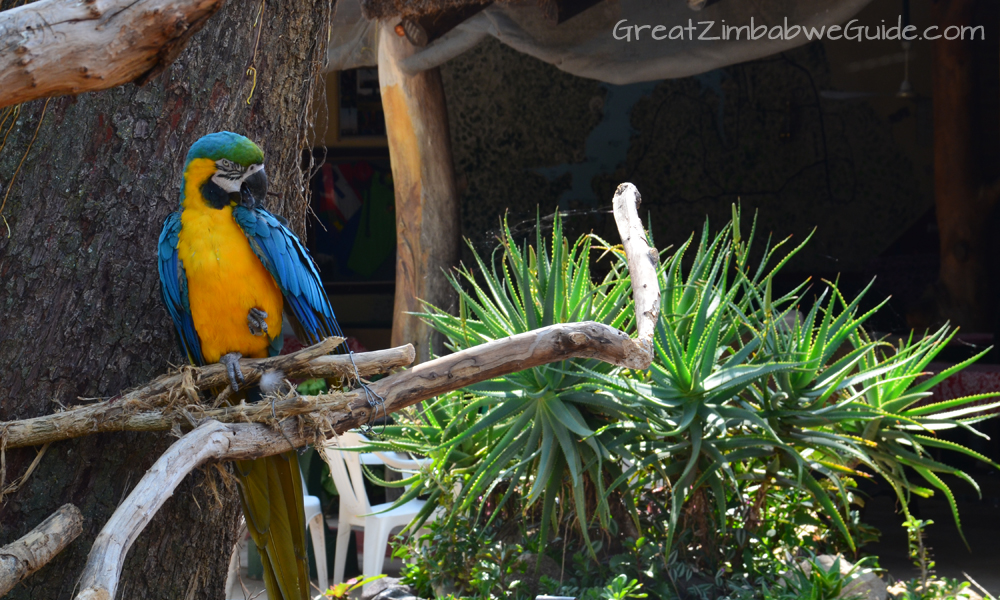 The highlight of the activities at the Bird Park
My favourite part of my visit to the Bird Park, and the thing that made the entrance fee fully worth every cent of its reasonable price, was the free-flying bird display. Every day at 4pm, some of the rescued birds are taken out to practise flying and hunting.
We sat in a grassy amphitheatre and watched the birds go through their paces at close range. Falconer Gary Stafford founded the Bird Park over 20 years ago when he was training eagles for BBC Wildlife and David Attenborough documentaries. It was Gary who led the display for us. He spoke with immense knowledge, warmth and humour as he introduced each bird to us by name.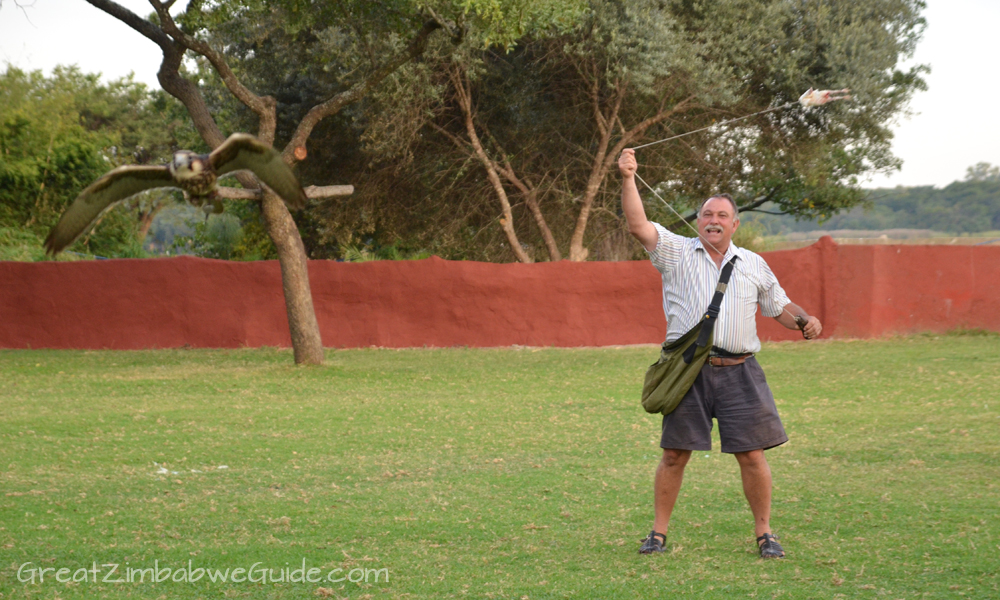 What a wonderful way to teach children (and adults) about the physiology and behaviour of these birds, against the natural backdrop of Lake Chivero. It would be difficult to find such a varied, relaxed and authentic birding experience elsewhere. Kuimba Shiri boats the first free-flying bird display in Africa, which means that we were able to learn about these animals from the most experienced team on the continent. Even if you're not an avid 'twitcher', I can promise you will enjoy the drama of seeing these large birds in flight at such close range. (Continued below.)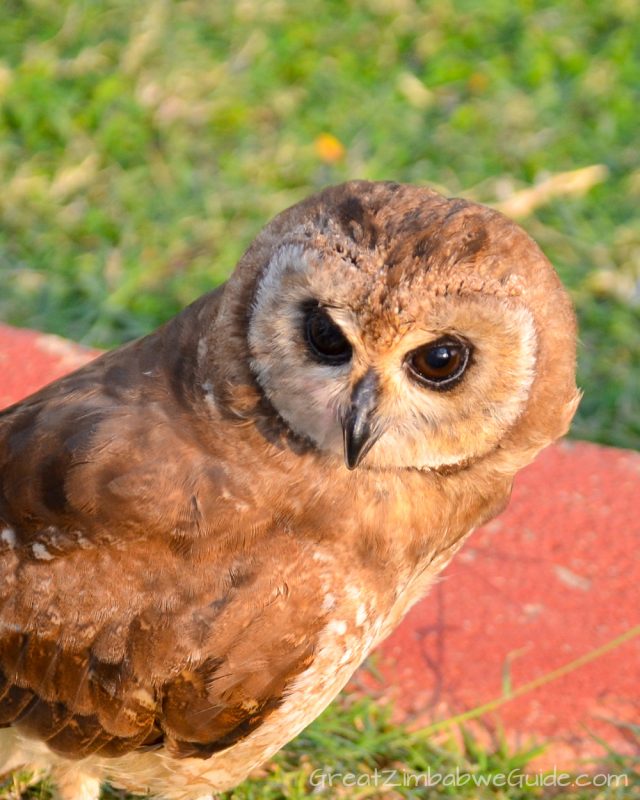 During the display we saw each bird's characteristic behaviour: Marsh owls grabbed morsels from the ground; a gymnogene used its wings to balance on a smaller bird's (decoy) nest whilst using its talons to explore inside; a peregrine falcon flew above our heads to catch food in mid-air. We were invited to be human perches for the owls, and I had the excitement of having a large brown owl swooping towards me and landing on my outstretched arm.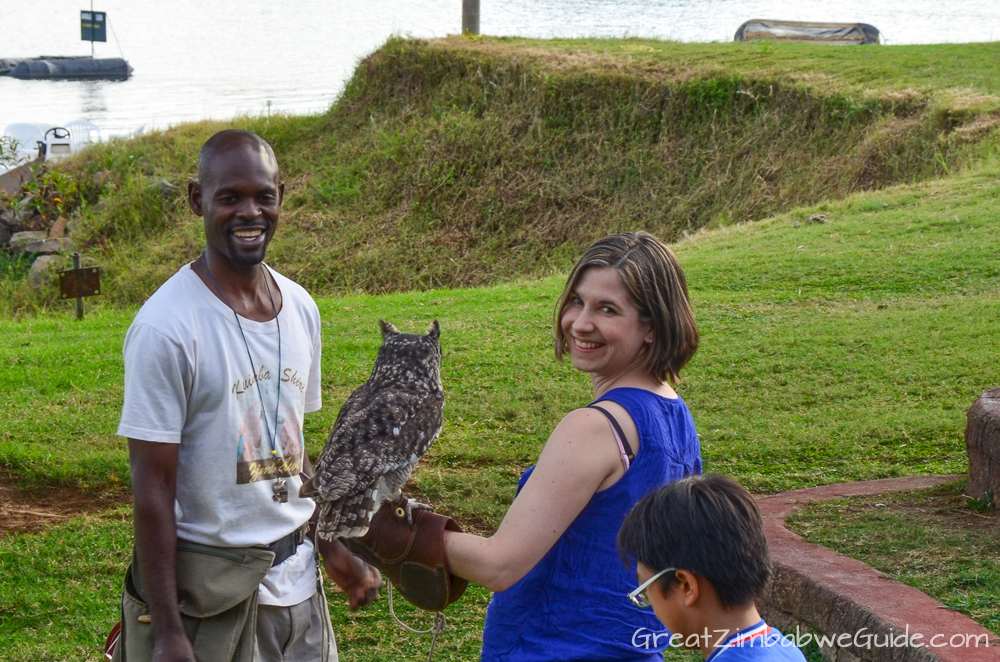 The highlight of the display itself was when we were led to the shores of the lake and an African fish eagle − a bird so synonymous with wild Zimbabwe − swooped over the waters and used its talons to grab a morsel from the waters. What makes this display so special is that the knowledge you gain about the indigenous African birds ultimately equips you for a richer experience when you see them in the wild.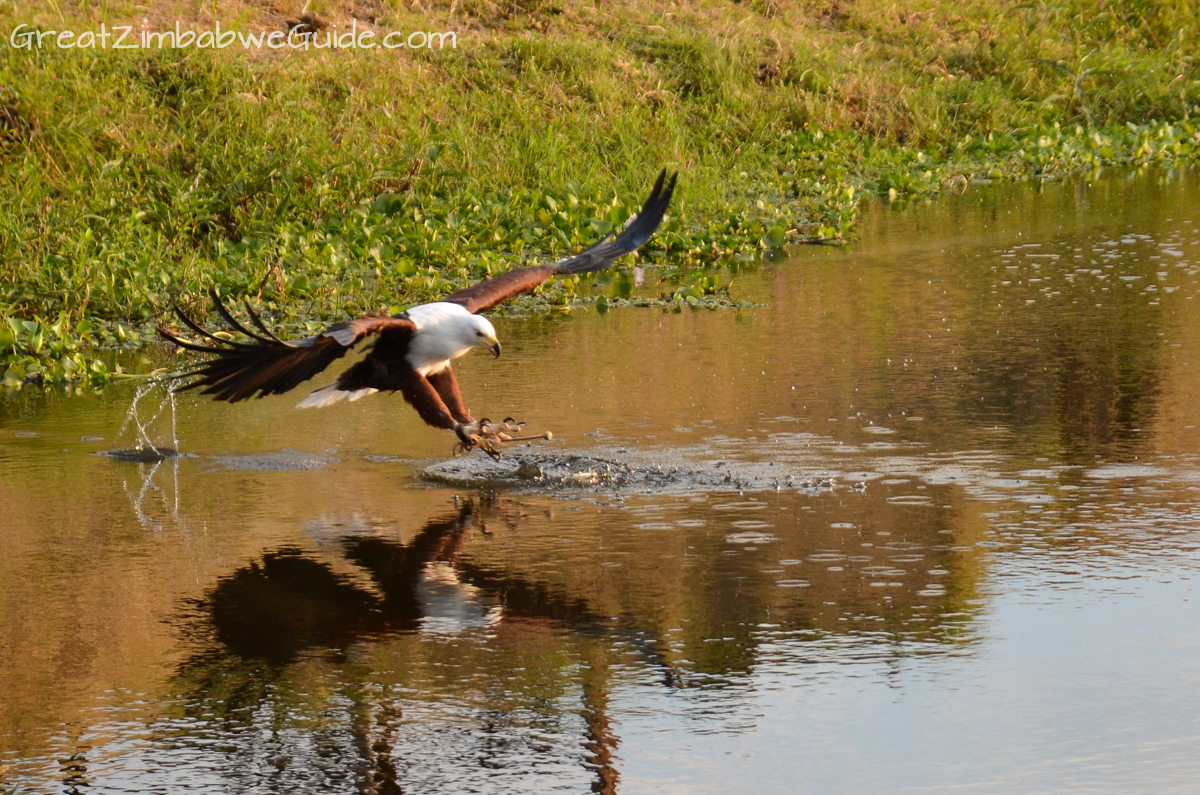 If you, like us, are looking for a family day out in Harare, Zimbabwe, then add Kuimba Shiri Bird Park to your list – now. Not only does it have professional facilities with plenty of activities, but every member of staff we met was attentive and helpful.
It also teaches young and old about these African animals that are commonly overlooked but just as important to the wild. All while supporting a passionate conservation team that works with local communities and wildlife organisations.
Practical information about the Bird Park
Located approx. 30 km from Harare city centre, off the A5 Rd to Bulawayo. Driving along the A5 Bulawayo Rd from town for approx 28 km, turn left at the Wedzera Turnpike (it was a 'Sakunda' fuel station when I was there). Follow the signs, going straight for approx 1 km to Lake Chivero Recreational Park North Bank. At the boom for the North Bank visitors' information entrance, you will need to pay National Park fees. At the time I visited, this was $1 per vehicle. You will then turn left, following the large sign to Kuimba Shiri Bird Park.
Entrance fees to Kuimba Shiri Bird Park at the time I visited: Adults $5; Kids $3.
What to take (optional): Swimming costume, towel, sunglasses, perhaps a blanket for the kids to sit on, hat, sun cream, mosquito repellent.
Included in entrance fees: Access to the grounds, bird aviaries, lake shoreline, plus a free-flying 'birds of prey' display.
The free-flying 'birds of prey' display takes place daily at 4pm.
Other facilities and activities include: waterfront chalet and camping accommodation, fishing, boat game cruises around the park shoreline (where you could spot white rhino, giraffe, crocodile and more), live music events, water tubing, horse riding, Admirals' Cabin Marina,
No cooler boxes with personal food or drink are allowed.
Admiral's Cabin Restaurant sells a wide variety of food and drinks, including alcohol.
The venue is extremely family-friendly, and is suitable for babies and the elderly. As mentioned, I felt that is was very safe for a toddler. Note that Lake Chivero does have and crocodiles in it, but the Bird Park is set far enough away from the banks for the grounds to be relatively safe. Children and adults should not walk close to the lakeshore without experienced supervision.
Website: kuimbashiri.co.zw.
More details about Kuimba Shiri Bird Park:
There are two Geocaches on site for modern treasure hunters
Check the Kuimba Shiri website and Facebook page for upcoming events such as kids' fishing competitions, live music shows, lake clean-up days and other community events.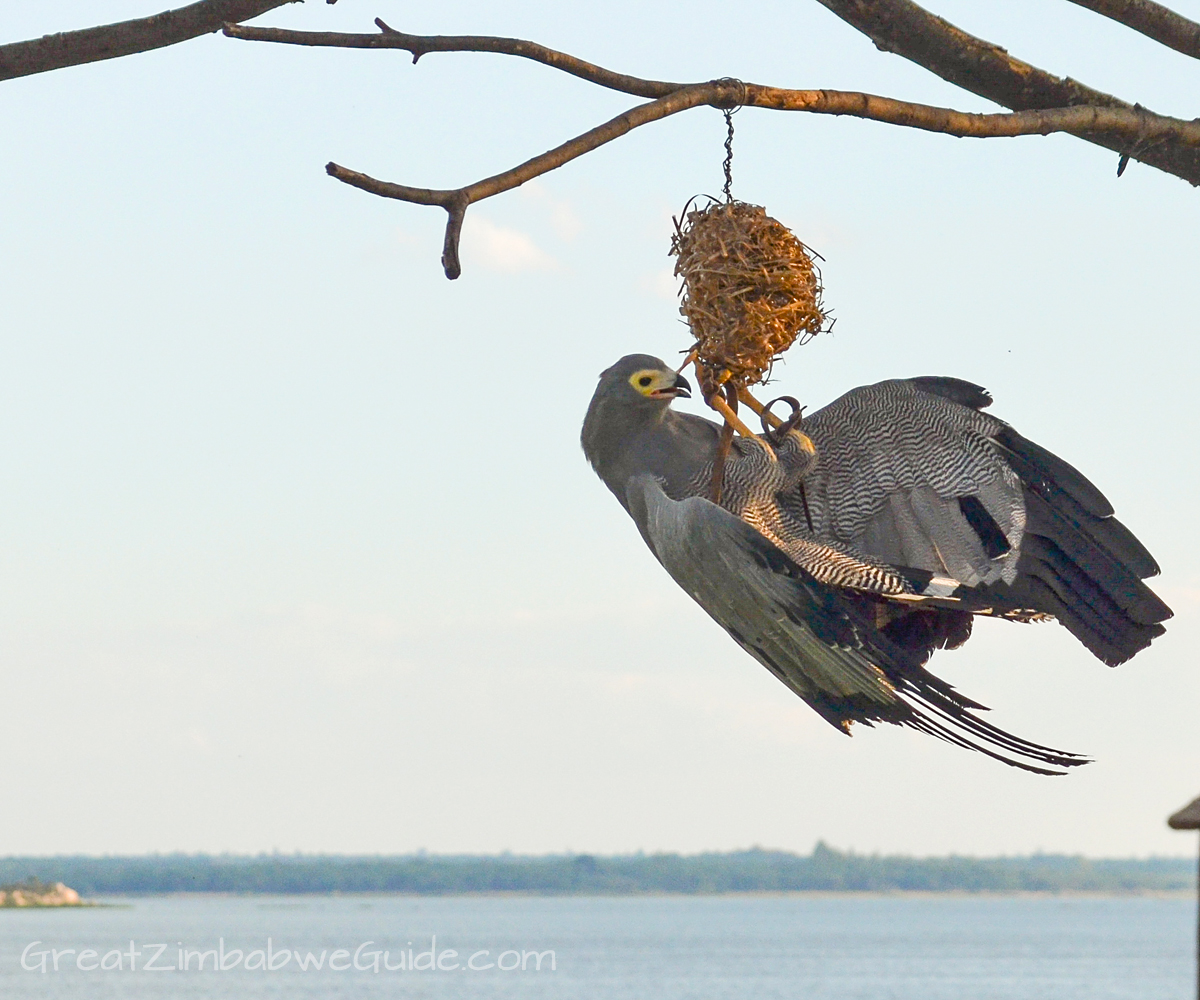 You might also like the following articles: