During our stay at Victoria Falls Safari Lodge we watched the Vulture Restaurant in action. Thankfully, it doesn't involve eating vulture burgers – it's a place where the vultures themselves drop in for a snack. Feathered patrons of the restaurant include hooded vultures, white-backed vultures, marabou storks, yellow billed kites and tawny eagles.
Vultures are an important part of the ecosystem in the wild because they eat the remains of carcasses after the bigger animals have had their fill, which stops the carcasses rotting or spreading disease. In Victoria Falls there isn't enough food for the vultures, so Victoria Falls Safari Lodge, as part of its "Green Steps" programme, gives the vultures a helping hand in the form of leftovers.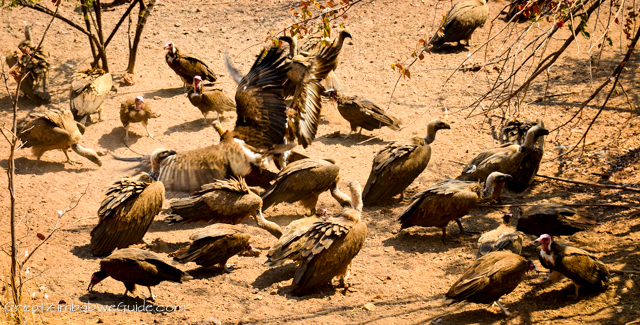 Each day at 1pm, visitors to the lodge are invited to walk a short distance to the game park at the front of the lodge. A brave guide drops some leftover meat in a clearing and quickly moves well away, ensuring the guests also keep at a safe distance. Vultures suddenly start swooping to the ground in a feeding frenzy, a cloud of dust filling the air. More and more birds descend on the clearing until they're almost impossible to count. They squabble among themselves for pieces of carrion, whilst sinister-looking marabou storks eagerly join the action.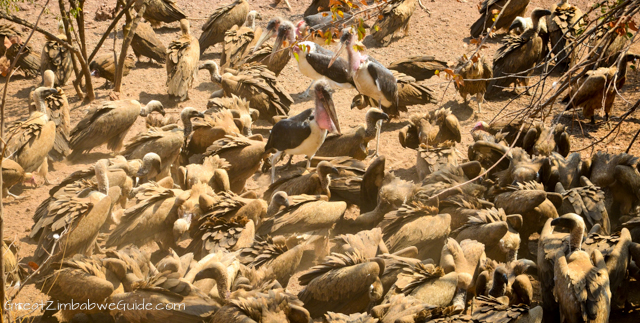 Some of the vultures are the height of a dog, and their sharp beaks tear away bones with startling speed. The lodge supplies only enough food to be a snack for the vultures, so that the birds still continue in their regular eating habits. I can't think of anywhere else you can see these large birds so close without a cage, and I'd definitely recommend it as an activity for anyone visiting Victoria Falls. I'm not a particular fan of birds, but the sheer number and size of these ones, as well as learning about their valuable place in the natural ecosystem, makes the Vulture Restaurant a worthwhile outing. These birds aren't pretty by any means, but they're fascinating all the same!
Where: Victoria Falls Safari Lodge
When: Daily at 1pm
Cost: Free, but a good idea to have lunch or a drink at the lodge before or after the feeding
Suitable for all ages but children should be accompanied by an adult so that they stay keep clear of the vulture feeding area.
Booking required? No

Here's a video of the vulture feeding in action (2012):