Victoria Falls town:
The town of Victoria Falls may seem small, but it has lots of shops and restaurants for its size – we didn't have a chance to see even half of them, unfortunately. Some visitors talk about the "touts" who sell curios, old Zimbabwe currency, or directions to a particular restaurant. They are persuasive and persistent, and can be annoying. We didn't see many when we were there, except for a few people who tried to sell us old Zimbabwe trillion-dollar notes. As soon as we said we were Zimbabwean and had plenty old notes of our own, they lost interest.  In contrast, there was a man whose legitimate job was to sell parking tokens in the Spar car park. Unfortunately, we didn't see him until we'd done a full round of the car park and the poor man had run after our car the whole way!
After we checked out of our lodge, we visited a friend who lived in the suburbs of Victoria Falls and then went into the town to look around the shops. There was a good selection of curios and craftwork (on the expensive side, but that wasn't a surprise), and if we'd had more time I would've liked to see all of them. It was time for our drive back to Bulawayo with a stop at Gorges Lodge for lunch.
Lunch above the gorge:
Gorges Lodge is about 9 kilometres from Victoria Falls and then 11km along a bumpy dirt road. We went through traditional villages and passed children on their way home from school, reminding us of the real lives that continue away from the tourist radar.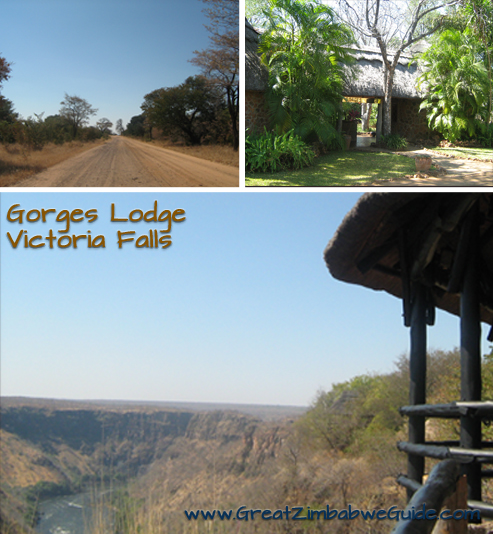 At Gorges Lodge we were greeted at a simple reception and led through a garden filled with butterflies, to the main bar and lounge.
The sight was AMAZING – it was so unexpected. It felt like we'd driven far from the river – but the view from the bar proved me wrong. In front of us was a huge ravine, the gorge of the Zambezi River, with the flowing water beneath it. We had a full 180-degree view of the river from an impressive height.
The barman explained that we were above rapid number 19, near the end of the white-water rafting route. On his days off, he walks down to the river and spends his time fishing – apparently it's a great area for it! He was pleased to report that the lodge was full of German tourists that day, who were out sightseeing.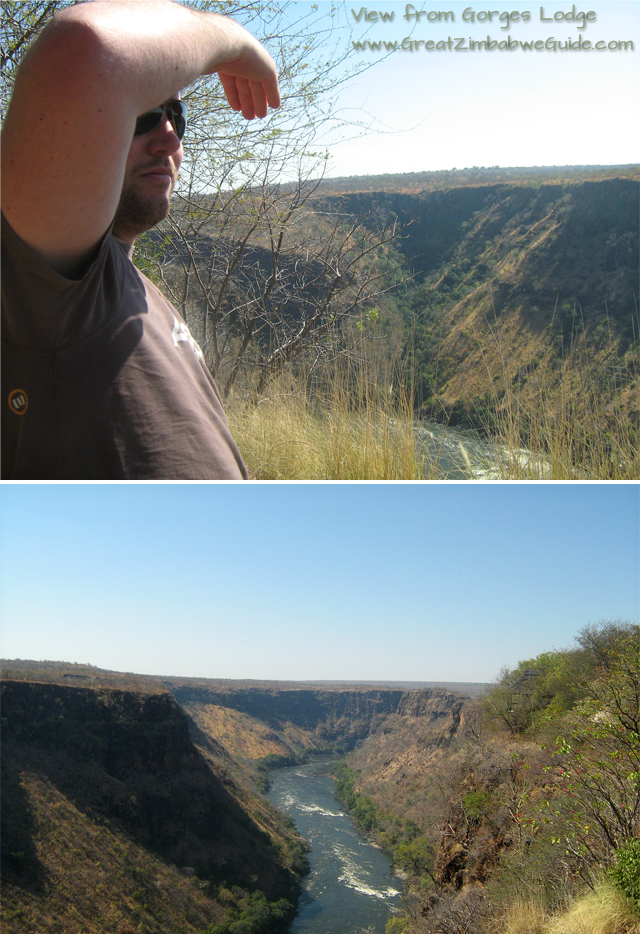 If you plan to stop in at Gorges for lunch, it pays to phone first. We did this and I think it was a good idea to avoid disappointment. Our food took a rather long time although it was very tasty (steak rolls and chips). It meant that we didn't get back on the road to Bulawayo at the time that we'd planned, but I'm so glad we did stop off at Gorges – that view is one in a million.
We had an amazing time in Victoria Falls, and my only regret is that I didn't get to see Sylvester the Cheetah who lives at Wild Horizons Wildlife Sanctuary. We asked about it at their booking office, but were told that we had to do the elephant experience to maybe catch a glimpse of Sylvester. We'd done an elephant experience before so didn't want to spend the money on that only for the chance of seeing the star we'd really wanted to see. Cheetahs have been my favourite wild animal since I was little, and I really had my heart set on seeing one close up. Next time!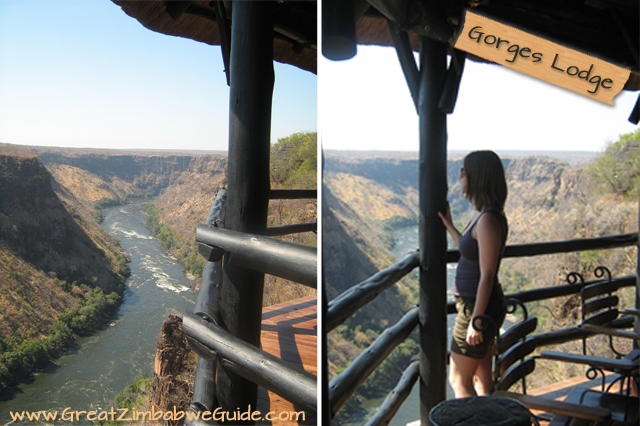 Next post in series: The roadtrip that roared: #9 Harare and Coffee
Previous post in series: The roadtrip that roared: #7
First post of series: The roadtrip that roared: intro