Watching the Zimbabwean Olympic team has made me feel like an excited parent (although not on the same level as Mr de Clos or Mrs Raisman). I wish I could've been at the events in person, waving the flag!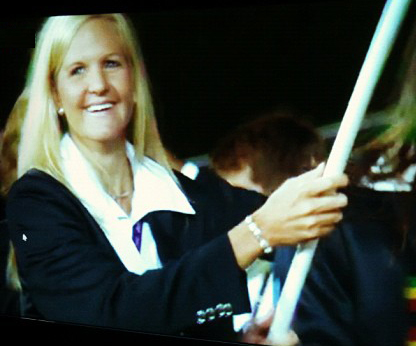 Team Zimbabwe has done so well so far:
Kirsty Coventry finished in 6th place in the finals of the 200m women's backstroke – something she can be proud of, considering the youth of her opponents and the personal challenges she's faced this year. She also came 6th in women's 200m individual medley finals.
Micheen Thornycroft made it to the rowing finals, finishing 14th in the world making her the top African single sculler, which is pretty good going for a first appearance. Onwards and upwards! For the cherry on top, she and her coach have been unofficially dubbed the most likeable pair at the Olympics. Thornycroft's coach, Rachel Davis, is unpaid – she's doing it because she loves it.
Jamie Fraser McKenzie also made it to the rowing finals (men's single sculls), finishing at number 30. Zimbabwe hasn't rowed competitively at the Olympics before, so I think we're off to a great start.
Sharon Tawengwa started her marathon well, and was in the lead pack at 5km, but unfortunately had to pull out at 27km due to a knee injury.
I can't wait to seeing the rest of the team in action next week: marathon runners Cuthbert Nyasango and Wirimayi Zhuwao; and triathlete Chris Felgate.
Here are some snaps of Micheen Thornycroft in action: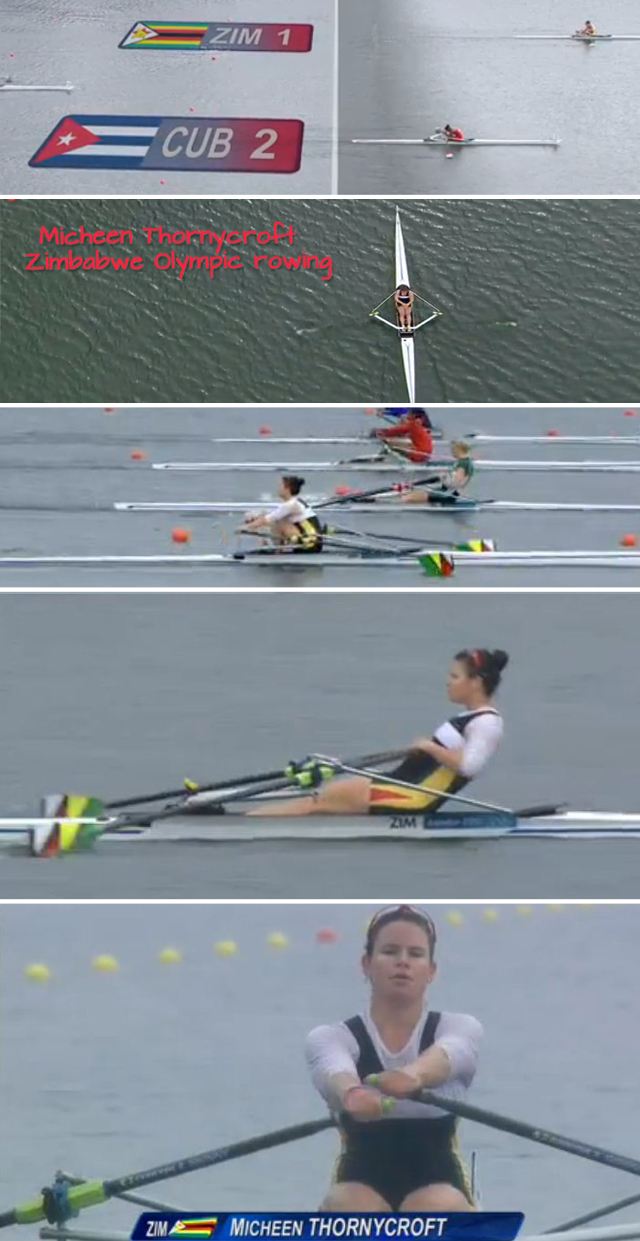 Team Zimbabwe's tenacity, determination and positive nature have been completely inspiring. Not only are they world-class athletes, but they've had more challenges to face than many others. Most people in Zimbabwe don't have the luxury of dedicating their lives to sport – they're supporting their families in a country where mere day-to-day life can be extremely difficult. For the lucky few Zimbabwean athletes who go professional, they don't have sponsors lining up to finance them. They don't have the money to hire scores of experienced coaches or to fly to regular competitions to work on their strategy. I think that every achievement for these Zimbabweans, however large or small, is a testament of the strength of their spirit and of the support from their family and friends.
Despite all of this, these athletes have chosen to compete under Zimbabwe's banner. With their talent, they could've chosen to change their citizenship and compete for another (richer) country – but they didn't. This speaks volumes about their support and belief in Zimbabwe. Many Zimbabweans have returned their support – on Facebook, Twitter, and at the games themselves.
This year's Olympic flagbearer, and perhaps the bearer of the bulk of the nation's hopes, have rested once again on Kirsty Coventry. In the past she's won 7 of Zimbabwe's 8 Olympic medals, and has been tagged "our national treasure". Born in Harare, Zimbabwe, Coventry went to Dominican Convent High School and then swam competitively at university for Auburn University in Alabama. She qualified for the Olympics at age 16.
Coventry held the World Record in Women's 200m Backstroke from 2009 to 2012, and broke 3 world records in previous Olympic events. She's the 3rd woman in history to break the 1-minute barrier in the 100m backstroke, and the second to break the 59-second barrier.
It's fair to say that Kirsty Coventry has had a huge effect on the nation. She's moved us in a way that goes way beyond the realm of sport and into something much more profound.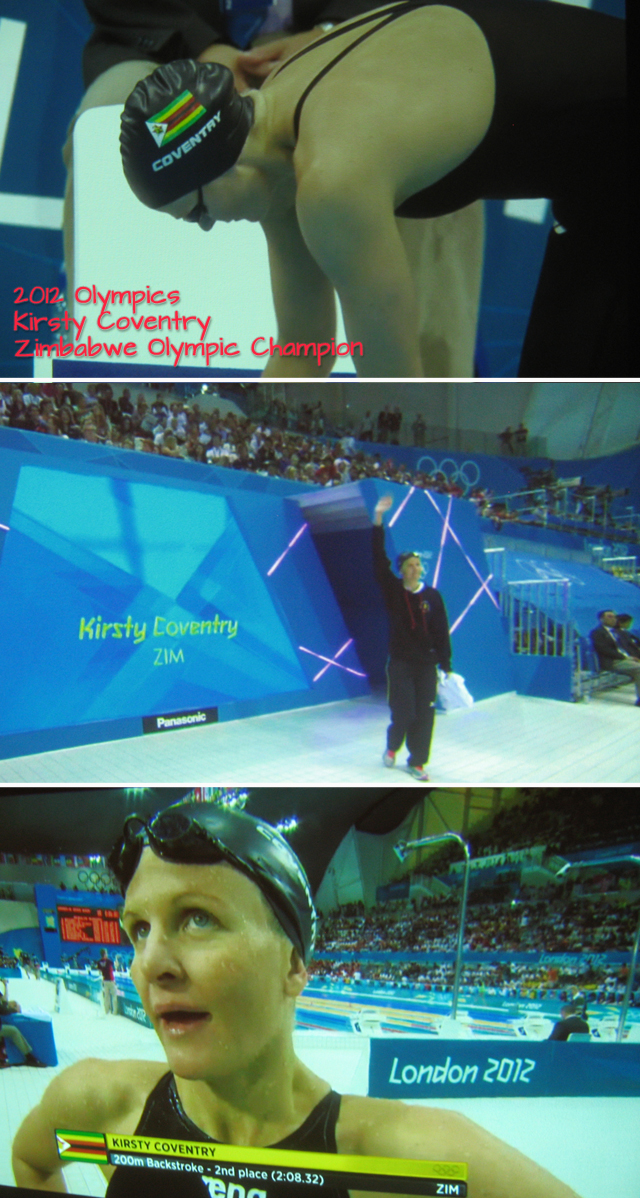 Here are Coventry's Olympic stats – bringing medals to a country in desperate need for some good news:
2004 Olympic medals
Bronze in the 200m Individual Medley – Zimbabwe's second ever Olympic medal. (Its first medal was won by its Women's field hockey team in 1980 – a gold.)
Gold in the 200m backstroke
Silver in the 100m backstroke
2008 Olympic medals
Silver in the 400m IM (4:29.89 AR)
Silver in the 100m Backstroke (58.77 WR semis)
Silver in the 200m IM (2:08.59 AR)
Gold in the 200m Backstroke (2:05.24) WR
2009 World Championship medals
Gold in the 200m backstroke (2:04.81) WR
Silver in the 400m IM
Some media reports have been overly critical about Kirsty Coventry's lack of medals this year. However, Zimbabwean MP David Coltart has highlighted the difficulties that Coventry faced in the run the run up to these Olympics: low financial support, a new coach, a dislocated knee, pneumonia, minimal competition training and no team support. I can only imagine how much pressure she and the other the Zimbabwean Olympians must feel, just the 8 of them, and I'm sure that they would've felt more confident in their events if they'd had the emotional support of a bigger team. Coventry also took a year out from swimming after the Beijing Olympics and had to work hard to return to her world-class level. In my books, she will always be a Zimbabwean hero.
Zimbabwe first competed in the Olympics in 1928 under the name of Rhodesia, and has competed under the name of Zimbabwe since 1980.