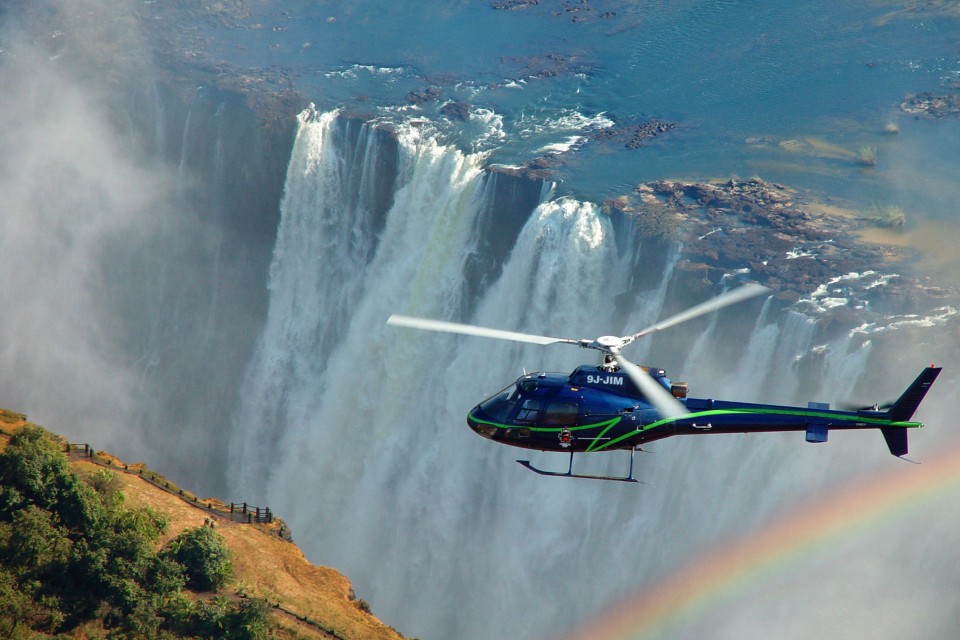 We always disclose sponsored material to the reader. This post is written and sponsored by African Budget Safaris. #ad
When planning a trip to Victoria Falls people often ask our travel experts at African Budget Safaris: which side of the falls is better – Zimbabwe or Zambia? In the article below, we give our take on a number of factors in the Zambia vs Zimbabwe Vic Falls debate. Who will win overall?
The series of waterfalls known as Victoria Falls is one of Africa's biggest attractions, and one of the seven natural wonders of the world. Like Niagara Falls, it straddles two countries, namely Zimbabwe to the south and Zambia to the north. When visiting Victoria Falls, travellers have the option of flying into the town of Victoria Falls in Zimbabwe, or Livingstone in Zambia. But which is better?
The views of the waterfalls: could go either way (a tie)
If you're in it for the views, then the classic view of the Main Falls is to be had from the Zimbabwean side. There are also more viewpoints in the Victoria Falls National Park on the Zimbabwean side than on the Zambian side.
If you are an extreme budgeter then the Mosi-oa-Tunya National Park in Zambia is about US$10 cheaper than Victoria Falls National Park. This side is slightly wilder and you can get right up to the falls, which will get you soaking wet when the Zambezi is in full flood. Another drawcard on this side is the scenic and exhilarating Knife-Edge Bridge walk.

View of Victoria Falls from Zimbabwe
Timing of your holiday: Zimbabwe
In the driest months (October and November) Victoria Falls can dry up completely on the Zambian side, so you could find yourself staring at an impressive rock face. This doesn't usually happen on the Zimbabwean side, where the Main Falls section of the waterfall flows all year round.
Activities around Victoria Falls area: tie (Zimbabwe or Zambia)
Most activities are available on both sides of Vic Falls, except for Devil's Pool which is only accessible from Zambia. Zimbabwe, on the other hand, has the Elephant Hills Hotel which features an 18-hole golf course if you'd rather stay away from the waterfall's edge and putter on the greens.
Shopping & eating out: Zimbabwe
Victoria Falls town in Zimbabwe is the winner when it comes to food and shopping. It is more geared towards tourists with plenty of cafes, bars and a large outdoor market. If you're a serious shopper head to Elephant's Walk Shopping and Artist's Village for more high-end wooden carvings, fabrics and jewellery.
Livingstone, on the Zambian side, is a bigger town, but it is located a bit further away from the waterfall itself. It's a better option for you if you want to get a feel for local life or are less interested in eating out and shopping.

View of Victoria Falls from Zambia
Accommodation: tie (Zimbabwe or Zambia)
Zimbabwe has a wider variety and number of accommodation options to choose from, but Zambia has some great riverside lodges that are hard to beat.
Practicalities: tie (Zimbabwe or Zambia)
Both Victoria Falls town (Zimbabwe) and Livingstone (Zambia) have international airports, so it depends on the flights you can get and how Victoria Falls fits into the rest of your trip in Africa.

Zambian side of the falls in the dry season. Source: Global Water Forum on Flickr
Verdict: and the winner is … Zimbabwe
Overall, Zimbabwe wins. That said, it depends on what kind of travel experience you're after and what time of the year you plan to visit Victoria Falls.
The best option is to view Victoria Falls from both sides. There's a UniVisa which costs US$50 (available on arrival at the airports). This gives you access to both sides of Vic Falls as well as covering day trips to Chobe National Park (Botswana), making it easy to combine them all.
Two short budget Victoria Falls tours
See more articles about Victoria Falls, Zimbabwe