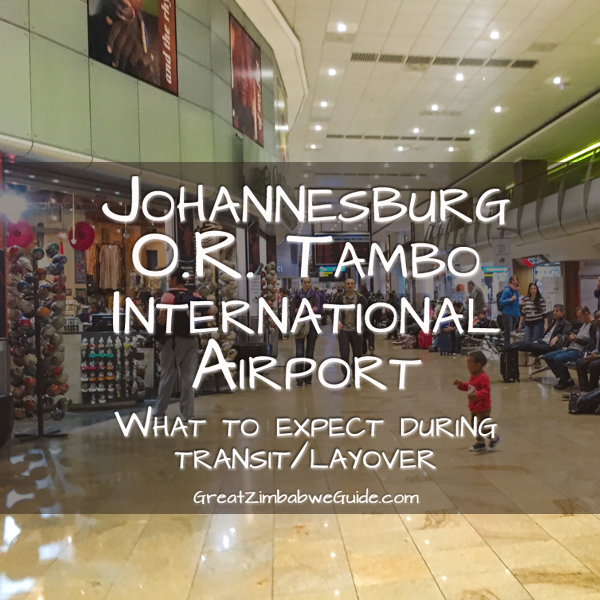 If you're flying to an African country south of the equator, there's a high chance that you'll transit through Johannesburg O.R. Tambo International Airport in South Africa. Airlines like SAA, BA and Virgin all fly through Johannesburg O.R. Tambo (AKA Jo'burg Airport). This article gives info about the international layover, directions within the airport, facilities, and what to expect airside. I'd also like to start by saying that having flown from the UK to Zimbabwe through many different cities, my favourite transit airport for Zimbabwe is O.R. Tambo.
This guide about Jo'burg's International Transit Area is applicable for you if:
boarding passes for your whole journey (including passes for your onward flight from Jo'burg) will be issued to you from your departure airport
your baggage will be checked through all the way to your final destination
your transit will be an international one (Einstein): if you're not sure whether your onward destination is in a different country to South Africa, it's time to do some Googling
for example: when I flew with SAA to Harare via Jo'burg , this applied to me. Another example is when I flew with Virgin Atlantic and then BA to Harare via Jo'burg (despite being with two different airlines, the ticket was booked in one bundle with LastMinute.com).
If the above applies to you, chances are that you'll remain in the International Transit Area while in Jo'burg Airport and that you won't need to go into the domestic terminal. If in doubt, ask your travel provider.
Arriving at Jo'burg O.R. Tambo Airport and getting to the International Transit Area
When you disembark your first flight and arrive in Jo'burg Airport, you may be taken in a bus to the terminal, or you may walk a short distance to the terminal.
In the building, follow signs to the International Transfers (Terminal A). The signs are blue and neon, which is helpful.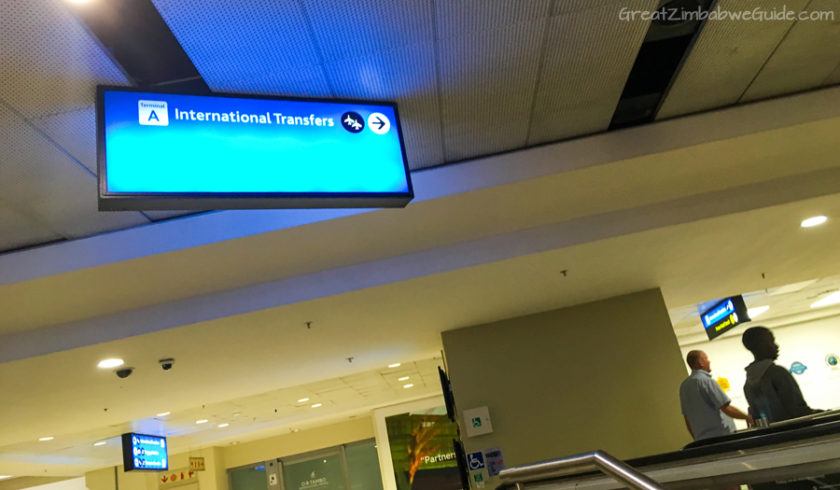 You'll most likely join an Immigration queue in a rather forlorn-looking hallway. There are toilets in this hallway if needed. The length of queue depends on the time of day and the popularity of your flight. The shortest I've had to wait is 20 minutes, and the longest has been 1hr 30 minutes. There are no chairs in the Immigration queue area. It's a good time to chat to your fellow travelmates or just stretch your legs after your flight. Once at the front of the queue, the border officials usually stamp your passport and let you through without fuss. If your previous flight was delayed and you're running late for your onward flight, don't hesitate to go to the front of the queue and explain this to the security guard – they will let you go to through first.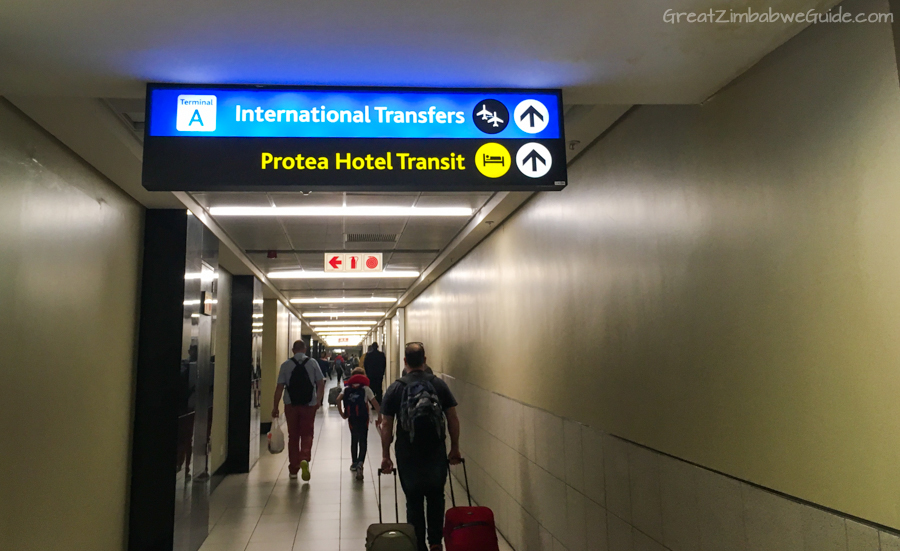 Immediately before security, there is a large and rather dark-looking lounge area with some chairs and a line of airline desks. Do not fear: this is not where you will have to spend the next 2 hours of your layover. Unless you need a boarding pass or flightcheck, you can walk straight past this area to security.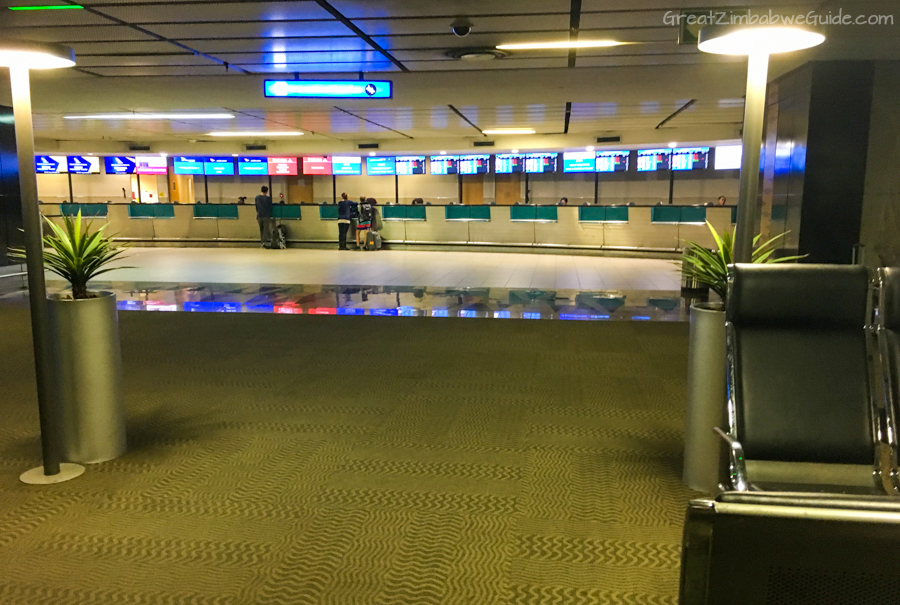 Another queue awaits you after the "dark lounge area with airline desks", but do not fear, as this means you are nearly at the good bit! There are only 2 X-ray machines at security which means the queue can be long. Once again, if your previous flight was delayed and you're running late for your onward flight, don't hesitate to go to the front of the queue and explain this to the guard – they will let you go through first.
Now the tedious part is over! Airside at Jo'burg Airport is spacious, light, has lovely views of the runway, and has a great restaurant to grab a bite to eat. Mugg & Bean is my favourite restaurant there – the food is reliable, the portions are generous, and the staff are so friendly and helpful that I feel like I've been wrapped in a warm blanket (especially after a usually draining long-haul flight).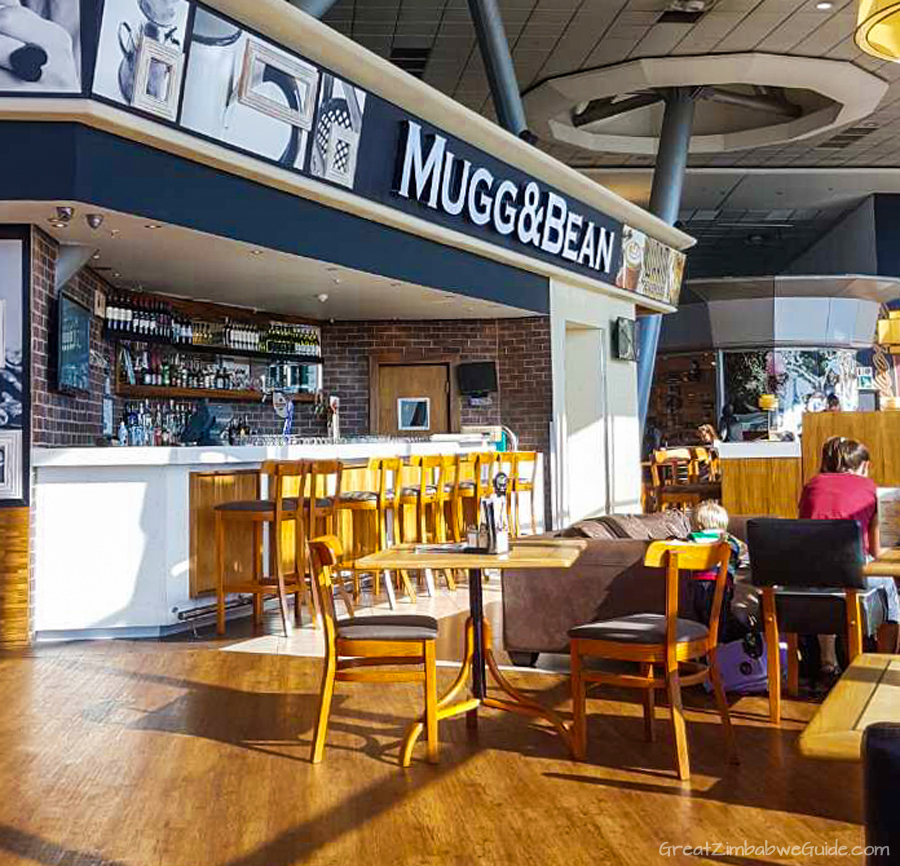 Curio shops, clothing stores, cafes and duty frees await … spend the next few hours stretching your legs and avoiding buying handcarved ostrich eggs before your next flight.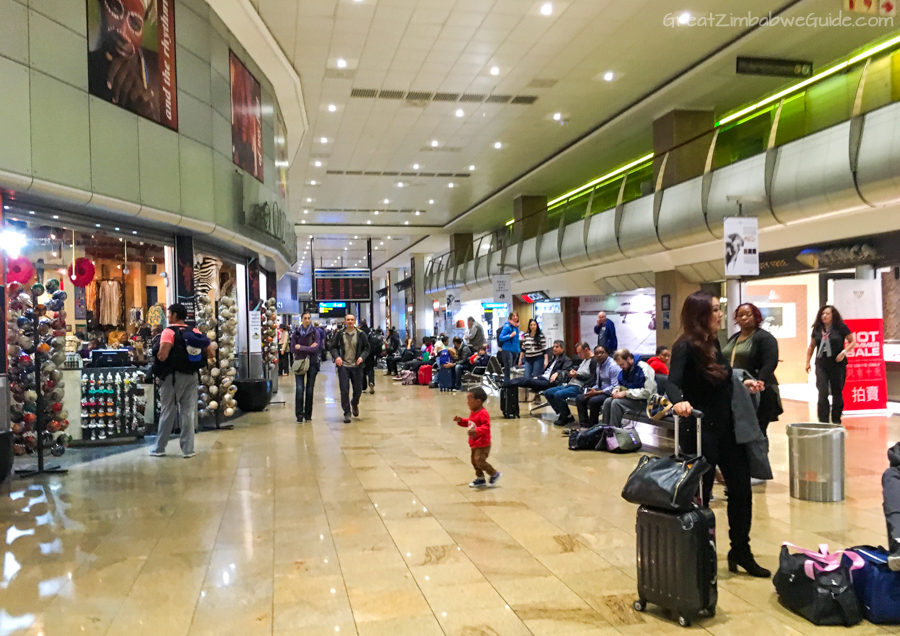 General advice & info on Jo'burg O.R. Tambo Airport
At your departure airport, get your bags wrapped in cellophane. This service is often at the oversized baggage area. Getting your bags wrapped comes with a fee (around $10 per bag) but it is a deterrent to anyone thinking of opening your bags in transit at Jo'burg Airport.
Don't expect everything to be absolutely efficient at Jo'burg Airport. Keep checking the screens for your flight information and departure gate as they may change without warning and they may not show the most up-to-date information.
Allow yourself at least 20 minutes to get to your departure gate; some of the gates are further away than they seem. On rare occasions you may get to your gate only to find out that it's changed and that you have to walk to another one.
I personally ensure that my layover in Jo'burg Airport is a minimum of 2 hours; any shorter and it's just too rushed.
WiFi is available by selecting the 'AlwaysOn' Network but it requires payment with a Credit Card when you log in.
Baby changing facilities are available but sadly only in the womens' toilets.
If travelling with children, ensure you check in advance what travel documents are required. Here's a link to official UK travel advice for SA. The South African Department of Home Affairs have stated that no supporting documents will be required by people in direct transit through a South African International Airport (see here). However, it is wise to bring your child's birth certificate just in case.
Nine airlines have lounges in the International Terminal – visit the O.R. Tambo website for details.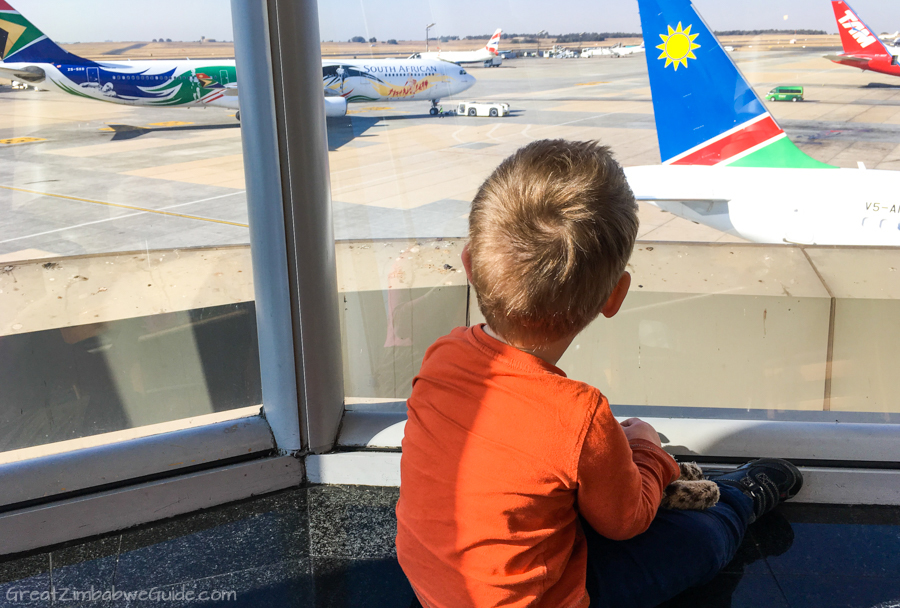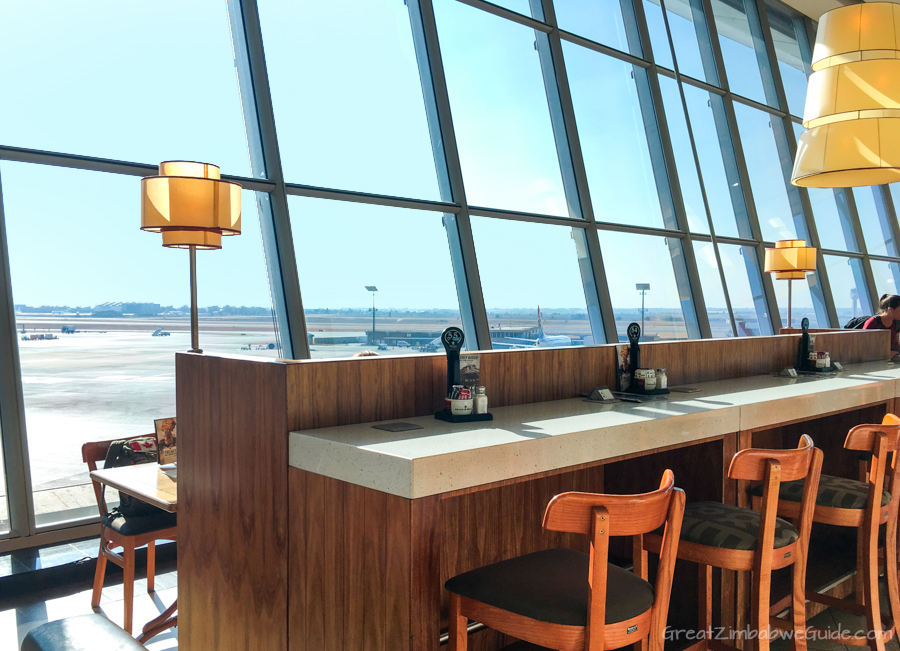 More articles you might like