Health information for visitors to Zimbabwe
We've updated our article on Health information for visitors to Zimbabwe!
The article discusses the following topics related to health information for visitors to Zimbabwe: (1) Sun protection, (2) Water safety, (3) Malaria, (4) First aid, (5) Yellow fever (6) HIV/AIDS, (7) Medical services, (8) Travel insurance, (9) Vaccinations, (10) Staying safe and (11) Useful websites, and (12) Coronavirus.
You can read about these categories in detail by reading the full article: Health information for visitors to Zimbabwe.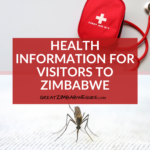 There are a number of health considerations to take before visiting any country, and Zimbabwe is no different. However, it's good to remember that in places such as Victoria Falls, Harare and Bulawayo, there are good private medical facilities should they be needed. I (Beth) am cautious by nature, and yet as an ex-local to Zimbabwe, I view it as a fairly manageable destination in terms of health and safety.
---
Great Zimbabwe Guide gives travel tips, information and inspiration about Zimbabwe, Africa. We share stories of Zimbabwe's talented people, world-class wilderness & wildlife safari experiences, all wrapped up in an unmatched climate. 
Do you have a question about visiting Zimbabwe? Start with the Quick-reference list of travel advice. 
Follow Great Zimbabwe Guide on social media for even more Zimbabwe travel tips and inspiration: Facebook (@GreatZimbabweGuide) & Instagram(@GreatZimGuide).
To ensure you don't miss anything, sign up for email newsletters on our Contact page.