Great Zimbabwe Guide is a blog giving you useful information about Zimbabwe travel. It was Zimbabwe's first independent travel blog, founded in 2010. Check out the FAQs, city guides, travel tips, itineraries, advice on where to stay and things to do. Plus, read first-hand travel experiences to get inspiration for your next visit. If this is your first visit to the site, head on over to the page Zimbabwe travel quick reference guide.
Great Zimbabwe Guide:
is Zimbabwe's first independent travel blog and online travel guide, created in 2010
is not owned by travel operators (unlike many other Zimbabwean travel websites)
is about honest views and practical travel information
is for anyone with an interest in Zimbabwe travel
is run by Beth, who was raised in Zimbabwe
places an emphasis on first-hand personal travel experiences

Why the site was created
Zimbabwe's rather woeful politics and economy have been covered in the media for a number of years but there is so much more to this country. Zimbabwe has an abundance of life-affirming travel opportunities for those who take a closer look: world-class wildlife, vast wildernesses, and friendly people who are proud of Zimbabwe's treasures. (Corny as that may sound, it's true.) My aim for the blog is to showcase the positive aspects of Zimbabwe to the world, while providing useful and honest information for anyone interested in travelling here.
In countries like Kenya, Tanzania and South Africa, there can be hordes of other tourists and minibuses surrounding you during your safari. That just isn't an authentic African safari experience, in my opinion. Zimbabwe can often be overlooked or masked by tour companies. Some people think that Victoria Falls is in South Africa, for example, when really it's shared by two countries: Zambia and Zimbabwe.
Tourism has become Zimbabwe's second largest contributor to Gross Domestic Product after mining, and much of tourism's revenue supports the thousands of ordinary people working within the industry, not just the government. Great Zimbabwe Guide promotes the good aspects of the tourism industry, and hopes that growth in tourism will contribute towards stabilization of the country. See the page Is it ethical to visit Zimbabwe? for more of my thoughts on tourism in Zimbabwe.
Great Zimbabwe Guide is forward-facing and Zimbabwe-focused. The blog doesn't fixate on the Zimbabwe/Rhodesia of the past, and it doesn't cover other African countries. You can read more about my aims for the blog, and its history, in my seven-year anniversary post.
••••••••••••
What's in a name?
The name of the website is a wordplay on the physical area of Great Zimbabwe Monument and Ruins, which is arguably sub-Saharan Africa's greatest archaeological site. This stone city from which modern-day Zimbabwe gets its name was the centre of a huge Iron Age trading kingdom. Much of it is still standing, which is a testament to those who built it. To me, it's a symbol of what Zimbabwe can withstand. In this blog, the accounts of Zimbabwean wildernesses, culture and cities will (hopefully) reveal even more of what Zimbabweans can be proud of, and of what they can offer the world.
••••••••••••
Email: info[at]greatzimbabweguide.com with queries or feedback.
Find out more about the writer. Also see pages about Contributing and Advertising.
••••••••••••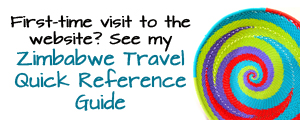 Reader comments
"My husband and I went on our first trip to Zimbabwe in January, and had an amazing time in both Victoria Falls and Harare. Great Zimbabwe Guide was a fantastic resource for planning our travels – so thank you very much for sharing all your insider knowledge and contagious love for the country!"
 "Just to let you know that your website has been extremely valuable in helping me plan a trip to Zim on October. This will be my first visit in 20 years, so my memory of the country is rather fondly outdated… Can't wait, and your site has made planning easier with your up-to-date info."