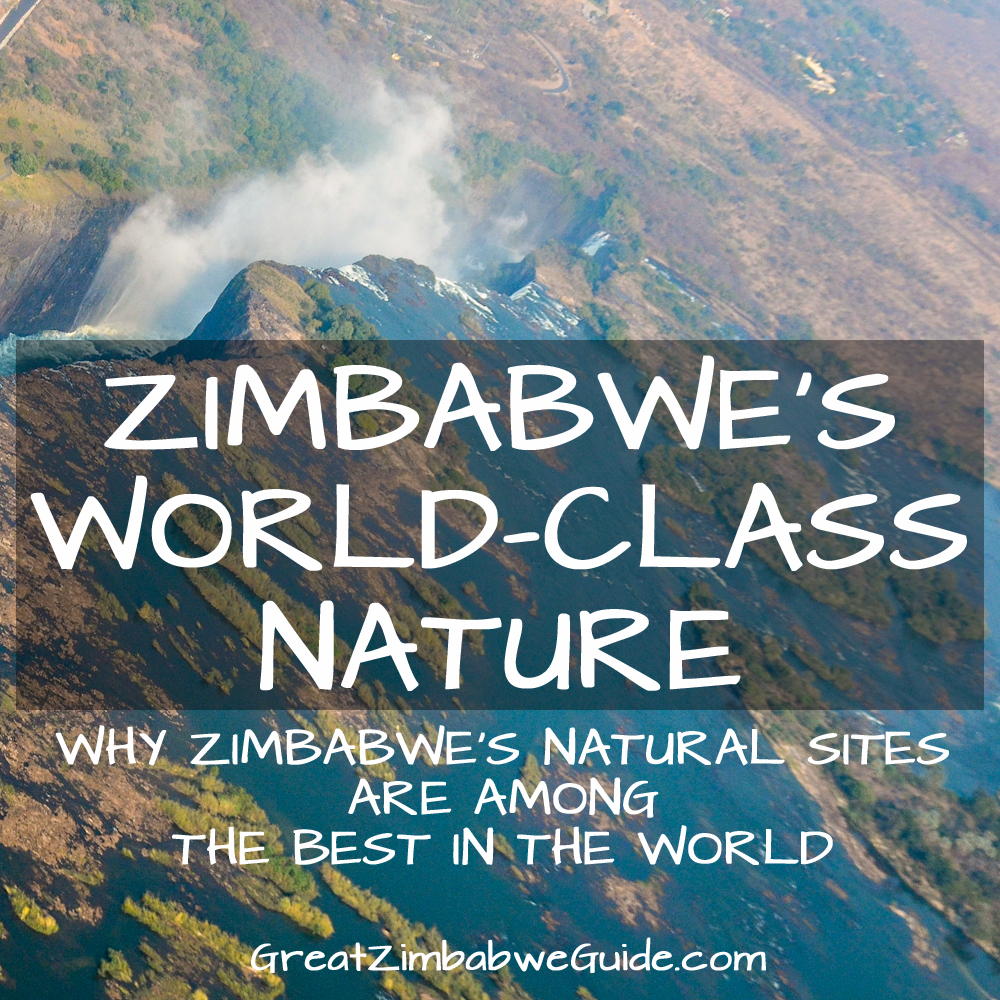 I'm often struck by how much Zimbabwe has to offer, especially on the safari and scenery front. Zimbabwe's game reserves aren't as famous as the Serengeti or Masai Mara, but they have world-class wildlife and unspoiled natural beauty. Zimbabwe can definitely compete with some of the best natural sites in the world. Just take a look and find out why.
Zimbabwe's world-class wildlife and nature facts

1. Victoria Falls is the  largest sheet of falling water in the world
It's also one of the Seven Wonders of the Natural World.
Victoria Falls is classed as the biggest waterfall because it is both wide and high, at 1700m by 108m. That's about 18 soccer pitches wide by 1 ½ high. The spray itself can reach as high as 400 metres, and can be visible from as far as 50 kilometres or 31 miles away.
The original name for it, 'Mosi-oa-Tunya', or 'The smoke that thunders', gives a hint of just how impressive it is. The mighty Zambezi river is the border between the two countries of Zimbabwe and Zambia. Where this huge river falls into a series of gorges. Victoria Falls is created, along with a lush rainforest around it.
You can walk along and view two-thirds of the falls from the Zimbabwean side. It is, unsurprisingly, a UNESCO World Heritage site*.
Plus, if you want to throw award-winning accommodation into the mix, The Elephant Camp has been awarded a spot in the TripAdvisor Top 25 Luxury Hotels in Africa for five consecutive years. Victoria Falls Safari Lodge was awarded Best Safari Hotel in Africa (3rd Place) by the Good Safari Guide 2011.
2. Mana Pools National Park is a UNESCO World Heritage site
UNESCO granted World Heritage status to this National Park due to its natural beauty, wildlife population, and ecological features.
Mana Pools is renowned for its spine-tingling wildlife – it is one of the planet's last authentic old-world natural wildernesses. Here, the light from your campfire reveals a glint of a lion's eyes at the edge of a clearing. Hyenas prowl the unfenced campsites at night looking for remains of your dinner. It doesn't get more real than that!
Mana Pools was also rated as the 4th Most Beautiful National Park in the world by National Geographic Magazine in 2009.

3. Hwange National Park has one of the largest populations of African wild dogs in the world
Hwange National Park also has one of the highest animal diversities of any game reserve in the world.
Wild dogs have become extinct in most of the world, but conservation in Zimbabwe has increased their numbers which means that visitors can have the chance to see these strangely winning predator-hunters in the wild.
With over 100 species of mammals living in Hwange, and a good network of roads and viewing platforms to see them, it's a game-lover's paradise.
It's also home to one of the largest elephant populations in the world.
4. Lake Kariba is the world's largest man-made lake (by volume)
Kariba covers an area of 5580 square kilometers (2150 square miles); is 220 kilometers (140 miles) long and up to 40 kilometers (20 miles) wide. Its volume is 180 cubic kilometres (43 cu miles).
The mass of the water is so great that it has increased the seismic activity in the region.
It dams a section of the powerful Zambezi River as it travels from Victoria Falls in the west to Mana Pools in the East.
Although it's an engineering landmark and generates power for the surrounding areas, its natural beauty attracts visitors from around the world.
This inland sea and its shores are a paradise for birds, hippos, crocodiles, fish, elephant and more.
5. Matobo National Park has the world's most concentrated population of African leopard and black eagle
It's also one of the parks with the greatest variety and density of birds in the world.
Leopard numbers are rapidly decreasing from loss of habitat and persecution from humans. These old-world predators are smaller than lions but more stocky than cheetahs. Here, in the Matobo hills, the terrain consists of enormous granite rock-mountains with plenty of caves and trees for leopards to make their home.
Black eagles, bateleur eagles and many other raptors pierce the sky with their dark frames, swooping between the rocks, hunting for shrews and rabbits. A third of the world's eagle species can be found in this park alone.
A large population of black and white rhino are also successfully breeding here, so you have a high chance of seeing these valuable animals.
6. Matusadona National Park had the highest natural density of lions in Africa, until recently
This mountain-lined park on the shores of Lake Kariba has an impressive population of lion, which was the highest for its size. Recent increases in numbers in other countries have changed this, but in Matusadona you can be sure you'll have less competition from other tourists.
7. Antelope Park is the home of the world's first programme to rehabilitate lions for release into the wild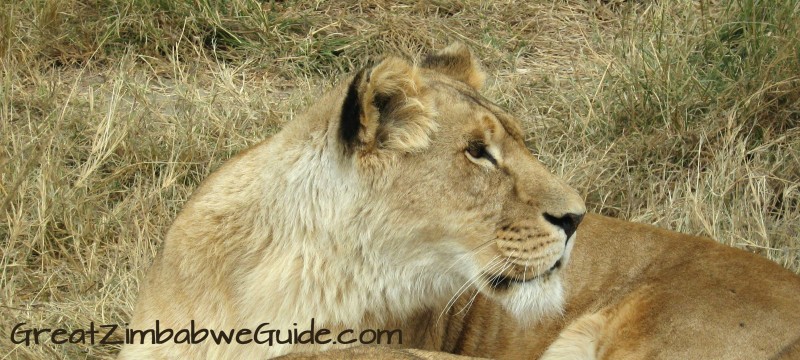 8. Zimbabwe has the most rigorous safari guide training in the world
Want to experience some of Africa's wildest nature reserves on foot, surrounded by elephant, hyena, lion and crocodile in their natural habitat? If you're accompanied by one Zimbabwe's professional safari guides, you can be assured you're in safe hands.
Want to be a professional safari guide, game tracker or game ranger?** If you do it according to the Zimbabwean curriculum, it will take you 4-5 years, including 2 years of studying under a professional and a 2-day written exam. The pass rate is around 5%.
Zimbabwe has a host of much-loved guides, some of whom are profiled in the book Licensed to Guide, and some featured in the BBC series Wild & Dangerous. Here's a clip of part of an episode:
9. KAZA Transfrontier Area is the largest game park in the world
The Kavango-Zambezi Transfrontier Conservation Area is roughly the size of France – about 520,000 square kilometers. It bridges the borders of Angola, Botswana, Namibia, Zambia and Zimbabwe and encompasses 36 wildlife management areas. In due course, visitors will be able to see the Victoria Falls, Hwange National Park, Lake Kariba, Okavango swamps, Chobe National Park and the Caprivi Strip with just one visa.
Another large park, at twice the size of the Serengeti, is the 35000-square-kilometre Great Limpopo Transfrontier Park. It will link the Kruger National Park in South Africa with the Limpopo National Park in Mozambique and Gonarezhou National Park in Zimbabwe. This will be roughly the size of the Netherlands or Taiwan – and visitors will be able to see all three with one visa.

Photo credit: PeaceParks.org
As you can see, some of Zimbabwe's wonders are shared with its neighbours – but I think there's enough to go round.
For history and culture aficionados, I'm planning a list on world-class culture sites in Zimbabwe soon, but for now, check out some Zimbabwe Art and Culture articles here.
Can you think of world-class ecological facts that I've left out?
* A worldwide list administered by the UNESCO World Heritage Committee to name and protect sites that are of outstanding cultural or natural importance to the whole of of humanity.
** I appreciate that these can all describe slightly different jobs, but I've listed them here to encompass what many people understand to be a professional safari guide.
Also see: