The Zambezi River descends into a basalt cliff-face to become Victoria Falls, but after that, its journey is only slightly less tumultuous. It then turns into a frothing, turbulent series of rapids as it makes its way through the gorge, 200 metres deep in places, surrounded by rocks and vegetation. These rapids are the reason that many people come to Victoria Falls. The white-water rafting here is considered one of the best runs in the world, with grade 5 rapids broken up by sections of smooth river where you can soak up the beauty that goes unseen by other visitors to the falls.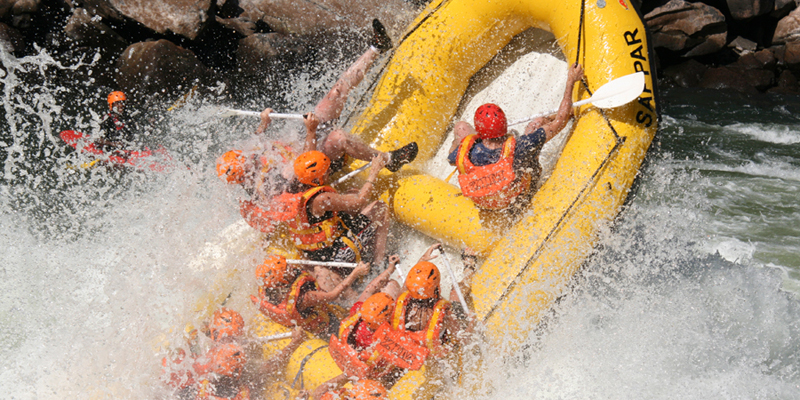 Useful information:
Costs around US $140 excluding national park fees.
Minimum age: 15, although this can be lowered on a case-by-case basis.
Best time to go: Low water (August – early January) is the best time to go, and you will go through 19 rapids during the day. The river level is completely dependent on rainfall which means the rafting experience varies from month to month.
Start time is 7.30 am, and you will raft from rapids number 1 to 19, finishing at 2.30/3 pm with lunch above rapid 19.
Make sure to have a good breakfast before the pick-up time – you'll need the energy for the long day ahead of you.
Apply sunscreen before you go and take some with you to, to-re-apply during the smooth water times.
Don't wear flip-flops or sandals as you'll be carrying the raft up from the river after the trip. The path is very steep – ensure you have a good pair of trainers with you.
Cameras and sunglasses will just get lost, so don't take them. A video and photo DVD of the day can be bought for about US $45.
High water (February – July) is not the time to go if rafting is your main reason to visit Victoria Falls. Many of the rapids are too fast for rafting at this time of year, and so the trip starts at rapid 11 and finishes at rapid 23.  This starts at 8am and finishes at 1.30/2.30 pm. In February and March, rafting is closed as the rapids are too dangerous.
Try something different:
Three- and six-day rafting trips are also available – enquire with your hotel, tour company, Wild Horizons or Shearwater.
Why not brave the rapids on a boogie board instead? This is also on offer, at about US $165. Not available March – May.
Next: Go on a helicopter: Number 7 of things to do in Victoria Falls.