You wouldn't expect to find a peaceful, natural haven within 10 km of Harare Airport – yet there is such a place. Mbizi Game Park is a small private reserve located within a 10-minute drive from the international terminal, and it's a relaxing place for a day trip or overnight accommodation. There are a range of activities on offer, from bush walks, to riverside family picnics, to corporate team-building courses.
This post is sponsored by Mbizi Game Park. I believe in transparency and I will always reveal sponsorships to readers. I only partner with reputable businesses that I believe are a good fit for readers of this blog.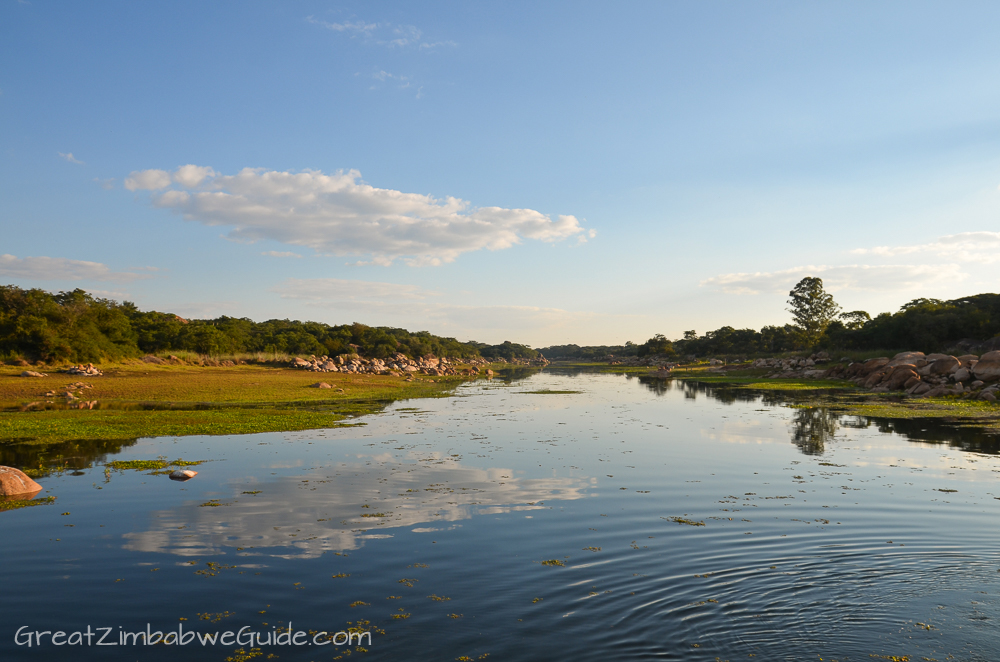 I stayed a night at Mbizi Game Park with my husband and toddler during our recent visit to Harare. As we drove to Mbizi from Harare city, the first thing that struck us was how well signposted it was. We had a vague idea of the lodge's location, and we knew it was slightly further past Harare International Airport, but we weren't sure exactly how to find it. We needn't have worried: as soon as we got to the airport, we were reassured by faded but clear signs on the roadside, regularly telling us exactly how far to go until Mbizi. We crossed a bridge, went past a small corner shop and settlement, went along a dirt road and arrived at the lodge easily.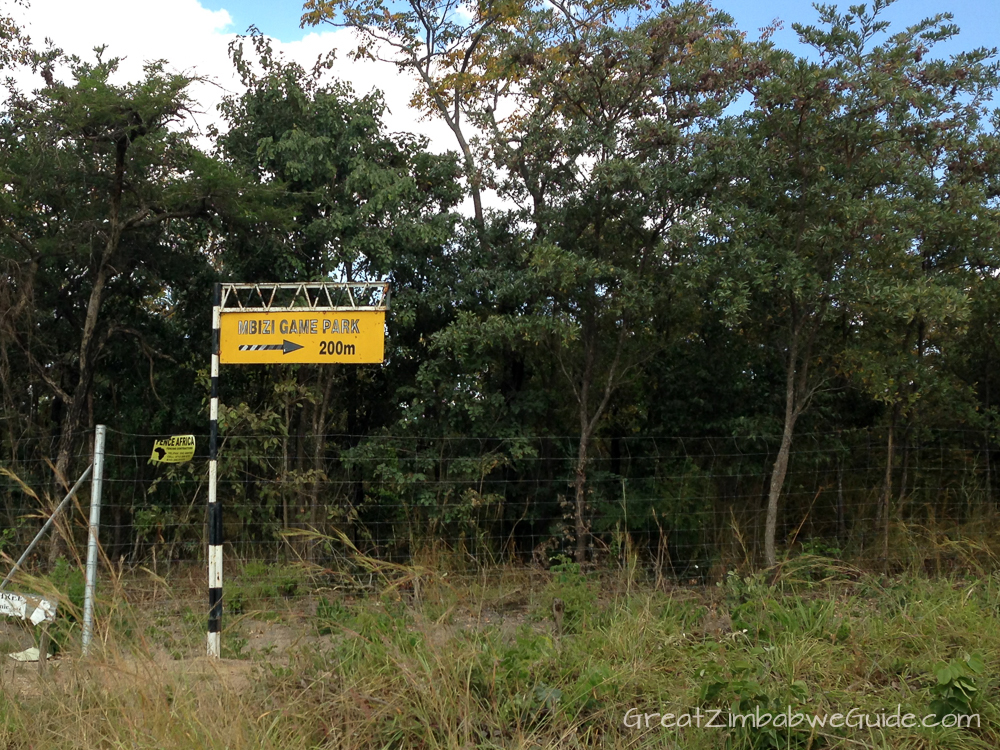 As we arrived at reception, we were welcomed by Grace, who was a calm but professional presence behind the front desk. She introduced us to Eric from the restaurant, who announced that we had arrived at the lodge on a good day because a delivery of eland venison had just arrived and was currently being roasted our dinner.
The main lodge at Mbizi Game Park
After freshening up in our room, we explored the main guest area. The restaurant, lounge and bar are in a central lodge building, which is a renovated farmhouse, making it feel more like someone's house than a hotel. It's been decorated with dark teak furniture, and a large fireplace is a central focus. Historical Rhodesian and Zimbabwean artifacts adorn the walls, along with mounted safari animals which, I wondered, were perhaps previous inhabitants of the game park. I felt as if I'd stepped back in time to a Rhodesian farmhouse, complete with the sound of songs that were popular thirty or more years ago. The radio/CD player itself was a large 90s model, which was an odd juxtaposition against the much older decor.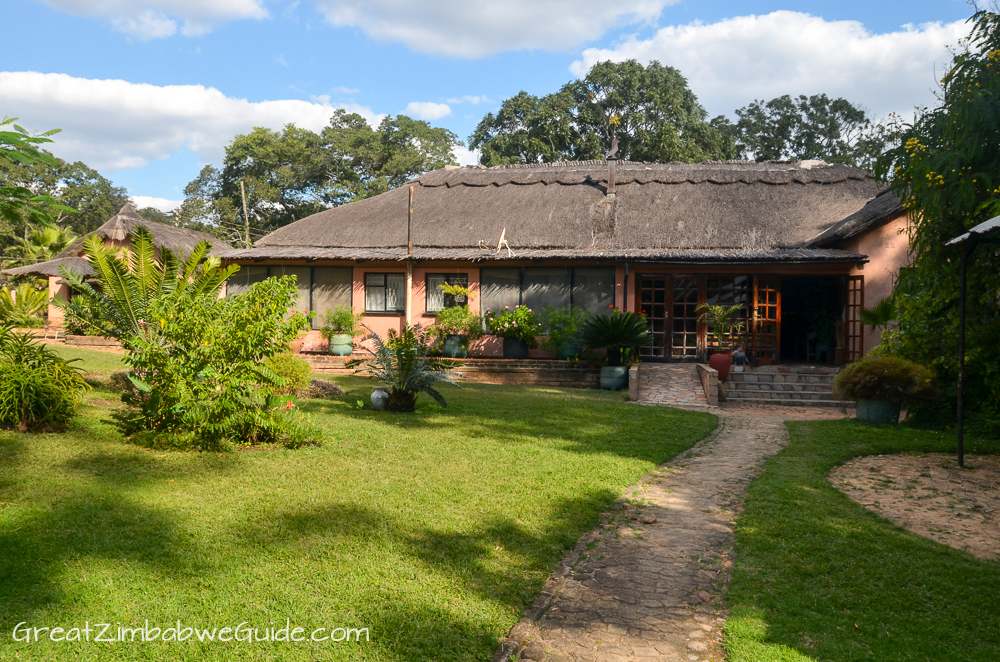 The green lawns and shaded tables in the tea garden was a pleasant spot to unwind. If there had been a sunbed or cushioned chair, I may even have fallen asleep. Although it's called a tea garden, we chose to enjoy a Savannah and Zambezi in the cool of the shade, whilst watching some monkeys play in the trees.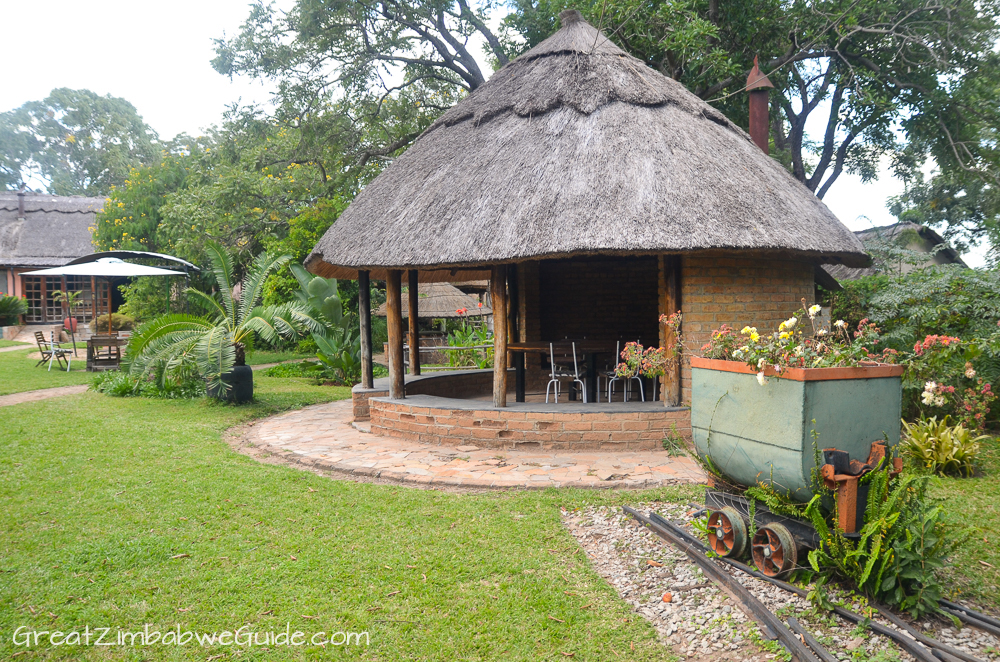 There's also an impressive hilltop swimming pool with a beautiful 360-degree view of the surrounds. We would have loved to spend a few hours up here or to have watched the sunset if we hadn't had a toddler with us. The panoramic views don't lend themselves to a baby-safe fence here, so this is a pool for older kids and adults only.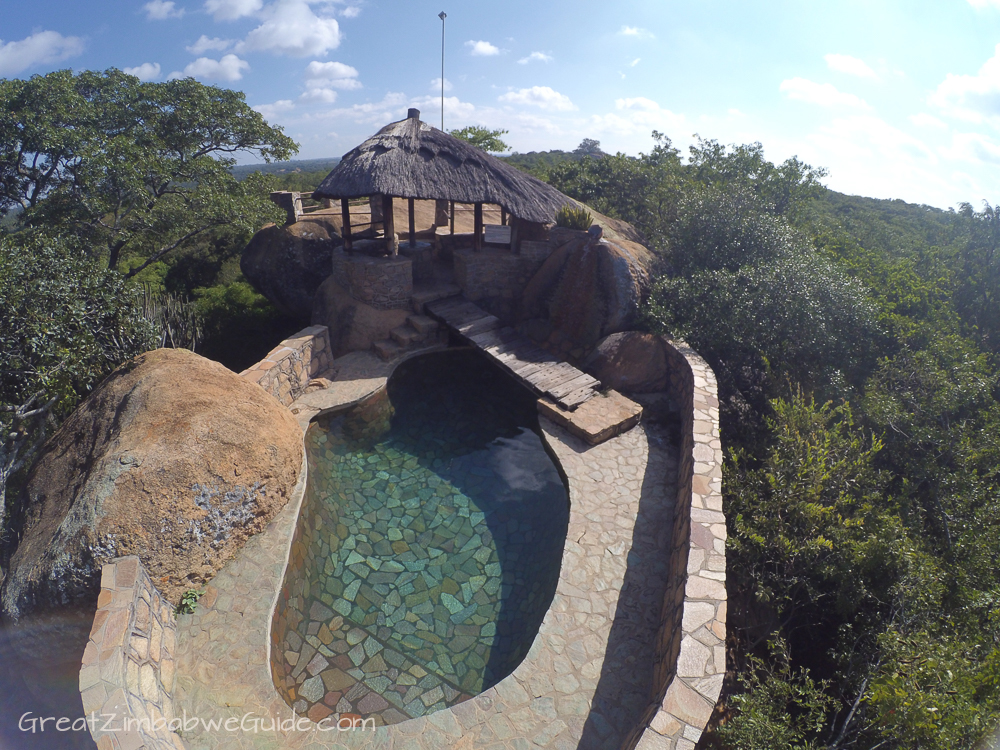 Another relaxing spot at Mbizi is a short drive from the main lodge. The lakeside picnic area offers a large shaded seating and play area, plentiful parking, as well as a permanent open-sided function room and toilets. This would make a great place for day-visitors from Harare to bring friends for an afternoon of food and games.
We really felt like we were much further away from the city than we were (22 km from Harare city, and 10 km from Harare airport). We didn't see or hear any planes flying overhead while we were there either, so there was no sound pollution spoiling the natural surroundings.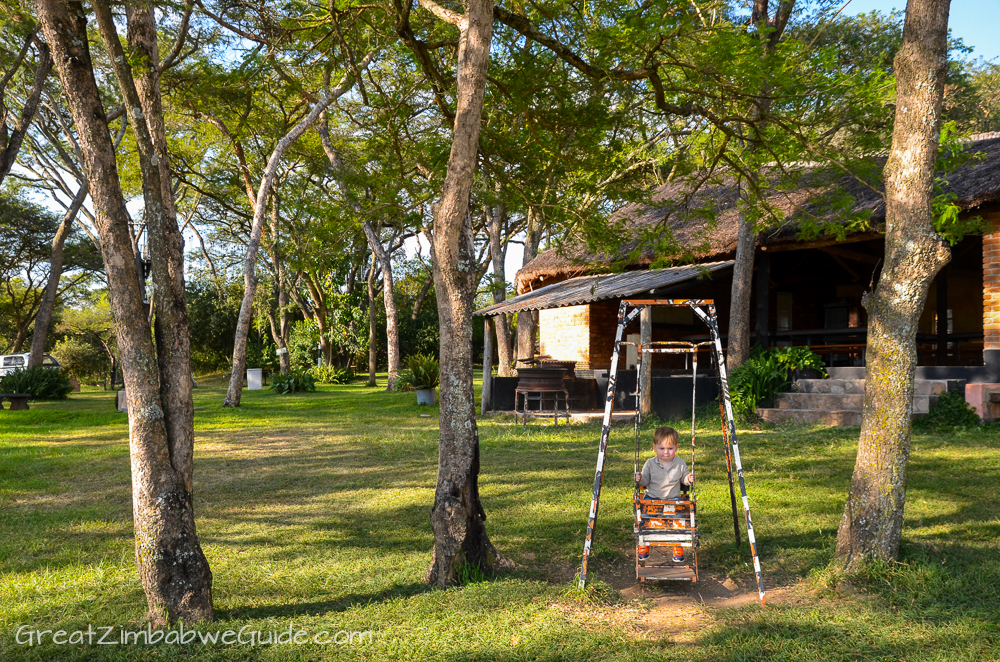 River cruise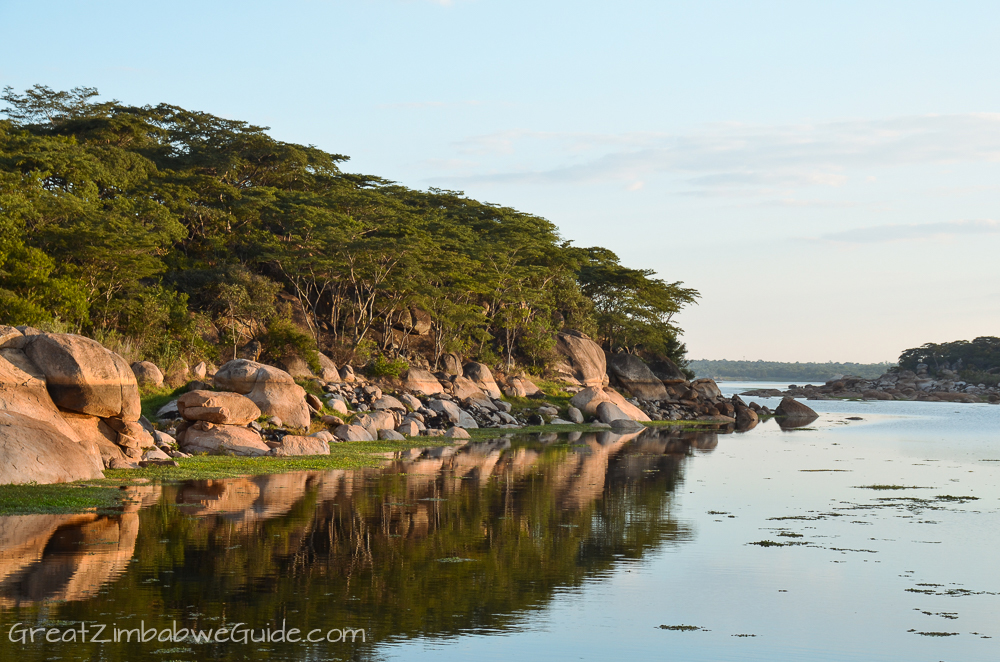 From the wide variety of activities on offer at Mbizi Game Park, one of the two that we did was take a trip on the river ranger cruiser. This sunset river cruise was special because there aren't many Harare-based opportunities to go on a big boat like this. Despite the lower water level (we went during a time of low rainfall), it was very picturesque. I love the typical Zimbabwean vista of large rocks set against a canopy of trees, reflected upon a sunset-toned river. If you decide to visit Mbizi for a day trip, I recommend you try to book a river cruise for your group as a relaxing conclusion for your day.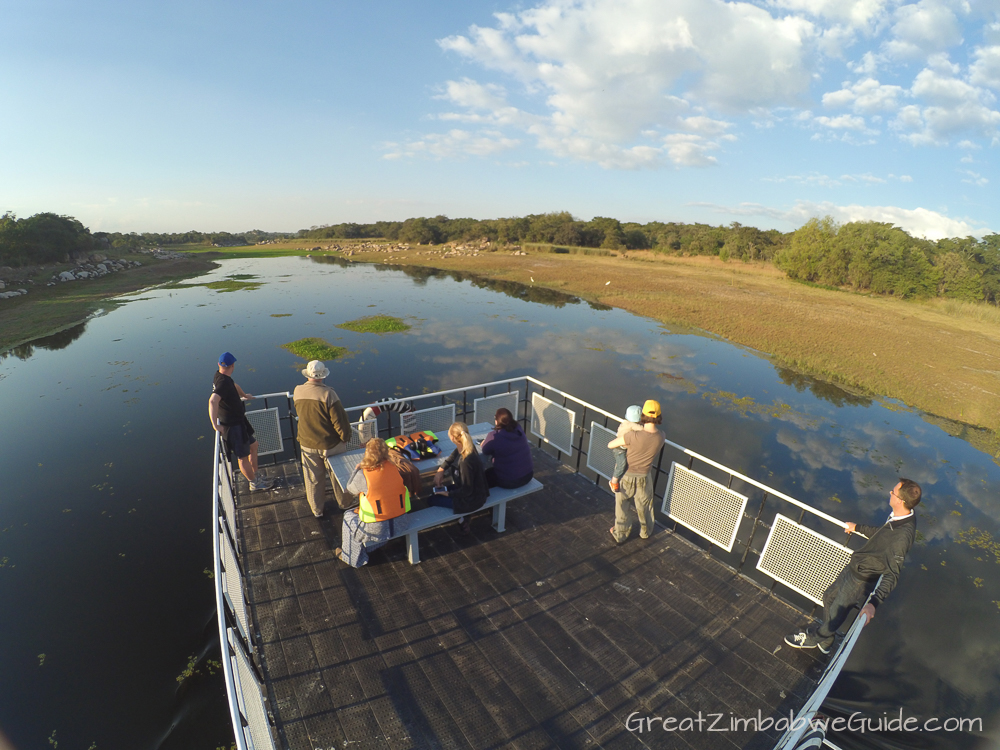 On the river cruise we met the owner of Mbizi, Mervyn Senior. He and his wife, Barbara, bought this land in 1991 and converted it from a tobacco farm to the lodge that we see today. Mbizi has clearly been a passion-project for Mervyn, and he talked about it with great pride as he enthusiastically described its history and his future plans.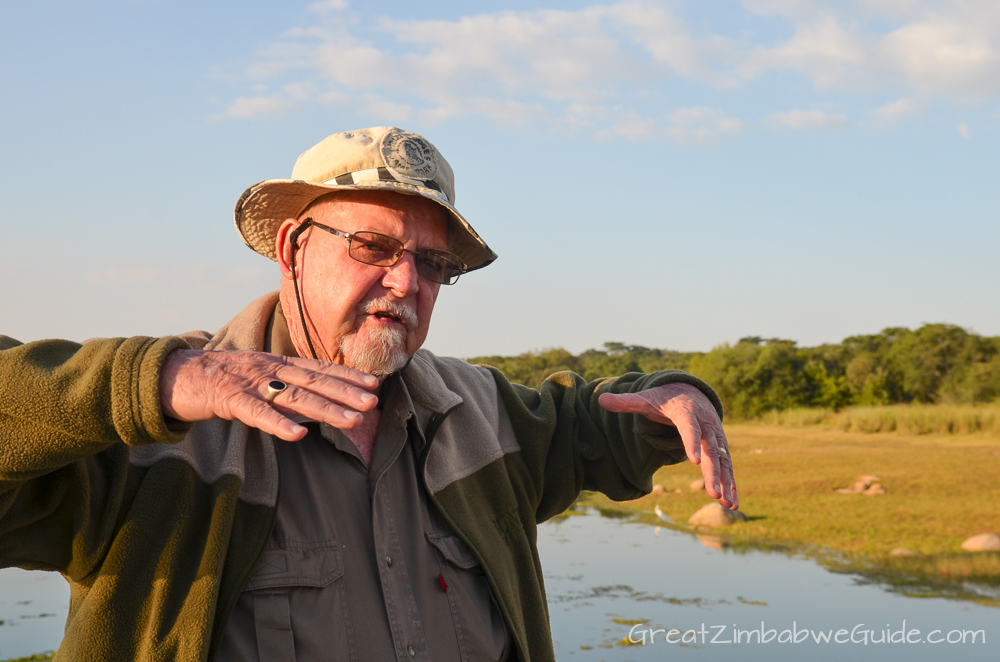 During the cruise, Mervyn pointed out various small wildlife around us: egrets, herons, jacana, kingfisher, and leguaan lizards. He told us about a "honeymoon spot" on the riverbank where pythons meet each year to mate and lay eggs. He knows the animals around here very well, and is eager to share his knowledge with us.
Accommodation and meals at Mbizi Game Park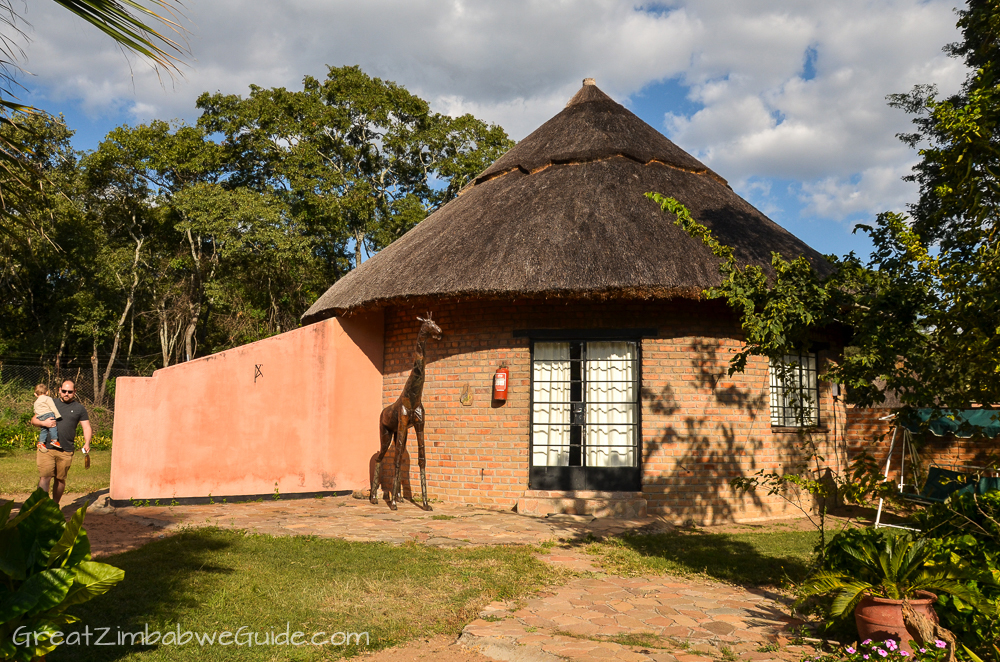 Our home for the night was Room 6, also referred to as "Giraffe", as it was decorated with motifs of this long-necked giant. The room was part of a thatched rondavel, partitioned into two rooms, located a few steps away from the main lodge. It had a large double bed and generously-sized bathroom on the ground floor, and there was also a mezzanine floor containing two single beds – plenty of space for a family. There was also a wall-switch which activated an inverter to power the lights in the event of a power cut. The room was refreshingly cool inside, which made it a welcome solace from the heat of the day. The rooms are in need of an update, as they have been weathered by time and by Zimbabwe's changeable tourist numbers. I'm sure that when Zimbabwe becomes a travel hub once again, the lodge will be revamped and refurbished, but it was comfortable enough for our overnight stay.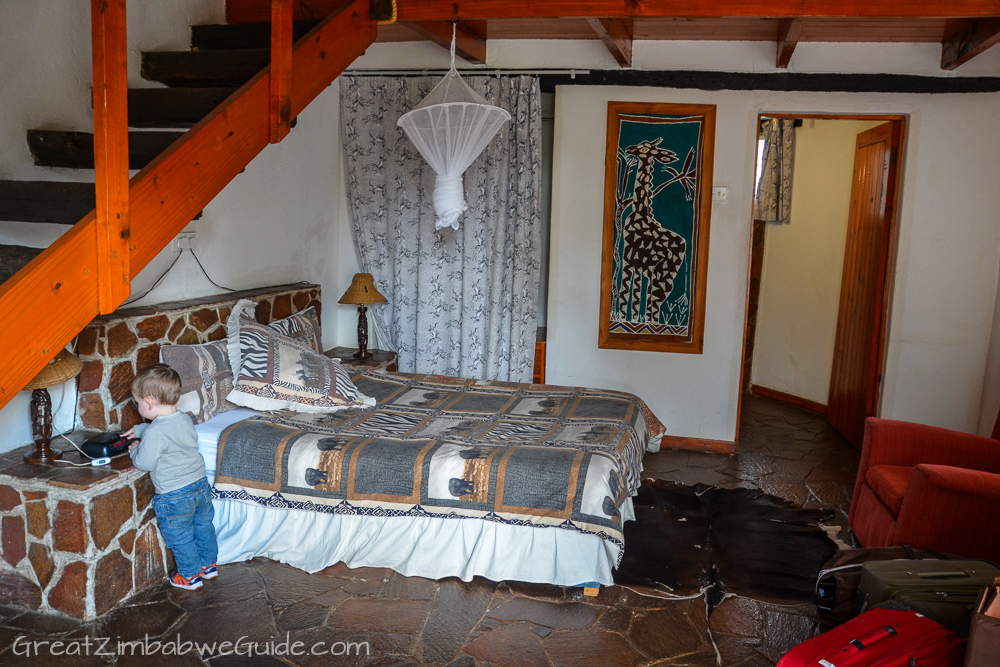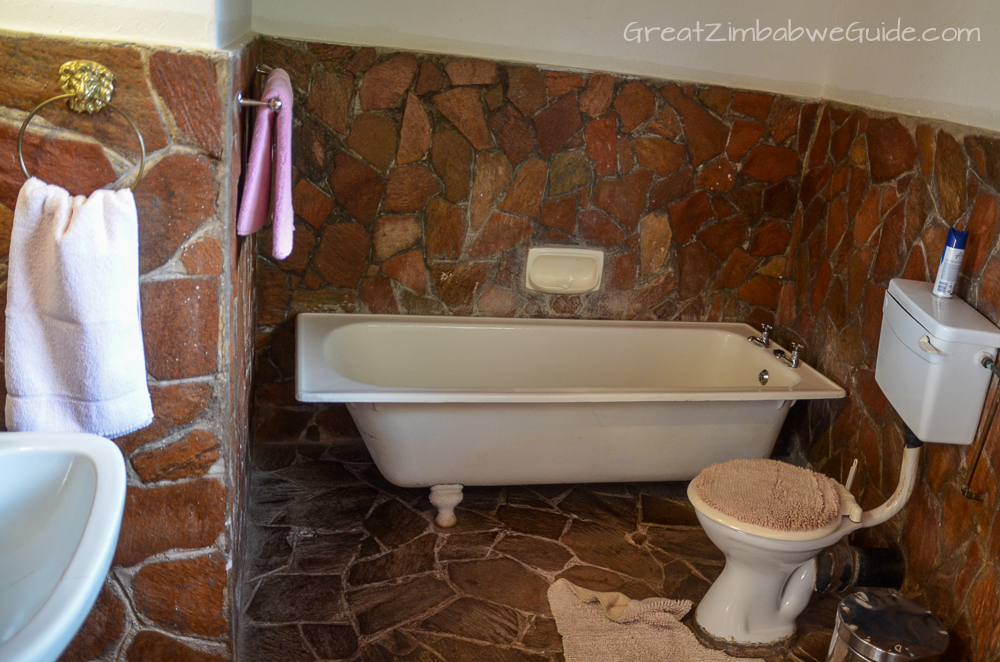 In the evening we walked the short distance from our room to the central lodge for dinner, which was served at 7pm. It was dark by that time, and we had to use the torches on our phones to light our path. The restaurant is a smallish room in the main lodge that once again feels more like someone's home than a typical tourist offering, especially as Mervyn and his family were eating there too. There was a set menu based on seasonal availability. We aren't fussy eaters so we didn't really mind the lack of choice in food; we took it as an opportunity to try something new. The staff had remembered that our son had a nut allergy which was reassuring, although the little one had fallen asleep by 7pm anyway.
Our apértif was a generous dish of nyimo beans (also called bambara beans), which are widely eaten in Zimbabwe. They are extremely nutritious and, in my opinion, delicious, so we finished them off very quickly! This was followed by a starter of minestrone soup with a homemade savoury muffin. Main course was definitely not the usual: the meat was slow-roasted eland venison. This was served with roast potatoes, steamed vegetables and gravy. A lemon cake with creamy vanilla ice cream was a tasty conclusion to this home-cooked meal.
We were too tired to take up the offer of tea or coffee, or even the invitation to watch football with the family in the lounge, so we headed to bed. As our room shared a wall with another room, there was a low noise from the next-door guests, but this didn't stop us from quickly falling asleep.
Breakfast was served in an open-air raised verandah at the side of the lodge, and it was equally enjoyable. A full English breakfast of bacon, sausages, eggs and toast, along with yoghurt, cereal and fruit meant that we felt we didn't need to eat much else for the rest of the day. There was even a high chair for our little one, who enjoyed watching the domestic cats basking in the morning sun. The waiters were attentive and cheerful, and helped us with everything we needed, including the extra requirements that feeding a toddler entails.
Escorted game drive
After breakfast we went on our second activity: a guided game drive with the knowledgeable Steve. The drive took around an hour, and we saw the four main animals (eland, giraffe, zebra, impala) that are found in the 1,000 square-kilometre reserve. As Mbizi is a small reserve that caters for walking safaris and family-friendly visits, only plains game are kept in the park. Steve knew many interesting facts about each animal, as well as details about their habits and physiology. We were able to get very close to the giraffe, much closer than I've been able to see them in the wild, so it was special to be able to see just how tall these animals are.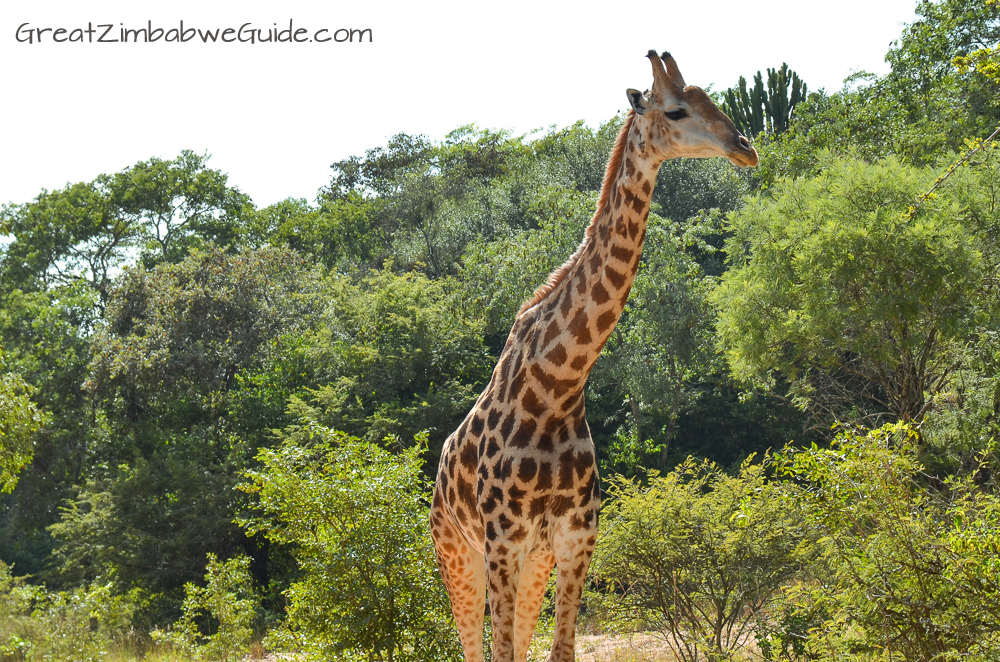 The word "mbizi" is the Shona term for "zebra", and therefore our visit would have been amiss if we hadn't seen some of these singular animals. Luckily we weren't disappointed, and these characterful guys were strolling between the trees.
After our game drive, we visited a beautiful rocky plateau on the reserve, which would also make a scenic picnic spot for day visitors. These rocky areas of Zimbabwe are so unique and special – we should definitely make the most of them.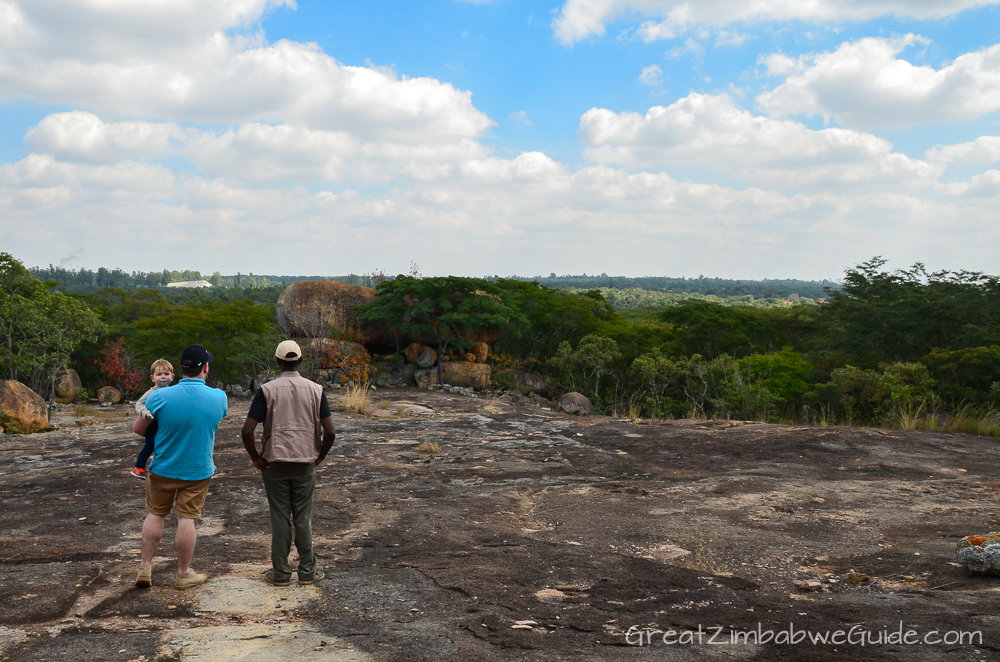 In summary, we had a relaxing overnight stay at Mbizi Game Park. During the river cruise and game drive especially, I really did feel like I'd escaped the bustle of Harare and was able to enjoy a slice of African bush. All the staff that we met were friendly and helpful, and ready to make our stay as comfortable as possible.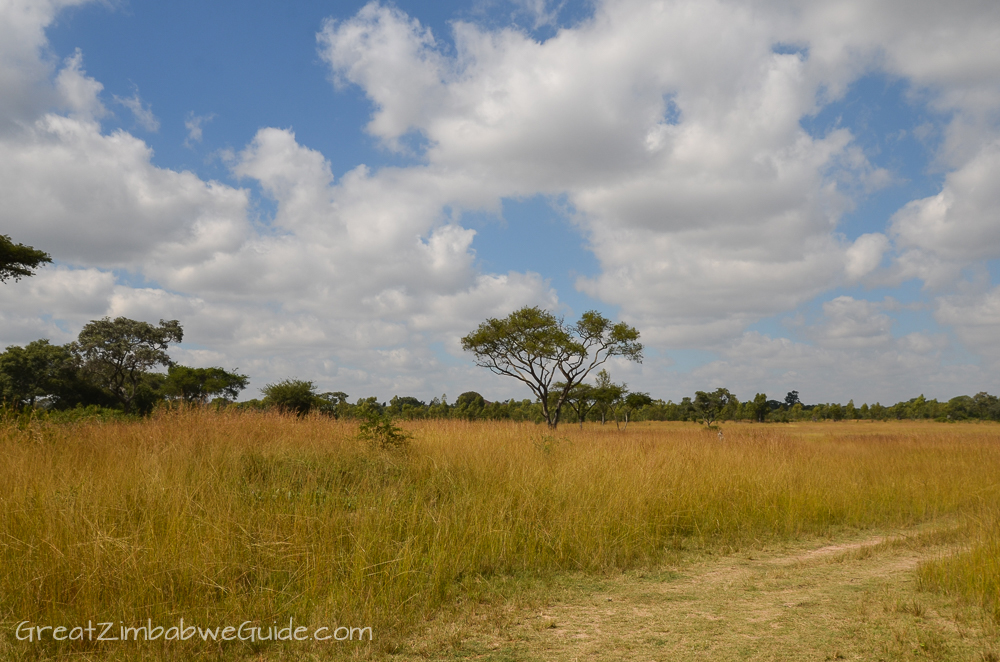 Plan your trip to Mbizi Game Park
Here are some of the facilities and activities on offer at Mbizi. Prices are in US Dollars, correct as of May 2016. Full details can be found on the Mbizi Game Park website.
Day visitor entrance fee, bringing own food (not payable for overnight guests):  $10 per adult / $5 per child
Tea garden: included with entrance – drinks can be purchased at the lodge
Riverside picnic area: included with entrance
Waterside gazebo/function room hire: $5 per person
Fishing (bring own rod): $5 per person
Boat launch (bring own boat: $10 per day
Canoeing (includes canoe): $15 per canoe
River ranger cruiser (min. 10 ppl): $20 per person
Escorted game drive: $15 per person
Bush walk: $8 per person
"Kenge" outdoor obstacle course for corporate team-building days: $15 per person
Volleyball including ball and net: $50 per day
Firewood: $5 per bundle
Shuttle transfers to and from Harare International Airport (min. 2 ppl): $10 per person
Shuttle transfers to and from Harare City Centre (min. 2 ppl): $15 per person
Accommodation for overnight guests:
Catered rooms in and around the main lodge: $110 single / $90 per person sharing per night. This is inclusive of a three-course dinner, breakfast, and use of the swimming pool. Discounted rates for children.
Self-catering two-bedroom bush cottages that sleep 4 people: $90 per cottage per night. The cottages are situated in private bush locations and include fully equipped kitchen, bathroom and braai area.
A chapel and conference hall are also available.
Booking office: Cnr. 164 Samora Machel Ave, 7th St, Harare. Telephone: +263 4 700676, +263 4 700677, +263 4 700678. Email: [email protected] or [email protected]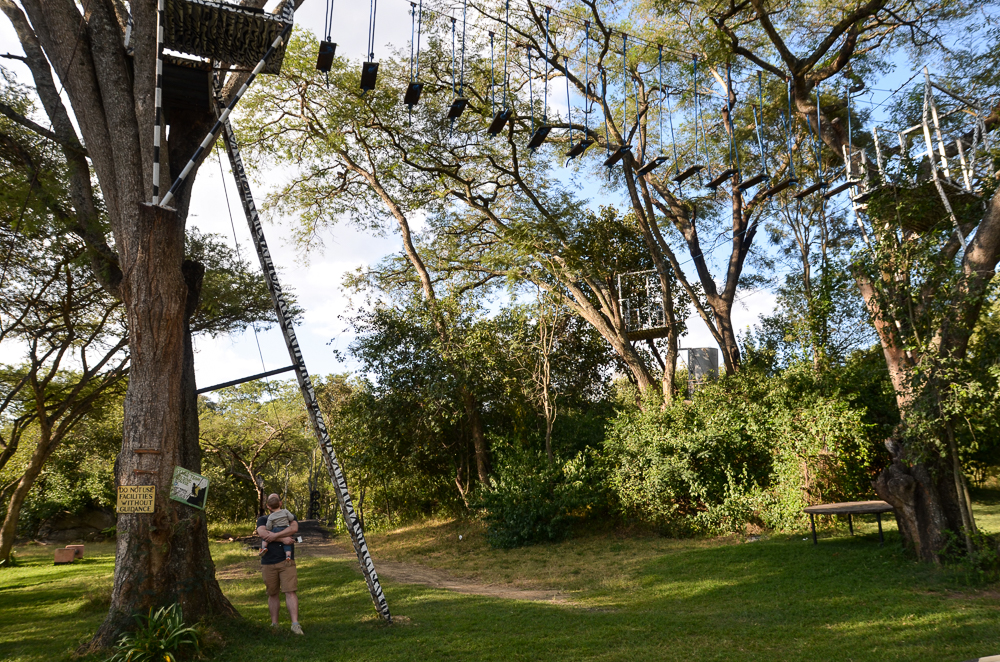 This post is sponsored by Mbizi Game Park. I believe in transparency and I will always reveal sponsorships to readers. I only partner with reputable businesses that I believe are a good fit for readers of this blog.
You might also like: