(Last updated Nov 2016)
Zimbabwe's capital city of Harare is busy and gritty in the south, genteel and well-to-do in the north, and abuzz with people in the city centre. It's sometimes ugly and overbearing, sometimes soft and enchanting – yet wherever you go in Harare, you're never too far away from the trees and hills in unexpected enclaves.
Many visitors arrive at Harare's airport, spend a mere night in the city centre, sniff their noses at all the concrete, and then move to the more tourist-friendly areas of Zimbabwe. They write off Harare as one of those places you have to go through to get somewhere else.
But Harare is where I was brought up, and it has more going for it than first meets the eye. It has art galleries and historical relics, wildlife sanctuaries and natural beauty. It's home to ladies-who-lunch and politicians, accountants and technology whizzes, gardeners and doctors. You'll see cyclists carrying stacks of firewood on their heads, "emergency taxis" weaving crazily along pot-holed roads and street vendors selling flags at traffic lights. The street lights often don't work, but houses with generators will be illuminated on every square foot. The cars range from brand-new Hummers to dilapidated VW Beetles. The city centre looks tired and unwelcoming, and yet the north-eastern suburbs are spacious and beautiful.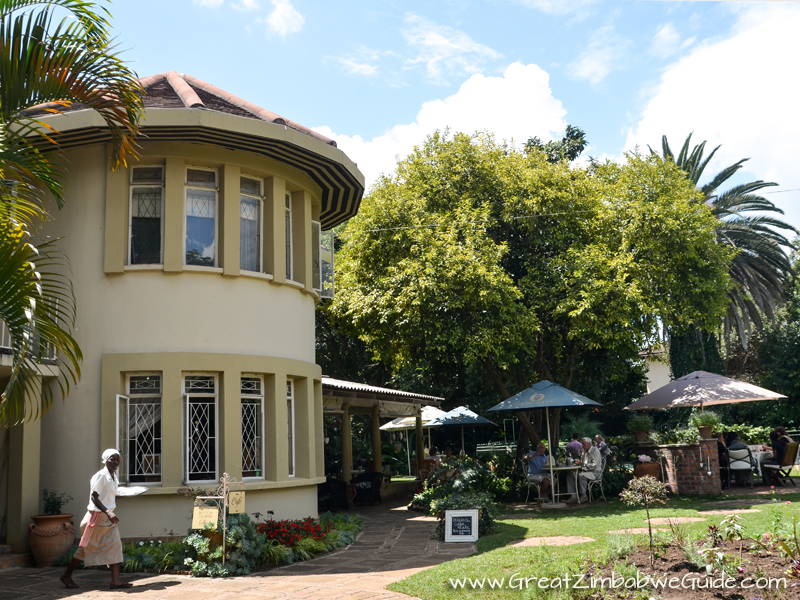 Garden of The Bottom Drawer, a cafe in Harare.
Harare is the perfect mish-mash of contradictions to introduce you to Zimbabwe before heading into the bush. As much as I encourage people to see Zimbabwe's game parks and natural wonders, I think it's equally important to experience the more gritty side of the country, to see the whole picture.
Many of Harare's beautiful spots are open to the public in the form of garden coffee shops and craft centres, and it's these that I enjoy the most. Enter a house in the suburbs and find yourself surrounded by vivid paintings, intricate beadwork and chocolate cake … yes, please!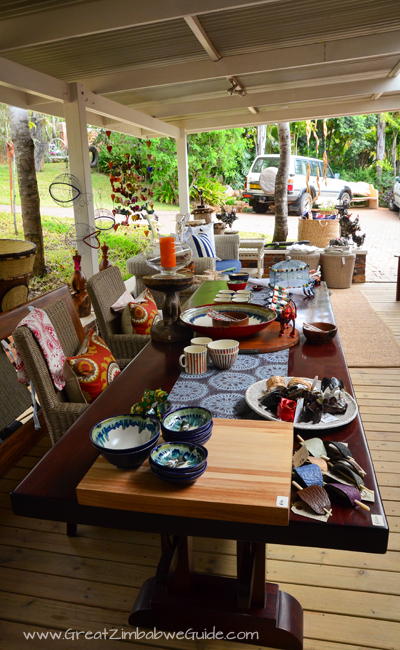 Harare statistics overview
Altitude: 1483 metres (4865 feet) | Size: 872 square kilometres (337 square miles) | Population: 2.1 million (Stats based on 2012 census; includes Chitungwiza) | Pre-independence Colonial name: Fort Salisbury | Founded: 1894 | Nicknames: The Sunshine City, H-town. Dominant languages: English and Shona | Province: Mashonaland | Location: North-East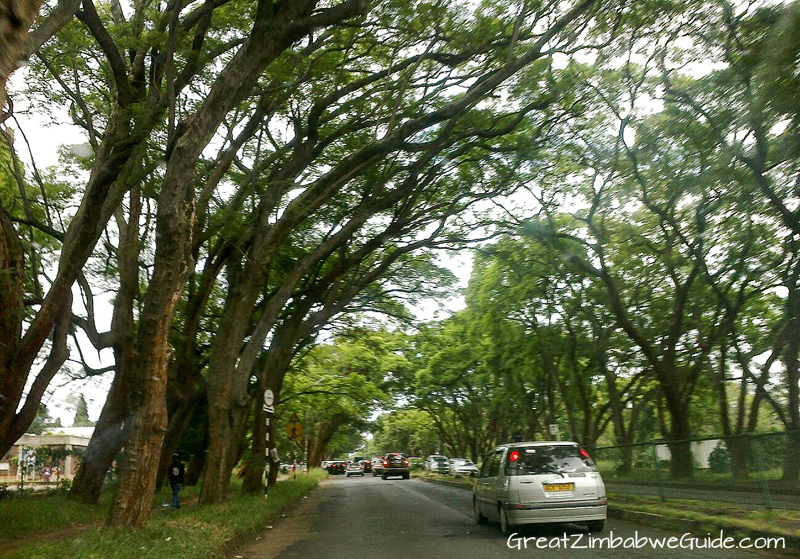 Best time to visit Harare
April to August are best because there's very little rain. Harare's sights are accessible year-round, though, so timing is not as important as elsewhere in the country.
In mid-September through to October, Harare is enrobed in "purple snow" as thousands of vivid flowers bloom and fall from jacaranda trees that line the city's streets. Check out some beautiful Harare jacaranda photos here. It is a spectacular sight, but remember that October is Zimbabwe's hottest month of the year. The flamboyant trees produce glorious red flowers from the end of October, which can also be seen around Harare.
In the last week of April each year (except 2016), Harare International Festival of the Arts (HIFA) is held, and the city becomes alive with energetic performers and spectators – this is a great time to visit Harare.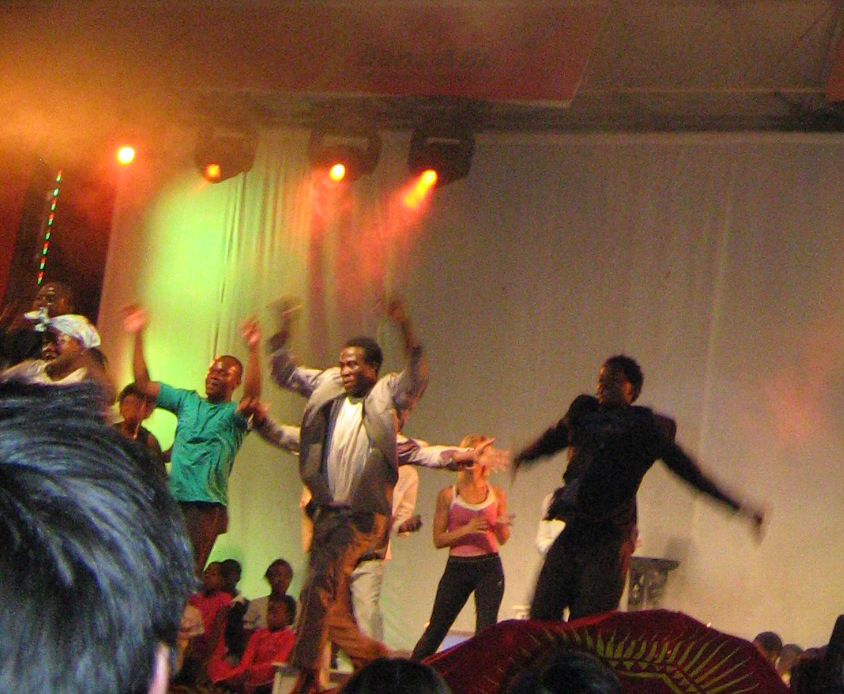 Weather/Average temperatures in Harare
October to April: (Summer) Day 26 C / 77 F. Night: 16 C / 61 F. Some rainy days and thunderstorms but mostly sunny and warm. October is the hottest month of the year.
May to September: (Winter) Day 23 C / 73 F. Night: 8 C / 46 F. Very little rain, warm days, cool nights.
See the Zimbabwe weather page for more details about Zimbabwe's seasons.
Practical information
As with any busy city, some areas are more risky than others. The city centre is slightly more dicey, as there are some pick-pockets in the area. Wherever you are, don't leave valuables in plain sight, and keep a good hold of handbags/briefcases at all times. Unless you've pre-arranged your transport with a reliable operator or know exactly where you're going, don't drive at night.
Don't walk around at night for the same reason – it's easy to get lost and become a target.
As always, don't walk around with too much cash and don't make a show of expensive goods. Stealing is highly disapproved of by Zimbabweans, but don't tempt people by flaunting your comparative wealth!
Avoid actions that could be seen as being politically motivated, such as taking photos of police, army personnel, government buildings, etc. If a cavalcade of police cars and motorbikes approach, this probably means the president is travelling in the convoy. Pull off the road completely and wait for the vehicles to pass. See more information about safety in Zimbabwe here.
Activities in Harare
There are sights and activities for all budgets and ages: see Things to do and sights of Harare for a list of these.
There are many activities that take up a whole day (or more), such as larger wildlife parks and natural areas close to Harare: see Day trips from Harare for details on these.
There aren't many official Harare tours, for the simple reason that the sights are easy to walk around without a guide. I would suggest that you visit the places of interest yourself, using transport arranged through your accommodation. If, however, you would like to have someone holding your hand, try Nyati Travel and Tours. This may be a good option if you want to see Harare's nightlife.
Visit one of Harare's coffee shops or bookshops and pick up a copy of the magazine "Ndeipi" – it contains info on classes and events happening in Harare.
Where to stay in Harare
Harare has accommodation for a variety of needs. There are luxurious hotels, rustic "city safari" lodges, boutique guest houses, homely B&Bs, and a small number of no-frills backpacking hostels. I still think of Harare as my home city, so I want you to have the best possible stay. See my article listing the Best hotels in Harare which includes lodges and other types of catered accommodation within a 25 km radius of the city centre. If you want an overnight break from Harare or want to stay slightly further out of the city, read the post Best day trips from Harare.
Health in Harare
Malaria is not present in Harare, but it is in many other areas of the country. Harare's tap water has been safe to drink until recently, but if you have the option of bottled water, choose it.
There aren't any large wild animals in Harare, but there may be spiders, insects and small (usually harmless) 'creepy-crawlies' around. The general rule is that if you stay away from them, they will stay away from you. If you have been bitten by something and are in pain, visit your nearest pharmacy or tell your lodge manager. If you are staying in a lodge or hotel, staff will be equipped to deal with emergencies.
Emergency telephone numbers in Harare are as follows: Central police station: (+263 4) 777 777 | Private MARS Ambulance: (+263 4) 771 221. Your accommodation will also have emergency numbers to hand.
Shopping in Harare
Harare is an exciting place to shop for unique items. Visit Doon Estate, Avondale Flea Market and Mbare Market for craft and bespoke items. Shona sculptures are a key part of Zimbabwe's artisan scene and are sold in shops around the city – try Chapungu Gallery near Doon Estate first.
For more conventional shopping centres, visit Sam Levy's Village, Westgate, Eastgate, Arundel Village Shopping Centre and Avondale Shopping Centre.
See the "Craft and coffee" itinerary in the Harare itinerary page for shopping details as well as a map of some key locations.
Groceries and food in Harare
There are grocery stores at the 'conventional' shopping centres that I mentioned above: Spar, TM, Town & City – these are well-stocked and well-kept. Due to Zimbabwe's economic situation, much of the produce now needs to be imported from South Africa, which makes it a little more costly, but there is a wide variety. Fresh produce is abundant.
What to read
Hairdresser of Harare by Tendai Huchu: A witty and humorous tale set in modern-day Harare.
The Book of Memory by Petina Gappah: Many Harare landmarks and suburbs are described in this highly acclaimed book about an albino woman accused of murdering her father.
An Elegy for Easterly by Petina Gappah: A collection of satirical and insightful short stories, many of them set in Harare. Winner of the Guardian First Book Award.
Transport in Harare
If you want to see all of Harare's sights, they are widely spaced so it's best to travel by car. See my Harare itineraries page for ideas.
Your hotel or tour operator may be happy to provide transport, so do ask about this when booking. Alternatively here are links for: Shuttle Direct, Samaita Tours (transfers), Avis Car Rentals, WildRoutes and a directory of taxi services that you can book online or by phone. See the post on Driving in Zimbabwe for a list of car hire companies and information on Zimbabwe roads.
Getting to Harare / Getting from Harare to other areas
If you need to travel from Harare to Victoria Falls, Bulawayo or elsewhere, read the post on Harare transport links and the article about Transport in Zimbabwe.
Guided tours in Harare
Harare city tours: There aren't many guided tours of Harare, one of the reasons being that the sights are easy to walk around without a guide. I would suggest that you visit the places of interest yourself, using transport arranged through your accommodation. If, however, you would like to have someone with you, try Nyati Travel and Tours and WildRoutes. If you want to see Harare's nightlife, going with a group or a tour is a good idea.
Day tours from Harare: This and That Safaris offer half-day and day trips from Harare to Great Zimbabwe Ruins Monument. They also offer a rail tour across Zimbabwe from Harare to Victoria Falls. Black Rhino Safaris offer transfers and guided tours of Great Zimbabwe, as well as trips to Victoria Falls, Bulawayo, and other locations around Zimbabwe.
Driving in Harare
See the general page on driving in Zimbabwe for a list of car rental companies. Pick up a Harare street map from a Kingston's bookshop in Sam Levy's Village to help you get around, or alternatively print out some Google Maps of specific areas before you go. I've prepared a few bespoke maps: see the Harare itineraries page which shows crafts, sights, cultural and wildlife tours you could do yourself.
Some of Harare's streets have their fair share of potholes – drive sensibly and slowly around them and you'll feel like a local in no time.
If you hear sirens, or see motorbikes and other vehicles with flashing lights, pull off the road immediately and as far on to the grass as possible. The flashing lights usually mean that the president's cavalcade is coming past – stay out of trouble by moving well off the road.
Parking in the suburbs is easy and there is plenty of space. Car guards in uniform might offer to watch your car: You can give them a couple of dollars when you leave, if your car has been parked for longer than an hour, but this is not a necessity, and you should only pay someone with a clear uniform or official vest.
Parking in the city centre is more difficult as it can get very busy, but once you've found a spot, you'll be approached by a parking attendant wearing a coloured vest (with the logo 'Easy Park'). Buy a timed parking token from the attendant (make sure they're wearing the vest), and display the token in your car windscreen. There are also parking lots in the city centre – see this map – where you'll pay the attendant at the gate.