About me
I'm Beth, and my aim for Great Zimbabwe Guide is to provide useful, practical and honest information for anyone interested in travelling in Zimbabwe – and hopefully to showcase some positive aspects of Zimbabwe in the process.
Zimbabwe is a place of immense beauty, and its people have a lot to offer the world. I hope that this blog can portray a more rounded idea of what Zimbabwe is really like. I want to write about Zimbabwe travel in an up-front way, without the saccharine sweetness of some tour companies, and without focusing only on the challenges. Zimbabwe is an extremely rewarding travel destination, if you have the right tools.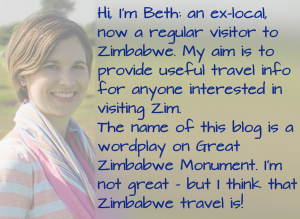 I don't pretend for a second to be the most knowledgeable or most experienced voice on Zimbabwe travel – far from it. However, I've spent enough time in Zimbabwe to know it like an old friend, and I've spent enough time away from it to have an idea of what a visitor might experience when 'meeting' it for the first time. I hope that I can give you some practical information and also inspire you for your next visit to Zimbabwe.
I was brought up in Zimbabwe and now live in Oxford, UK, with my husband and our little boy. I worked in publishing in Oxford for seven years, and I have a degree majoring in Journalism (Print Production), English Literature and Media Studies from the University of Cape Town in South Africa. I currently work with a communications company in Oxford and I run a business, The Impala Collection, selling exclusive Zimbabwean craft. I write this blog in my spare time – when I'm not working, cleaning, or wiping up baby food!
Read more about my aims for the blog on the About Great Zimbabwe Guide page. You can find links to some of my externally published travel writing here. More about my personal history and my aims for the blog are in my seven-year anniversary post. You can also follow Great Zimbabwe Guide on Facebook, Instagram, Twitter, Pinterest and Youtube.
A labour of love
I do all the writing, photography, web development and illustrative work on this blog myself (except where otherwise stated in the posts). I run this blog as a hobby, fitting it around my job and family. I don't receive commissions or investment from tour companies or other organisations (unlike most other Zimbabwean travel websites), which means that I'm completely independent. It also means that much of my work on this site is unpaid.
To help towards the running of the blog and to give readers a wider variety of content, I do occasionally have sponsored posts and advertisements on the site for brands that I believe in. I always reveal sponsored content to readers and I don't undertake sponsorships lightly. I am an affiliate for some of the products that I recommend on this site. If you purchase items through my links I may earn a commission. You will not pay more when buying a product through my links. I'll only ever link to a product that I think is right for the readers of Great Zimbabwe Guide. Affiliate links contribute valuable pennies towards the running of this site.
If you enjoyed reading the site and would like to contribute towards the time I put into it, please contact me for my Paypal address.

Feel free to share the posts and photos from Great Zimbabwe Guide on social media. However, if you want to re-use material from Great Zimbabwe Guide on your website or other publication for non-commercial use, please always insert a credit line and hyperlink back to www.greatzimbabweguide.com and make it clear to your readers exactly what you have used from my site. Full copyright terms can be found here. If you re-use any material for commercial purposes, you will need to email me to request permission.
If you'd like to contribute a story, or have a suggestion for the Great Zimbabwe Guide blog, please contact me at the link below – it's great to have new voices on the site. There is a page about contributing here.
Writing
I enjoy all forms of the written word, be it travel writing, feature journalism or fiction. I try to fit in some additional writing when I can, and I've been published in publications like African Pens: New Writing from southern Africa 2007 and ELLEGirl magazine UK. If you'd like me to contribute to your publication, I would love to hear from you. You can find links to some of my externally published Zimbabwe travel writing here.
Photography
Most of the photography on Great Zimbabwe Guide is done by myself. Some of the photos are available for purchase on image libraries. See my wildlife and travel photos in my portfolio on iStock.
••••••••••••
For all queries, please email me and I'll get back to you as soon as I can. You can also follow Great Zimbabwe Guide on Facebook, Instagram, Twitter, Pinterest and Youtube.
••••••••••••